DP William Ruto's chopper destined to Kakamega forced to land in Kisumu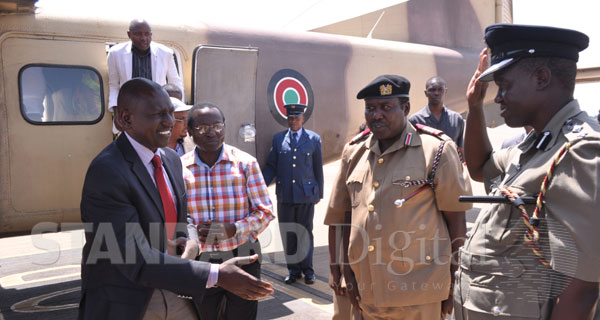 Deputy President William Ruto is received by security officers after he plane was forced to land in Kisumu. He proceeded to Vihiga on Road. [PHOTO: STANDARD]
By EVELYN KWAMBOKA and RUSHDIE OUDIA
KISUMU, KENYA: A military chopper carrying Deputy President William Ruto was forced to land at the Kisumu International Airport on Saturday due to the condition of an airstrip in Kakamega.
The airstrip's condition was communicated to authorities at the Wilson airport moments before Ruto boarded the Kenya Air Force aircraft (140), forcing the pilot to fly to Kisumu.
Security and administrators in Kisumu were forced to rush to the airport to prepare for his arrival enroute to Vihiga MP Yusuf Chanzu's homecoming party.
A red carpet was laid in a huff as a police sniffer dog imported from South Africa made its rounds at the departure, arrivals and VIP areas ensure all was secure for Ruto to land.
Kenya Airports Authority manager, Ms Lucy Mbugua told The Standard on phone that there was a misunderstanding on the airstrip's condition that made the pilot fly to Kisumu.
"The airstrip is in perfect condition because all the repairs ended in December 2013 but it seems those who were doing the work did not lift the Notam," she said.
A Notam is a notice filed by an aviation authority to alert airmen of potential hazards along a flight route that would affect its landing or taking off.
Kisumu County Commissioner, Ms Lorna Odero said the incident was an isolated case.
"We received an urgent call and rushed here to assess the situation," she said.
She however said that all airstrips and airport in Nyanza are secure, adding that any VIP can use the facilities without any worry.
Ms Odero said Ruto landed in Kisumu after they realised that the Kakamega Air strip was not in a good condition for Ruto's Air Force Air craft to land on.
"We usually ensure that landing areas have proper security to handle VIPs and especially in cases such as this," said Ms Odero, adding that the facilities should also be in good condition.
She applauded the Kisumu Airport for the good work they have done and prompt reaction towards the incident.
Security officers from Western province led by Vihiga Commandant Ms Sarah Dancan who were already at the airstrip were forced to drive to Kisumu to team up with their colleagues.
Ruto who landed at 12.20pm signed the visitors' book at the VIP lounge and walked straight to a waiting Toyota Prado vehicle before being driven to Vihiga under tight police escort.
With the Coalition for Reforms and Democracy leaders meeting in Kisumu, security personnel opted to use the Maseno route in a bid to avoid the Kakamega road which passes through Kondele area.
This they did to avoid any confrontations with the youth that hang around Kondele.