Alarm as illegal bush meat trade hits all-time high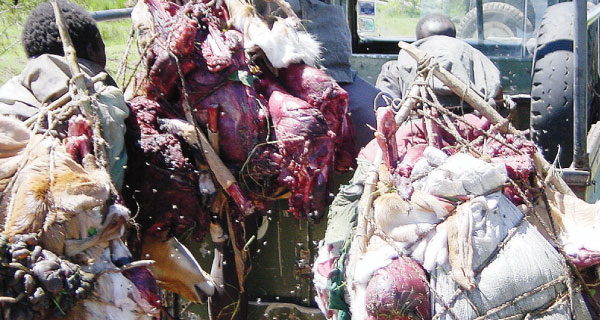 Poachers who killed an entire herd of impala in Masai Mara are taken into custody by KWS officials. [PHOTO: COURTESY]
By JOE KIARIE
KENYA: Do you know the source of the meat you hungrily ate last evening? Were you convinced it was exactly the beefsteak you ordered at your favourite eatery or local butchery?
Well, the recovery of six donkey carcasses slaughtered in a Nairobi suburb early this week could have, in the eyes of many, passed as yet another dose of bizarre news. Chillingly though, it is perhaps from these bloody bones that the delicacy on your dinner plate was sliced.
More worryingly, the Kenya Wildlife Service and other conservationists are reporting an unprecedented rise in bush meat trade, with tonnes of health-risking meat finding its way to the mainstream market daily.
The famous Burma Market, which supplies up to 50 per cent of meat consumed in Nairobi, is said to be the most notorious outlet. Multiple sources, who spoke to The Standard on Saturday revealed that bush meat from various wildlife dispersal areas across the country is smuggled to the market between midnight and 4am daily. They paint a picture of a closely-guarded cartel that even involves police officers, who they claim at times escort pick-up vans ferrying the meat to the busy market.
"The market is usually locked up at 6pm, opening the doors for underworld merchants," states a private guard at the market.
"Once the meat arrives in the dead of the night, private guards are often shoved off by gun-toting officers as the cargo is unloaded and unpacked. It is a very terrifying experience."
He says some of the meat is smuggled in broad daylight, normally wrapped in polythene bags that are stuffed inside charcoal loads or cunningly sealed water containers, all which make their way straight into the stalls without raising suspicion. A merchant in one of the meat stalls at the market reveals that most of the meat is sold to city hotels, pubs, restaurants and butchers who, knowingly or unknowingly, go for the ordinarily low-cost meat.
Worrying levels
"The rest of the meat is sold in the form of minced meat, nyama choma (roast meat) or fried meat," he says.
The guard says government meat inspectors are also at the heart of the cartel and readily okay the illicit meat.
Data from conservationists backs up the claims. In the Mara Triangle alone, the Mara Conservancy says it seized a record 5,337 snares, all set to capture wild animals, last year. August was the worst month, with 1,775 snares discovered and 215 poachers arrested. "We recovered 1,775 wire snares; rescued 29 wildebeest; found 22 wildebeest dead in snares and the fresh carcasses of 114 wildebeest, five zebra, two impala and a warthog that had been butchered," the conservancy revealed in its August report.
"One young elephant also had its trunk cut off in a snare. It is difficult to estimate the actual mortality but, as a rule of thumb, we find one animal caught in a snare for every 10 snares set".
In October, a lion was found dead in a snare. Other animals often caught in the snares include giraffes, hippos, buffaloes, elands, waterbucks, hyenas and lions. Scouts in parts of the Tsavos say they make daily discoveries of as many as 200 snares, with bush meat hunters resetting them soon after.
Julius Kimani, the Deputy Director in charge of Security at KWS, says bush meat trade has hit worrying levels. He says zebras are the most targeted, as they are widely available and graze in herds. Kimani singles out Naivasha, Narok, Kajiado and Ruma in South Nyanza as notorious hubs where the vice thrives on a purely commercial basis.
In Tana River region, he says, buffaloes, hippos and crocodiles are highly targeted for commercial purposes, including export.
"Most of the meat ends up in Burma and Kenyatta markets in Nairobi and Kikopey in Naivasha among others," he says. "We have particularly been raiding meat stalls in Naivasha in partnership with health officers and arresting so many people selling bush meat".
Remains of 20 donkeys were found dumped in Naivasha two months ago. City market in Nairobi is also widely mentioned as a hub for bush meat. The officer, however, says hunting of bush meat for subsistence is also taking its toll on conservation efforts.
"In Taita Taveta, small game such as antelopes and dik diks from the Tsavos are being heavily hunted for subsistence. We have been discovering as many as 40 carcasses at a go and making at least one arrest in the area daily," Kimani reveals.
Other highly affected areas include Kitui, Mtito Andei, Makueni, Machakos and the Mount Kenya region.
But how do the poachers capture the animals?
Evanson Kariuki, a founder member of the Bushmeat-free Eastern Africa Network, says use of wire snares, which catch and strangle animals as they pass by, is the most preferred technique in hunting game.
"It is a very wasteful method that catches both herbivores and carnivores," he says. To catch giraffes, he says, poachers put snares on top of trees such as the acacia. "Hippos are also increasingly falling prey as they use specific routes when moving out of the water to graze. Poachers lay wooden planks with sharp spikes on the tracks and spear the helpless animal at close range once it steps on the trap".
Kariuki, who has spent over 14 years trying to curb the trade in the Masai Mara and the Tsavos, says other than using guns, poachers are also alarmingly using poisoned spears and arrows, which pose fatal threat to consumers.
Hard to distinct
"Some argue that when they use poisoned arrows, the toxin just goes to the blood system, and not the meat. They just drain blood and take the meat to the market," he explains.
The conservationist singles out the dry months of January, August and September and the festive season as the high season for poachers.
Mr Kimani says KWS has realised an emerging trend where animals are being captured through lamping. "This involves a number of people who for instance isolate a buffalo and blind it with flashlights while ringing bells that confuse the animal. They easily close in and kill it," he explains.
"In Taveta, others have been using motorbikes to chase animals and slash their tendons with machetes," he reveals, saying motorbikes have helped fuel the trade as they ease transportation from the remote bushes.
Steve Itela, the Youth for Conservation director, says it is not for members of the public to differentiate between bush and genuine meat.
"Buffalo meat is only slightly darker than that of a cow, while that of an impala almost resembles goat meat. It is very hard to differentiate between the two with an untrained eye," states Itela.
He urges the citizenry to keep off any cheap meat, minced meat and by-products such as samosas.