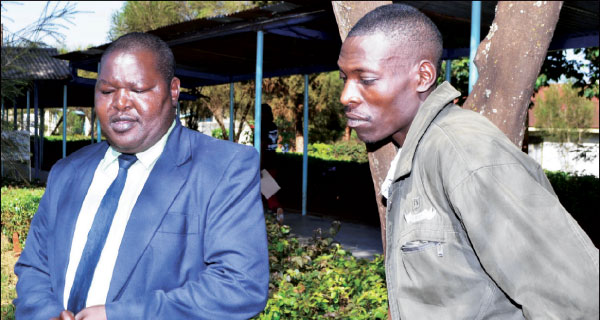 Nyeri Provincial Hospital Medical Superintendent Cyrus Njoroge (left) and Mr Peter Ndigirigi whose wife lost a baby. [PHOTO: MOSE SAMMY/ STANDARD]
By JOB WERU
KENYA: A couple that lost a newborn baby at Nyeri Provincial General Hospital maternity ward due to what they claim was negligence by nurses has threatened to sue the facility.
They said nurses at the hospital disregarded Ms Charity Wanjiku's pleas for help when she was in labour, forcing her to deliver the baby while standing.
Speaking from their Chaka area home, Wanjiku, 27, further accused medics at the facility of failing to attend to her, even after her newborn fell on the floor and died on the spot.
"They started calling me names even after the child died. I was in pain and l felt more pain when they hurled insults at me," she claimed.
Wanjiku who spoke to journalists for the first time since the fateful delivery said she suffers from high blood pressure, and her husband was forced to apply for discharge after she allegedly stayed in the hospital bed without treatment.
"I blame the medics squarely for the loss of my baby boy. I tried to call them for almost one hour, but they could not come to my aid since they were asleep," said Wanjiku, a mother of two.
The grieving mother dismissed claims by the Hospital's Medical Superintendent Cyrus Njoroge that nurses at the facility were attending to an emergency, saying there were three in the labour ward, but they were all asleep.
"I stood and tried to walk to where they were asleep. One of them was in a bed a few metres from where i was, another one sleeping on a desk and the third one in the far corner of the labour ward," she claimed.
"There was no emergency they were attending to when I gave birth," she said, adding that they only woke up after she screamed on realising her child had fallen on the floor.
Her husband, Mr Peter Ndigirigi accused one of the nurses of being rude to patients, saying she insulted him when he requested to view his son's body.
"Aliniuliza 'unataka kumuona umfufue? Hapa hatupelekwi mbio vyenye unatupeleka' (She asked me, 'Do you want to view the body so that you can resurrect it? We are not pushed here as you are doing)" he claimed.
Ndigirigi alleged that the nurse also ordered some two guards to arrest him, and they only released him after they were ordered by police.