British terror suspect Jermaine Grant had 'bombs' when arrested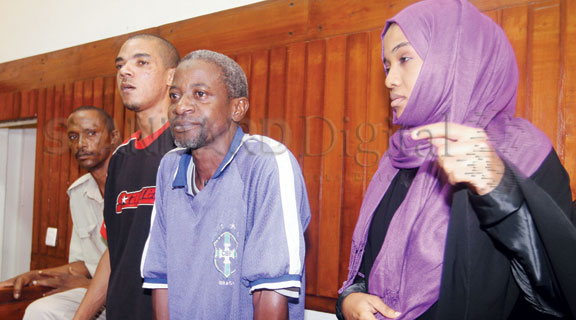 British terror suspect Jermaine Grant (left), Frank Ngala and Grant's wife Warda Islam, together charged with being in possession of bomb-making materials. [PHOTO: MAARUFU MOHAMED/STANDARD]
By WILLIS OKETCH
MOMBASA; KENYA: British detectives said they have successfully linked British terror suspect Jermaine Grant to bomb making chemicals, which police say were recovered from his house in Kisauni, Mombasa, in 2011.
The detectives further said Grant was in the process of assembling a powerful home-made bomb using lead nitrate, hydrogen peroxide, sulphur and fertiliser-based compounds when he was captured.
On Wednesday, detective Robert John Garrick told Mombasa Senior Principal Magistrate Joyce Gandani that after carrying out tests on the chemicals that were recovered from Grant's house, they were found to be highly sensitive home-made explosives.
The tests, he said, were done at the Government Chemist (Nairobi) and at the Scotland Yard's lab in London.
He was testifying in a case which Grant, his wife Warda Islam and co-suspect Frank Ngala have denied being in possession of bomb-making materials.
A fourth co-accused, Fuad Abubakar Manswab, jumped bail and is believed to be hiding in Somalia with Al-Shabaab militants.
Garrick told the court after arriving in Kenya that he joined anti-terrorism police in testing the chemicals that had been recovered from Grant's house.
Garrick told the court that among the chemicals tested was one believed to be acetone. He said he also found urea, lead nitrate and hydrogen peroxide in the house.
"Samples taken from exhibit M4, which was a white-crystal powder, showed it was lead nitrate, while exhibit M5 was hydrogen peroxide," said Garrick.
Wrong identity
He said when mixed, the chemicals can make a very powerful and dangerous bomb.
Garrick told the court that before embarking on the forensic exercise in Kenya, he had earlier been asked by his superiors in London to go to Kenya and help with investigations involving a British terror suspect.
"On Friday December 23, 2011, I was on duty in plain clothes when I was made aware of the arrest of a UK national in Kenya for an offence under Kenyan law of possession of explosives," he said.
Garrick, who was led by Senior Assistant Public Prosecutor Jacob Ondari, told the court that on arrival, he discovered the Briton had given his name as Peter Joseph from Canada. He said it was later proved that he had given false information about his name and nationality, which were confirmed as Jermaine Grant from the UK.
The detective said after it was confirmed that he was a Briton, it was decided that Kenyan police should be helped after Chief Inspector Rob Jefferies requested some officers to be deployed to Kenya.