Police release suspect in 'car theft syndicate' on bail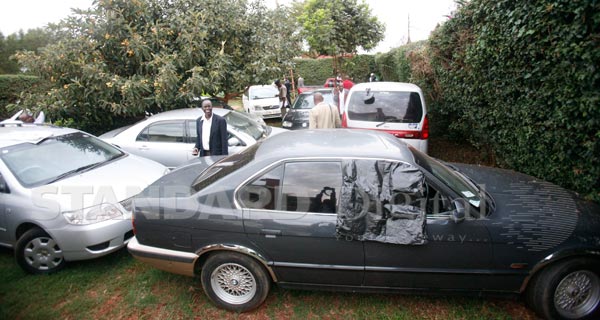 Some of the vehicles recovered at Mombo's compound on Tuesday. (Photo:Evans Habil/Standard)
By Cyrus Ombati
Nairobi, Kenya: Police have released on bail a businessman in whose compound 17 vehicles were found on suspicion that they had been stolen from owners.
The officers also released nine of the cars to him after owners showed up at the Kabete police station with documents and confirmed they had surrendered them to Dennis Mwangeka Mombo as securities for loans they had obtained.
Nairobi Area head of CID Nicholas Kamwende said they are still investigating to establish if the other remaining cars are genuine.
"He proved he gives out loans to individuals and some owners showed up to confirm this. We are however still investigating the issue and have invited Kenya Revenue Authority to help," said Kamwende.
Kamwende added the shylock agency that Mombo operates is genuine.
Police on Tuesday recovered 18 assorted vehicles that are believed to have been stolen or robbed from owners at the residence of Mombo in Mountain View estate, Kangemi.
The officers were pursuing a saloon car that had been robbed off from a motorist at the city centre a week ago when they stumbled upon the other 17 vehicles.
Police used a tracking gadget to trace the car before finding the others that were parked allover the compound.
According to Dagoretti CID boss Joseph Ondoro, the car in question had been hired to a motorist before it was stolen, papers forged and later used to get a loan from Mombo.
Two other cars had been on transit to neighbouring countries when they went missing, he added and argued they are still investigating them.
Ondoro said they also recovered a police communication gadget and four mobile phones from the house.
Mombo presented himself at the station at around 7.50pm saying he also deals with microfinance business.
He denied the cars were stolen or robbed off from the owners saying they were securities for loans he had advanced to individuals on behalf of a company he works for.
Nairobi is experiencing high cases of car-jacking and robbery with violence targeting saloon cars most of which are never recovered.
Up to five cars are stolen weekly in attacks in the city alone.
Police lack capacity to track such vehicles.