Uhuru to officially open journalists' forum
COUNTIES
By - | May 2nd 2013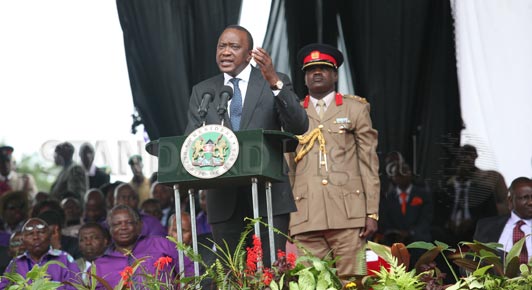 President Uhuru Kenyatta addresses the nation during Labour Day celebrations at Uhuru Park.
By Cyrus Ombati
Nairobi, Kenya: President Uhuru Kenyatta is Thursday expected to open a regional forum for journalists in Nairobi.
He will officially open the Media Council of Kenya Regional Journalists' Convention at the Kenyatta International Conference Centre (KICC).
The two-day conference is part of World Press Freedom Day activities. The Day will be celebrated on Friday.
The forum will end with the second Annual Journalists Excellence Awards (AJEA) ceremony on Friday.
Thereafter on Thursday a report entitled "Safety and protection of Kenyan journalists: Is it common sense or common cents?" will be launched.
The report found out working conditions for journalists in Kenya are deteriorating as shown by increasing threats against and harassment by both state and non-state actors.
The study commissioned by the Working Group on the Media and undertaken by MCK, shows more than 70 per cent of the journalists indicated they were dissatisfied with the level of safety and security measures accorded to media workers in their media institutions.
The National Baseline Survey says there is an urgent need for safety and protection of journalists and other media professionals in Kenya
In the study, journalists identified a number of challenges and obstacles that compromised their safety in the course of their work.
These included lack of or inadequate facilitation, poor pay, working under managers who were not trained journalists, and, in some extreme cases, taking instructions from unethical editors who maintained alliances with news sources, especially politicians.
The journalists felt that media institutions lacked the resolve and will to investigate violations committed against their reporters.
It was futile, they said, to expect the government to investigate attacks on journalists especially when the perpetrators were public figures. It also appeared, from the findings, that media associations and the Kenya Union of Journalists lacked the capacity to protect journalists.
The findings suggested there was no enough public and official awareness of the safety and protection concerns of media practitioners.
In some cases, media houses did not bother even when their employees raised issues concerning their safety and protection.
In addition, there were instances when media houses did not provide lawyers to defend journalists facing a particular threat. The upshot of this was the need for state agents to interact more often with journalists, including attending joint workshops and visiting each other's work places.
The findings pointed to a gap between existing support initiatives and the journalists' and media professionals' practical needs and challenges. Protection, training and financial protection was available but often only on an ad hoc basis.
Gaddafi's son Saif al-Islam to appear in court
Saif al-Islam, the son of deposed Libyan leader Muammar Gaddafi, will appear in court on Thursday in the town of Zintan, where a militia has held him since his capture in November 2011, a local council official said.