What Kimemia's retention means
COUNTIES
By - | April 26th 2013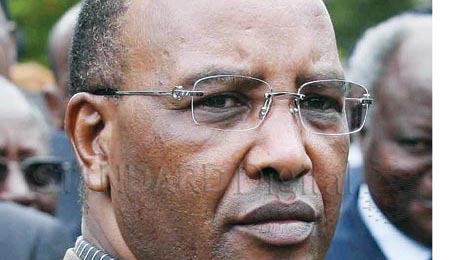 Francis Kimemia retained as Head of Civil Service.
By CYRUS OMBATI
Head of Civil Service Francis Kimemia will continue to serve as Secretary to the Cabinet to help steer transition from the previous to the new regime.
President Uhuru Kenyatta said Mr Kimemia would be a transitional secretary, an indication he could be out of the powerful seat when the process is completed.
"In order to ensure a smooth and orderly transition from one administration to another we will propose Kimemia as secretary to Cabinet," said Uhuru.
Kimemia has emerged as an administrator of survival given his past experience.
He formerly served as a secretary in the Ministry of Education, undersecretary and Permanent Secretary in the Ministry of Internal Security, and now as the Head of Civil Service.
As the Head of the Civil Service, Kimemia remains the most powerful administrator as he oversees operations in the Government.
For now, he doubles up as chairman of the Assumption to the Office of the President committee that was in charge of the smooth transfer of power from President Kibaki to Uhuru.
The transition committee is required to submit a report to Parliament once the Cabinet has been fully constituted, which can explain why he was retained.
According to the law, the report should contain the financial statements of the committee and a description of its activities.
The work of the transition committee will come to an end once the new Cabinet secretaries are sworn-in, when, pundits say, Kenyatta can decide to retain Kimemia or replace him.
The committee whose members included Ms Anne Waiguru, the Cabinet Secretary nominee for Devolution and Planning, will continue to give briefs to the President until Parliament approves the Cabinet nominees.
Kimemia holds a Bachelors Degree in Political Science, Public Administration and a masters in Business Administration.
His name had featured as possible nominee for Interior and Co-ordination of National Government docket, which is yet to get a nominee.