Maasai: Tension Ensues over land row
COUNTIES
By - | July 27th 2012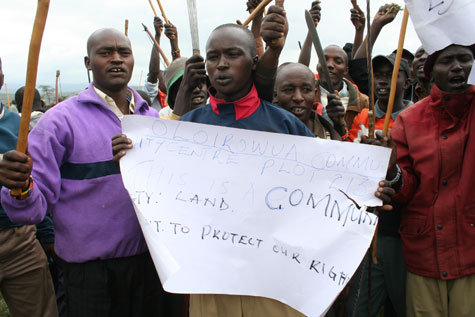 By Antony Gitonga                                              

Over 500 Maasai community members held a demonstration in Suswa over land grabbing by an influential trader in the area.

Business came to a near standstill in Oloshaiki village as the demonstrators carrying placards and all manner of crude weapons warned of a bloodshed if no action was taken.

The emotional pastoralists accused the trader of grabbing fifty acres earmarked for constructing a school, hospital and other social amenities.

Armed police watched from a distance as the group warned anybody interfering with the land that they would face the wrath of the irate demonstrators.

According to the group leader Mr Wilson Kirerei the land was set aside for the community but they were shocked to learn that it had been grabbed.

"We have come to learn that the land has been grabbed by a person well-known to us and we shall not allow any construction to go on," he warned.

His sentiments were echoed by Bishop John Koina from Baptist Church who called upon the State to address the issue expeditiously to avoid bloodshed.

He said that tension and anxiety was rising by the day over the ownership of the land as the owners bragged of state protection.

"We are calling on the community to be peaceful and patient but the government should address this matter with the seriousness it deserves," he said.

Another protestor Roshono Ole Pempa wondered how the trader came to grab community land and alleged support from some government officers.

"This is our right and that of our children and we shall not stand back watch as one man takes over," he vowed.

Addressing the demonstrators, area D.O Josphat Lelei admitted that the community had the right to demonstrate.

Lelei called for a meeting between area leaders and the purported owner of the land in his office in a bid to address the impasse.

He admitted that the issue of land ownership in the area was a major concern as many people did not have title deeds.
MPs warn of food riots over VAT hike
Kenyan MPs have taken a populist position and asked the government to withdraw a bill that seeks to slap value added taxes on foodstuff or risk food riots.