Uhuru, Raila should simply accept that they are dynasties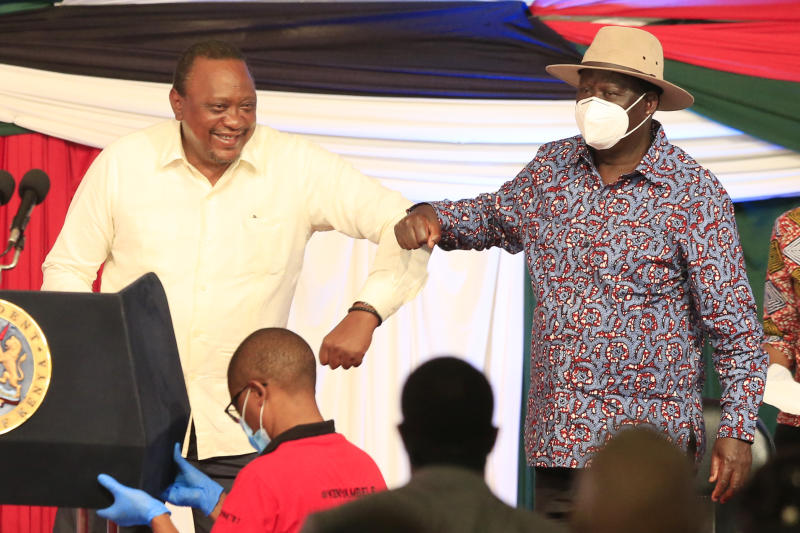 Deputy President William Ruto has ruffled feathers and caused widespread annoyance with his dynasty label. But those referred to as dynasties, by the DP, including President Uhuru Kenyatta and Raila Odinga, should not take offence — they should take the political lemons thrown at them and try to make lemonade from them. That's the only way to defeat the hustler narrative.
For starters, there is nothing wrong with being a dynasty. Only the ambitionless would not want to rise to 'dynastic' status. As such, Uhuru, Raila and Gideon Moi's political strategists should drop political dynasty apologetics.
The way I see it, the dynasty-versus-hustler nation narrative is a political communication strategy. And it is simple to water down. However, when approached through refutations, it gains credibility — that is the goal of the narrative's architects.
Sun Tzu in the 'Art of War' advises that the best way to win war is subduing the enemy's troops without any fighting, capturing cities without laying sieges, and overthrowing kingdoms without lengthy operations. As such, the best approach 'dynasties' should use to counter hustlers is by planning to win without having to fight their enemies.
Uhuru et al. should learn from Ruto on how to neuter this narrative. When the president branded Ruto a loitering busy body (mtu wa kutanga tanga) — a very negative term by any measure, the DP didn't deny it. He picked the Tanga Tanga 'insult' and turned it into his political fort. Had he denied it, it could have caused more harm to his political 'war'.
Markedly, the Tanga Tanga side of Jubilee constructed the hustler and dynasty binary oppositions and presented them as idols of worship to the nation. They then assigned themselves the 'hustler' tag. They yoked their political nemeses such as the Uhuru, Gideon, Raila, Musalia Mudavadi and others together as 'dynasties'. If Ruto and allied billionaires can sanitise the 'hustler' tag and fit in, then the dynasty tag can be more accommodative. Let me explain.
In Africa, people like associating themselves with prominent families and people. Coming from such families is enough to earn someone respect anywhere. As such, those referred to as dynasties should convince Kenyans that everyone's vision should be to be a dynasty, not a wheelbarrow pushing hustler.
First, there are no such people as hustlers and dynasties — this is merely a political narrative. The narrative was created and given life for the purpose of marshalling votes in 2022. Like the 2013 'digital versus analogue' narrative, this political narrative is easy to deal with without ascribing it to class war. It is a counter-reaction to start predicting that the narrative is an indicator of class war. That's an extreme reaction.
Dynasties are everywhere. Even among the street families, some are more advantaged. Such advantage should not be used against them. It's their strength. Having an edge over others is very natural. In addition, no one chooses where to be born and to which family. However, depending on where one is born, they have the 'power to become' or not. For example, Uhuru's son, Ruto's son, Raila's son have some political grace with the power to become anything in politics, courtesy of their parents — as such, even DP Ruto is a thoroughbred dynasty.
Apart from politics, there are also business dynasties; a dynasty here means families and people who have built business empires. There is nothing wrong with being born into such families.
Political evil
To political 'dynasties'; the dynasty narrative this is a crisis, and you must approach it strategically with political PR. The hustler nation whirlwind has been gaining speed and traction because the 'dynasties' have been arguing with their political bullies. By denying the existence of the dynasty, they give credence to their nemesis' claim; that dynasty is a political evil, which is not true.
The best strategy to deal with hustler-dynasty narrative is to take it, breathe life into it, and direct it back to the sender. I call it back to the sender strategy. It is getting the stones thrown at you and building a refuge. This is my last free advice to the dynasties. The next time I render my advice to them, I will charge them heavily because I also want to join the dynasty league!
Finally, spin-doctors should be more innovative in their political strategies. It is possible to advise their bosses to fight back political crises while deliberately making sure such stratagems leave Kenya a united country. Wake up and embrace 'green' spin-doctoring.
Dr Ndonye is a political economist of Media and Communication