How Matiang'i rode his way to national acclaim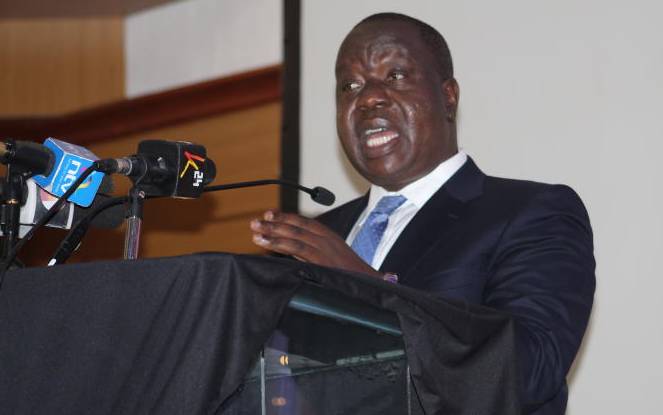 Fred Okengo Matiang'i was appointed Cabinet Secretary for Education in 2015 at a time when the ministry was perennially plagued by endemic corruption. The powerful cartels at the Kenya National Examinations Council (KNEC) in cahoots with other nefarious actors had long leveraged their influential positions to mercilessly compromise Kenyan examination processes for illegal financial gain. The rot had escalated to the extent that anyone whose pockets were sufficiently deep, could purchase a glittering grade 'A' transcript.
The hard work of honest students, their aspirations, as well as their teachers' targets, were hopelessly frustrated by the entrenched corruption which trashed merit and rewarded skullduggery. In a country where corruption is generally tolerated-and sometimes celebrated- it was still a new low for such fraudulence to metastasize to the realm of innocent school children and, in a very practical way, jeopardise their futures.
Touching down at a perfectly timed moment during the wake of colossal leakages in the previous KCSE examinations, Dr Matiang'i assumed office with weapons-grade energy and enthusiasm. Kenyans were in for a refreshing surprise, having long grown jaded about serious administration after decades of seeing officials who didn't care about ethics and professionalism. On short notice and with no apologies, Matiang'i set out to slay the cheating dragons and reculturise schooling using unorthodox – and by some accounts- highhanded measures. His goal was singular and unrelenting - to bring equity, quality and sanity to the education sector.
At KNEC, compromised well-fed senior officials got comeuppance. Culprits were ferreted out by the sack; others by transfer. It was directed that going forward, guardians and parents were persona non-grata in schools during the third term, and social activities were to cease until the examinations season ended. Two windows – that of candidates sitting examinations and that of marking - were shrunk considerably to minimise chances of examination manipulation. Additionally, these stern and far-reaching measures extended to making head teachers rather than the County Education Officers responsible for the local examinations centres. To the chagrin of many, all school buses were ordered painted yellow.
Despite much resistance and outcry, these measures proved quite decisive in starving the cartels at all levels of the food chain of their lucrative filth. Predictably, with the cheating loopholes thus sealed, the 2016 KCSE examination results were dismal. A shocking 438,914 students – more than half of all candidates - scored below C minus. Only 11 per cent of the 600,000 students who sat the examinations qualified for university. Shocked and disbelieving teachers' union officials and prominent politicians were among the throngs calling for a forensic audit of the results. But the Cabinet Secretary was steadfast. Soon, academic standards improved, student unrest was contained and Matiangi's reforms resonated higher up to the administration of public universities and tertiary institutions. These episodes projected Matiang'i to another level of fame and admiration in the Kenyan public marketplace.
But what makes this man stand out? First, it is his unique approach to administration and political life, and his character which some have correctly described as "firm and transparent". In public estimation, he possesses confusing attributes. He appears noble and ignoble, often arrogant and at times even shy. Somewhat like the American General MacArthur, he may be described as "the best of men and to others the worst of men, in other instances the most protean, or most ridiculous".
Either way, Matiang'i is unquestionably one of the most gifted civil servants the nation has ever produced. Perhaps more than any other well-known civil servants and influential ministers such as Geoffrey Kariithi, Duncan Ndegwa, Kenneth Matiba, Francis Muthaura, Jeremiah Kiereini, Simeon Nyachae, Sally Kosgey, Zakayo Cheruiyot and Hezekiah Oyugi, Matiang'i brought on board intellectual capital perfectly blended with a remarkable prefectorial ability - a combination which serves him well incorrectly deciphering the complex Kenyan political terrain.
Second, he has succeeded in striking a balance while oscillating between public, personal and spiritual life. In his early life, he was reportedly groomed by a strict, authoritarian Adventist father to become an effective bureaucrat. This foundation of rich administrative and spiritual experiences sets Matiang'i apart as an able mentor to the younger generation and budding administrators.
Third, Matiang'i benefited from administrative mentorship. He was a disciple of Simeon Nyachae, an influential minister in the Kenyatta, Moi and Kibaki states. Matiang'i was Nyachae's secretary between 1997 and 2002.
Fourth, he has successfully projected himself as a cultured gentleman and cunningly leveraged his oratorical abilities. This has enabled him to flourish in the Jubilee administration even amid much chaos and resentment. Matiang'i has grown into a genuinely popular civil servant and a much admired administrative celebrity as well.
Fifth, in the mould of Principal Secretary Nelson Marua, Matiang'i has often invoked hegemonic masculinity and camouflaged politics which portray him as a 'defender' and fearless man. In some of his speeches, he would taunt the opposition with devastating verbal blows. To Jubilee followers, he would often and quite deliberately demonstrate the centrality of masculinity as an ideology in the Kenyan political leadership. People seem to find benevolent strongmen strangely attractive.
Finally and most importantly, since the fallout between Deputy President William Ruto and President Uhuru Kenyatta, Matiang'i has in a real and metaphorical sense taken over the Deputy President's position of power and attendant duties. Arguably, Ruto's official identity seems to be getting incrementally subsumed by Matiang'i's shadow.
As for the corrupt cartels in the education sector, whether Matiang'i's determined efforts dealt them a death blow is a matter of conjecture. Could they have just dropped under the radar only to regroup and return to status quo once the conditions are right?
What is not in doubt is that, during his time as the top education official in the country, and to his lasting credit, Fred Matiang'i confronted the dark and corrupt forces directly and fearlessly in a fashion never seen before. No surprise that Matiang'i features in nearly every grapevine shortlist of a future Kenyan president!
-Dr Chacha and Dr Wahome teach at Laikipia University. Dr Wahome is the university's Director of Examinations and Timetabling