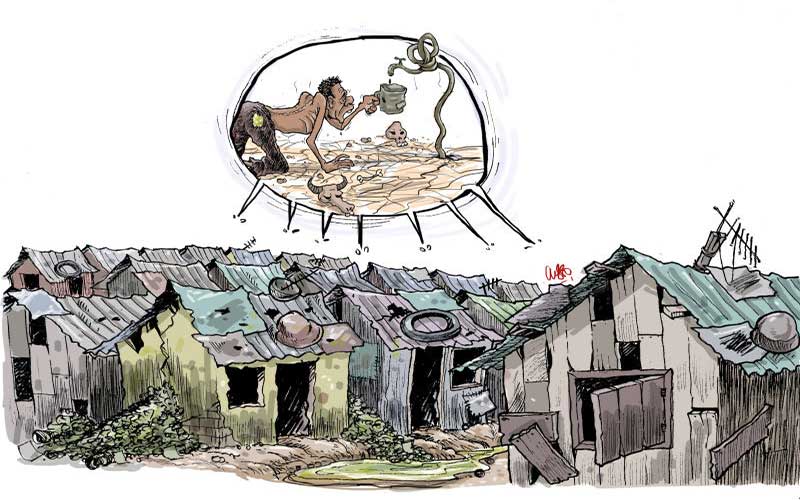 Kenya has in the past been classified by the United Nations as a chronically water scarce nation. Any country whose annual renewable freshwater supply is below 1,000 cubic meters per person is classified as water scarce. Kenya's annual renewable freshwater supply sits at only 667 cubic meters per person. That is why our urban and rural areas continue to lack water.
Apart from the infrastructural challenges of distributing water into and within Nairobi, the greatest threat lies in limited production of water that is pumped into the city. This was revealed by the Nairobi City Water and Sewerage Company itself.
Rural areas are also not spared by our water scarcity status. Wayua, a relative of mine from Mutomo region in Kitui County currently purchases a 20-litre jerrican of water at Sh25. Such high water prices are becoming the norm for her and fellow villagers.
Our dire water scarcity requires us to become extremely economical and innovative about our freshwater usage. We need a kind of marshal plan to harvest water, change our mindset and implement policy even as we borrow a leaf from two countries: Egypt and Israel. In 1960, Egypt built Aswan High dam to tap into the waters of River Nile, Africa's longest river. This dam created Lake Nasser, a reservoir that is the world's largest manmade lake. We should follow suit and tap sustainably into our rivers and feed reservoirs that will store millions of litres of our freshwater.
Read More
As revealed in the United Nations World Water Development Report of 2018, Tana River provides 80 per cent of Nairobi's drinking water, generates 70 per cent of the country's hydropower and irrigates about 645 square kilometres of farmland. However, when the river floods, during heavy rains, the water causes loss of life and destruction of property. If we build strategic reservoirs, they will capture that excess water and arrest perennial flooding.
Seth Siegel, an American writer, did a well-researched book titled, 'Let There be Water: Israel's Solution for a Water-Starved World.' The book contains vital lessons Kenya can learn from.
Israel's government doesn't subsidise water at all. In that regard, losing water is akin to losing money.
But for us because water is seemingly 'cheap,' leakages of water pipes and water wastage in our homes, are the order of the day.
As such, I suggest that water subsidies be stripped away because they are largely benefitting the rich or water cartels at the expense of the majority of Kenyans. Israel Water Authority manages the country's water in a non-political, highly effective technological manner.
Think of the water that remains after our varied uses. It is generally wasted. To the contrary, in 1951, Israeli leaders decided to pursue a new source of water – wastewater. Israel treats its wastewater and uses it for agriculture. Infarct, it is illegal to use fresh water to water your garden!
Since 1951 when the decision to tap into wastewater was made, Israel has built a parallel infrastructure for wastewater. Through this infrastructure, treated wastewater that is inclusive of nearly 90 percent of the country's sewage, is distributed to farms across the country. This drastically lessens pressure for freshwater since agriculture is the largest consumer of freshwater globally.
All the 12.2 million households in Kenya should be educated to value fresh and wastewater and stop wasting it. I suggest that the government puts in place well thought out infrastructure to facilitate this. Further, we need to employ a strategy similar to the famed Kazi Mtaani to harvest water across the country. In the same vein I further suggest we employ best technology, local labour and impose local content on equipment so that we create jobs as we do passionately gather water.
Israel is also a pioneer of desalination, an idea conceived in the 1950s. Consequently, eighty percent water consumed in the country's households is desalinated water from the Mediterranean Sea. Although desalination remains almost prohibitively expensive, we need to take the first concrete steps towards this vast source of water.
For all these water breakthroughs to be experienced, our national water attitude and policy should be guided by these three powerful words – every drop counts.
Accordingly, we shall be militant about restoring our water sources, urbanise our settlements to enable efficient infrastructure, control water pollution to improve quality and finally deal a major blow to the rampant corruption in this sector.
Indeed, we shall achieve water abundance through a new water culture, drastically revamped water governance and substantially improved water technology if we think and act green!
- The writer is founder and chairperson Green Africa Foundation. www.isaackalua.co.ke