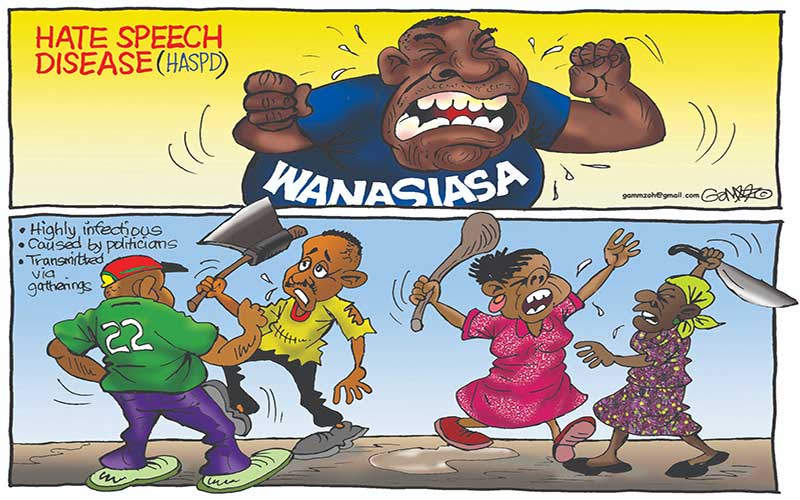 As Emurua Dikirr MP Johanna Ng'eno and his Kapsaret counterpart Oscar Sudi wait for the mention of their hate speech and incitement cases, we shouldn't forget to address the drama surrounding their arrest.
It has become normal that whenever politicians fall in trouble with the law, they release resources and mobilise mainly youthful 'supporters' to protect them from arrest.
When this happens, the youth end up sustaining injuries, sometimes fatal ones, and when the drama is over, the politicians move on like nothing happened. This has happened on numerous occasions with the likelihood of more owing to the political climate.
At the weekend, locals blocked roads in Kapsaret following plans by the police to arrest Mr Sudi who was being sought over hate remarks against the President and the First Family. The MP's house was also surrounded by youth after police were spotted in the town. Transport was equally paralysed on Kapsabet-Eldoret road with some blocking it with logs and stones.
It would be quite unfortunate if leaders, with the best lawyers at their disposal, resort to human shields in our youth who are often reeling in unemployment.
This is not meant to justify the not-so-civil conduct of the police in carrying out the arrests, neither is it a defence for the decision to apprehend the said politicians. But there is something absolutely wrong with putting the lives of innocent youth you vowed to protect, in the line of danger in the name of politics.
It is not lost on anyone that often our police officers waste no chance of using brute force during these raids and having a young man or two maimed is often regrettable.
Our youth need to be educated and possibly empowered so that they do not put their lives in danger for courses they hardly understand and for people who do not care whether they live or die. Our leaders also need to cultivate some sense of conscience when engaging the youth for missions that are obviously so dangerous.
More worrying, however, is reports that members of an elite police squad were allegedly used to help the Kapsaret MP evade arrest. Two officers attached to the presidential escort unit are said to have engaged their colleagues in a fight before they were detained. Their guns and ammunition were seized in the operation.
Though it might sound ingenious by the Sudi team, it portends a very dangerous trend not only to the officers involved but also a serious threat to the national security. A threat to national security is a threat to all of us who live within the borders of this country, including those with the privilege of employing law enforcers for personal use. If allowed to continue, especially during these politically charged times, the country will find itself in a very dicey situation when political, ethnic and financial allegiance of members of the disciplined forces override their call of duty to serve the nation.
We don't want to imagine the consequences of a division in our armed forces and police at the whims of competing political or other interests. This is why we must put aside our petty politics and raw ethnicity to protect the integrity of our law enforcement and security agencies.
-Mr Mugolla is a public policy analyst. [email protected]