Murkomen, never woo a pretty girl in borrowed pants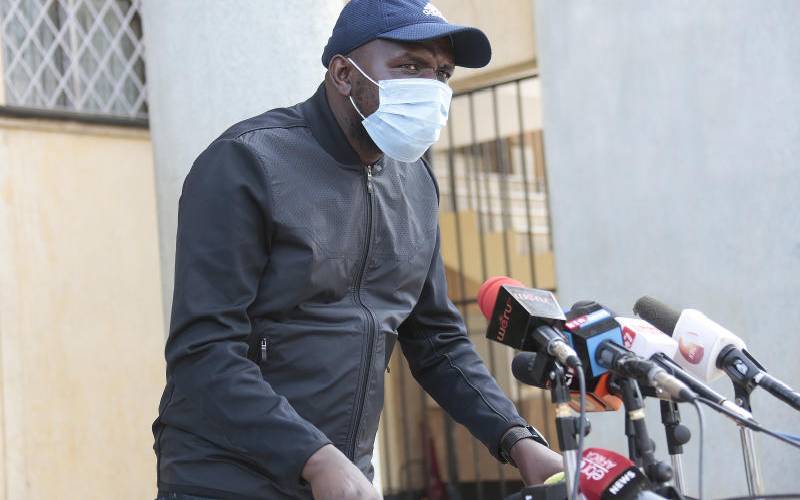 Someone should have whispered to Senator Kipchumba Murkomen the simple rule of a village dance – you do not dance with the most beautiful girl in the room wearing borrowed pants.
Not even when she keeps smiling in your direction the whole night. You must wait for your day – another day. You must be wise not to be carried away. For if you failed to resist the advances, you lived to tell not so beautiful stories as Murkomen will soon be doing. The tough stance he is displaying now is a mere show for the public, which I find naïve. Deep inside, we know the Senator is licking his wounds.
Murkomen's case is done and dusted, and this was bound to happen.
The senator has been flirting around with this political beauty for far too long, much to the annoyance of the big boy who had lend him his pants. He should have known that no man can stomach that.
What is surprising, however, is seeing how Murkomen and his clique seem to be spoiling for a fight. Does he stand a chance? To answer this question, let me get back to my village dance analogy.
Once you get thrown out of the dance, the best thing you did for yourself was to quietly disappear into thin air and count your losses.
Any attempt to put up a fight would most certainly end up with more wounds to lick. The dirtier and noisier you made it, the more cuts and bruises you ended up with.
Most of the blows and kicks that would land on you would be from the not so handsome yet strong and burly bully boys who however much they showered in the brown water rivers, never got even the slightest of attention from the village butterflies.
You can now imagine the fury with which those kicks and blows would be thrown your way when the bullies remember their frustrations trying to lure the girl without success and later seeing her behaving so easy around you and looking as tender as a chick in your arms.
Someone should move in quickly to save Murkomen from further suffering.
Putting up a fight will only make him the punching bag, or perhaps the grass that gets trampled in a fight of two bulls.
Murkomen should have realised that serving as the Leader of Majority in the Senate was not by right, but a privilege extended to him by President Uhuru Kenyatta and not Deputy President William Ruto. While it might have been the DP who delivered the pants to Murkomen, they actually belonged to the President.
Group cheerleader
Murkomen lost it the moment he started talking at the President and being at the forefront of a group literally hitting at him publicly without any caution. He became the cheerleader of the group going up against the President. Hasn't this been always coming?
For close to a year now, it has been public contests one weekend after another between two groups -- Tangatanga coalescing around the DP and Kieleweke supporting the President.
The country has been treated to enough drama as the two groups tried to outdo each other. Sometimes one wonders whether the President and his deputy know something we all don't.
When you contrast what is happening now with the kind of bromance the two leaders displayed when they addressed the nation from State House in turns, donning matching trousers, shirts and pants and the beginning of their first term, you wonder what exactly happened between the two brothers. Or is it just as they say, in politics there are no permanent friends or enemies?
It is therefore no wonder that the President has finally cracked, or rather started cracking the whip by sending Ruto's most vocal man packing. A strong warning has been sent to Ruto from his boss, but has the message been understood? Though everything in politics is possible, this looks like the beginning of a dirty and noisy Jubilee divorce.
Focus will soon shift to the Uhuru and Gideon Moi alliance. Is it just about sharing some cake to Kanu members as has happened by replacing Murkomen with Kanu stalwart Samuel Poghisio? Of course not. One gets a feeling that something big, very big, is cooking here.
-The writer is head of Think Outdoor and Editorial Convergence at Standard Group