New KDF boss must not disappoint Daudi Tonje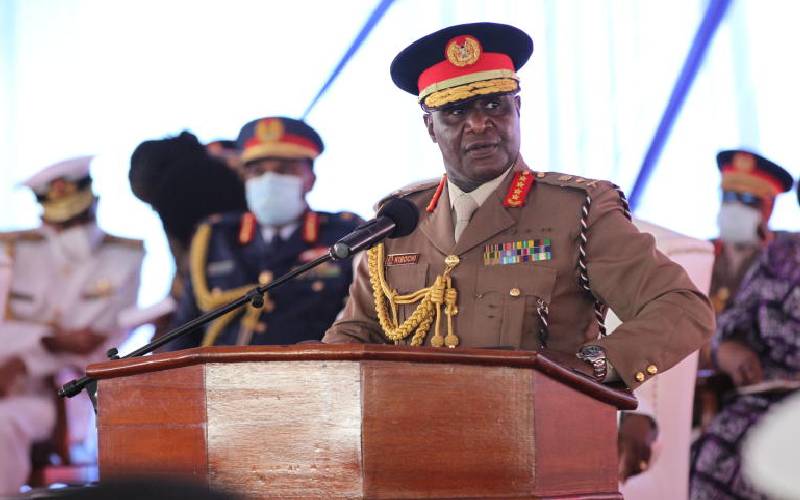 Few soldiers make lasting and memorable impact. They often do things for the common good because those things need doing. They care for the 'commons' rather than for individual advancement but, in so doing, they inadvertently advance their interests in terms of positive legacies.
One Kenyan soldier fits this bill well. That is Daudi Tonje. The smooth military command transition, senior officers pulling outgoing Chief of Defence Forces (CDF) General Samson Mwathethe's vehicle out of Kahawa Baracks, and General Robert Kibochi (pictured) staying put, is evidence of institutional entrenchment of the Tonje vision.
Kenya's post-colonial military experience is mostly British in training and aptitude. In the transition period from colonialism to independence, Britain helped to identify potential African officers from two sources.
First, it selected soldiers in the Kings African Rifles (KAR) and commissioned them as officers. These KAR men included Idi Amin Dada, Joseph Ndolo, Jackson Mulinge, James Lenges and Mahmood Mohamed Barrow. Second, Britain started recruiting bright high school graduates for officer cadet training. Daudi Tonje, a top 1961 high school graduate, joined the military in April 1962, trained at Lanet and Mons, England, and received accelerated promotion. The "Effendi" group KAR mentality dominated the military for three decades until Tonje entered the scene.
Britain also seconded officers to mentor Kenya's new military. Britons identified Ndolo as the first African Army Commander and then Chief of General Staff (CGS) in 1966 and 1969. President Jomo Kenyatta had decided to unify the three new services of army, navy and air force initially under Major General Robert Bernard Penfold. He then appointed "Effendi" Ndolo to replace Penfold on May 8, 1969.
Ndolo had two achievements. First, Daniel Opande wrote, In Pursuit of Peace in Africa, Ndolo ended ethnic food discrimination by ordering all soldiers to eat the same food. Second, he unified military ranks by discarding naval and air force titles like midshipmen, flight lieutenants, commodores, admirals or air marshals. Ndolo then blundered into June 1971 coup plot. Disappointed Kenyatta sent Ndolo, and his co-suspect Chief Justice Kitili Mwendwa, into inglorious retirement and kept the CGS position vacant. Following Kenyatta's death in 1978, President Moi revived the CGS post and appointed Jackson Mulinge who served until 1986 when Mohamed took over.
Mohamed, the last CGS from the KAR group, had crushed the August 1982 coup attempt by the air force. He was CGS for 10 years, up to 1996. His departure freed the military from the KAR mind-frame and opened the way for post-colonial officers, bubbling with ideas. Tonje, full of fresh thinking, was team leader.
Tonje, wrote Daniel Opande, had vision that many officers lacked. In reforming the military, he introduced gender equality, abolished wage payments, started health insurance for the military and struggled to cater for veterans' interests. In addition, Tonje, the "grand strategist", dreamt of building critical policy-making masses. He persuaded Moi to establish the National Defence College as a top multi-sector regional military and civilian training organ for safeguarding national interests. He made Opande, with peace-keeping experience in Namibia, Mozambique, and West Africa, the first Commandant.
NDC association
Tonje retired in 2000, after four years as per his rules and Joseph Kibwana took over as CGS. All the subsequent CGSs, and most of the service commanders, have had NDC association and know the "Tonje rules" of military etiquette and governance.
The Tonje rules seem to have three pillars. One, ensure that senior officers have university education and acquire ability to think critically. Two, institutionalisation of age and term limits for commanders. Three, advance the concept of service rotation in the CGS office and promote a sense of equity among the three services. CGSs follow a Tonje rotational pattern: Kibwana (Navy), Jeremiah Kianga (Army), Julius Karangi (Air Force), Samson Mwathethe (Navy), and now Kibochi (Army).
Kibochi embodies the Tonje vision. Besides mastering military basics and having graduate degrees, Kibochi has the critical NDC exposure as to what constitutes national security and national interests. Kibochi has an opportunity to show intellectual capability as a critical thinker and possible 'grand strategist'. In the next four years, he has the burden of not disappointing Tonje.
- Prof Munene teaches History and International Relations at USIU