Banning of mitumba importation ill-advised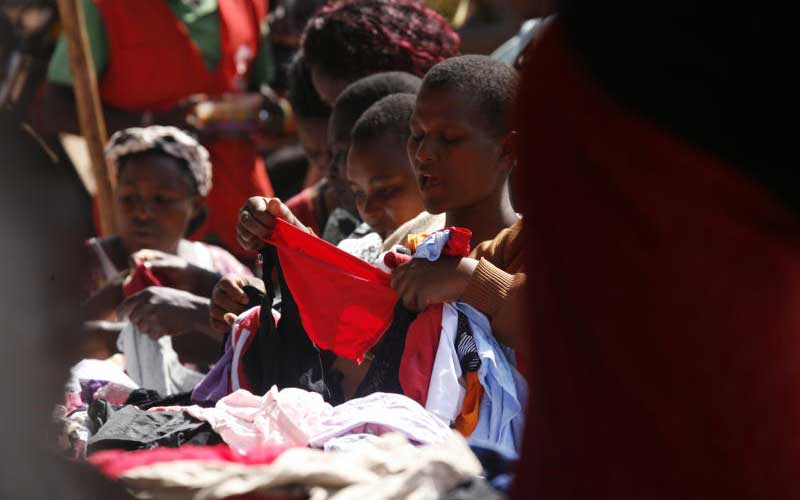 Second-hand clothing, fondly known to Kenyans as mitumba, found its way into the country in the 1970s–then imported as duty free charity. Following market liberalisation in the 1990s, the trade evolved into a commercialised business.
Today, the mitumba market is characterised by a wide range of items besides apparel. Kenyan mitumba is mainly sourced from UK, Canada, USA, Australia and recently China. In most cases, these imports arrive in shipped containers packed with 50kg bales, whose price worth is determined by origin, quality/grade and content.
Gikomba in Nairobi is the largest mitumba outlet. Here, wholesalers, brokers and retailers aggressively merchandise their products alongside other service providers. For the poor, mitumba is a source of affordable decent clothing, foot wear and household items whilst for the affluent; it is a source of designer labels of high quality at significantly low prices.
Before the emergence of mitumba, majority Kenyans were not in a position to tailor new cloths or buy trendy local designs from outlets. The society's poor were barely clothed; they were covered in rags patched time and again while shoes were a luxury for the rich. For lack of these essentials, homes were infested with lice, jiggers and bedbugs, a predicament almost now gone, thanks to mitumba.
The recent ban on mitumba importation by the government over concerns it could fuel spread of Covid-19 is detrimental to millions of livelihoods.
Since the announcement, some businesses have been adversely affected, unable to sell stock imported well before the pandemic outbreak. Many are in bewilderment questioning why mitumba is more vulnerable to Covid-19 than other imports. It takes a mitumba shipment at least 45 days to arrive in Kenya and several more days in the clearance process, transportation and storage.
More so, second-hand clothes are fumigated as a mandatory condition before export. How would mitumba then still be a threat to the spread of Covid-19? Well, should such reason hold, would it not be fair to devise ways of making the trade safe, before dismissing the livelihoods of millions and an extremely established business sector? This ought to be the case, if indeed the import ban is dictated by the threat of spread of Covid-19.
Notwithstanding, the ban on mitumba has been a cloud hanging too low over the heads of actors in the trade. Unfortunately, mitumba cannot be just dismissed or wished away since the trade has evolved into a business sector, employing Kenyans in millions, directly and indirectly. The Gikomba market incubates business activities in their thousands. So intricately intertwined are these self-employment jobs; the absence of mitumba would destabilise an entire chain of businesses.
Replica "Gikombas" exist in the outskirts of CBD, and in almost every town around the country. The trade also harbours high-end boutiques, selling choicest of mitumba ('camera') and recently, mitumba supermarkets/thrift stores.
These are classy shops merchandising mitumba items, close home, free from the Gikomba bustle and the harsh elements of the weather. These supermarkets have become extremely popular across the entire spectrum of the society. County governments earn revenues from all these businesses.
Cotton industry
Over the years, mitumba trade has held blame for the near dormancy of Kenya's cotton industry. However, the plummeting of the cotton industry was already in gear two decades before mitumba became business. Mitumba trade thrived because it found and filled an existing gap that the cotton industry had failed to exploit. Rather, the industry's downturn was attributed to more direct underlying factors like the severe drought of 1970s, pest and disease, causing a perennial cycle of crop failure for years, hence the subsequent shift by producers to better yielding crops.
Additionally, closure of textile factories diminished demand for raw material hence cotton production. Nevertheless, in recent years, the cotton industry has benefited from enviable government incentives like tax exemptions in efforts to revive the sector's production.
Contrariwise, mitumba shipments are subject to all applicable import duties and levies which have increased by the year, in an effort to discourage the trade. Noteworthy, is demonstrated ability of the local leather industry to adequately strategise and find a dominating niche in style and quality as attested by the Bata outlets, despite competition from mitumba shoes. Regardless, mitumba trade is not without challenges; the recent surge of cheap imports from the East has become highly competitive.
Ms Wangombe, a business manager and administrator, 'hustled' in the mitumba business for a number of years