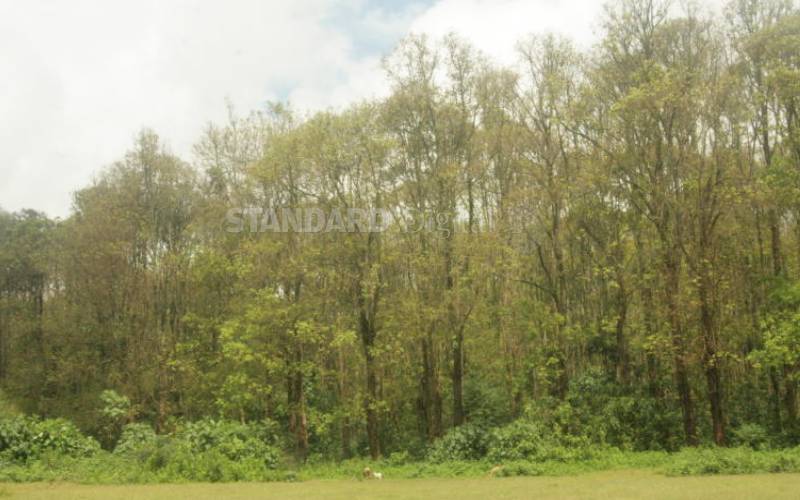 Chyulu Hills in South Eastern Kenya is one of the critical landscapes and water towers in the country. Unlocking innovative and sustainable conservation funding streams is key to enhancing its protection from heightening threats of destructive human activities.
The Kenya Water Towers Agency (KWTA) estimates Chyulu's economic value to the country to be at least Sh40.92 billion ($409 million) annually. This value includes supporting tourism, providing fresh water, storing climate-altering carbon, protecting important biodiversity and other vital ecosystem goods and services.
Chyulu's water catchment feeds major springs and rivers that sustain a significant number of people, wildlife and livestock in the coastal region. Mombasa City draws a third of its daily fresh water supply from Mzima springs via a 300-kilometre pipeline.
Threatened integrity
As an important wildlife corridor, Chyulu also supports the thriving tourism industry in the greater Tsavo-Amboseli ecosystem, which is home to a considerable population of iconic wildlife including elephants and rhinos that are a magnet for large numbers of tourists.
But the integrity of this crucial landscape is being threatened by unsustainable activities, such as charcoal production, collection of fuel wood, illegal logging, overgrazing, conversion of forests into agricultural land or settlements. The over-exploitation of natural resources is largely due to limited livelihood options for local communities.
The KWTA, in its 2018 report, notes that while the Chyulu water catchment is still relatively healthy, there are critical portions of it where forest cover has been reduced to the bare minimum, impacting the recharge of aquifers and the potential availability of water in the future.
It also indicates that the average flow from some Chyulu-fed rivers has decreased significantly over time due to a reduced rate of infiltration, while smaller springs have dried up due to over-extraction of water and land degradation.
If this trend goes unchecked, the implications would be far reaching for the country's tourism industry and water security.
One of the key barriers to securing this important landscape is a lack of adequate and reliable funding to strengthen its protection and restoration, provide livelihood support and clean energies to communities, and improve livestock and rangeland management to lessen degradation. That is why unlocking innovative and sustainable conservation funding is critical.
There are opportunities to enhance past or existing funding streams, such as philanthropic grants, state budgetary allocations and proceeds from ecotourism (park and lodge fees), but these sources would not be adequate or sustainable enough to achieve long-term conservation impacts at scale.
A recent initiative by a consortium of government agencies, NGOs and community groups to generate conservation funds for the Chyulu landscape by tapping into the global voluntary carbon markets has demonstrated considerable potential.
Designed as a REDD+ (Reduced Emissions from Deforestation and Forest Degradation) programme, the Chyulu initiative sells certified carbon credits to individuals and organisations around the world that seek to offset their greenhouse gas emissions and achieve carbon neutrality by protecting the Chyulu forests and supporting surrounding communities.
Two years since its launch, the project has managed to generate some carbon offset funds from a range of buyers, including Tiffany&Co, a global luxury jewellery and specialty retailer. The initial funds have been invested in the employment of rangers to strengthen forest and biodiversity protection, and support community livelihoods and education projects, among other things.
While the carbon credits are marketed globally by a non-profit organisation, Conservation International (CI), the funds are managed by a local institution — the Chyulu Hills Conservation Trust (CHCT) — which comprises the Kenya Wildlife Service, Kenya Forest Service, four community group ranches and three NGOs working in the area (Maasai Wilderness Conservation Trust, Big Life Foundation and Sheldrick Wildlife Trust).
Recent surge
With the recent surge in the voluntary carbon markets globally due to the growing urgency to tackle the climate crisis, it is likely that the Chyulu Hills REDD+ initiative will unlock more conservation funds, at least in the near-term, despite uncertainties about the future of global carbon markets under the Paris Climate Agreement.
Another promising source of conservation funds for Chyulu is Payment for Ecosystem Services (PES) in which beneficiaries of water from the hills, including Mombasa, may need to contribute to the conservation of the threatened watershed since they have a stake in keeping the water flowing. Currently this is not happening.
Several partners, including CI, are exploring options for a sustainable PES programme by working to secure a buy-in from stakeholders and to design a workable funding model.
In conclusion, there is a compelling and urgent need to explore more innovative financing methods to protect and restore critical reservoirs of nature, like Chyulu and others that provide invaluable benefits to people and the economy of the country.
Mr O'Brien-Onyeka is the senior vice president for Conservation International's Africa Field Division based in Nairobi. [email protected]