Sonko is a political gangster who we all love to hate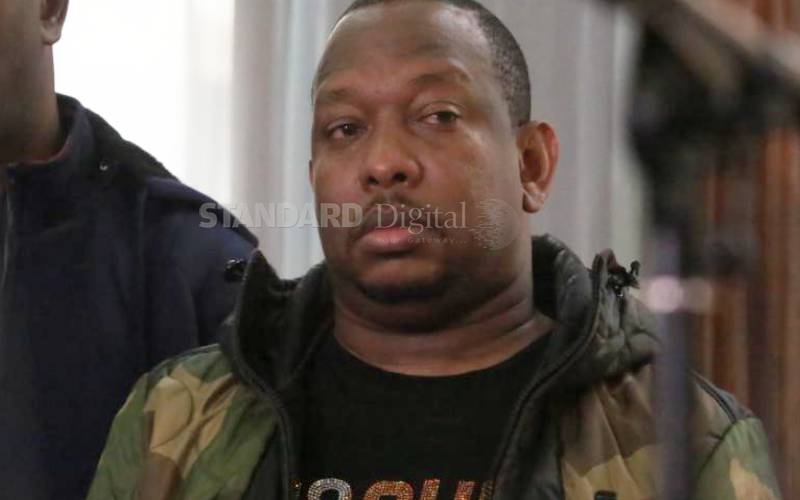 There are two types of politicians in Kenya.
Type one is dry, slippery but dignified looking. Type two is oily, also slippery and rogue looking. Both types have the same DNA.
They are cousins in the big happy family of political scoundrels. For example, Sonko (pictured), the Governor of Nairobi is a type two politician.
So is his Kiambu counterpart, Clifford Ferdinand Waititu. Sonko's predecessor Evans Kidero, is a type one. This characterisation is true across board, from MCA level all the way to the presidential league. Up there, Musalia Mudavadi is a solid type one.
As the Governor of Nairobi Mike Mbuvi, alias Sonko, sat in his prison cell this week, he knew he is being 'fixed.' He knew there is a fraternity of type one politicians somewhere, busy scheming his downfall. Sonko also knew this band of schemers arranged for his weekend accommodation at Kamiti Maximum Prison.
They extended him this 'courtesy' for three reasons. The first reason is Sonko has the tendencies to 'outshine' the type ones.
As a 'riff raff' with a shadowy past and questionable credentials, Sonko rose up the political ranks in record time.
And he shows no signs of stopping. So widespread is his appeal, that a Sonko presidency is not a far-fetched notion. (This is of course if presidency were purely a popularity contest).
'Sonko as President' is a terrifying thought to type one politicians and the type one voters who support them.
They imagine that as president, he will be a grotesque, nightmarish mix of the bulldozing Tanzanian John Magufuli, the perennially goofing American George W Bush and the dramatic performing artist Hugo Chavez of Venezuela.
Which brings us to the second reason. To the 'elite' type one politicians, Sonko has all the properties of the element mercury: he is volatile and politically 'toxic'.
His 'quicksilver' nature makes Sonko un-bankable to the establishment. He has so far been an unpredictable, gung-ho governor who publicises private phone calls and flaunts constitutional requirements.
But are these mysterious 'elites' right to elbow Sonko out? Is he bad for Nairobi? It depends on how you look at it, who you are, and where you live.
If you live in Kwangware, for instance, you would say Sonko is good, and he should be made Nairobi's eternal ruler, the 'governor for life'.
If you live somewhere greener and quieter, you would wish Sonko a quick conviction, and a long sentence.
You would say something like "Nairobi is a city in competition with Kigali to be an ICT hub, it cannot be led by a 'clown' who will spook investors." And you would be right. But you could also be wrong.
You see, Brazil was led by type one politicians for decades, until Lula de Silva.
De Silva was a typical type two, who rose through Brazil's union movement to become the first labour president of Latin America's largest nation. While previous regimes had neglected the poor working class, de Silva's administration radically reduced inequality and hunger.
The 'riff raff' president instituted a cash transfer scheme called bolsa família (family allowance), which benefited tens of millions of poorer Brazilians, provided their children went to school and had vaccinations.
The 'charlatan' Lula started a programme called 'my house, my life', which provided low-cost apartments on generous financing terms, helping more than 13 million people.
Sonko may be a Lula, a political gangster who turns a city, or country around. But then again likening Sonko to de Silva may be comparing apples and oranges, or mercury and gold.
- The writer is a PhD candidate in political economy at SMC University. [email protected]