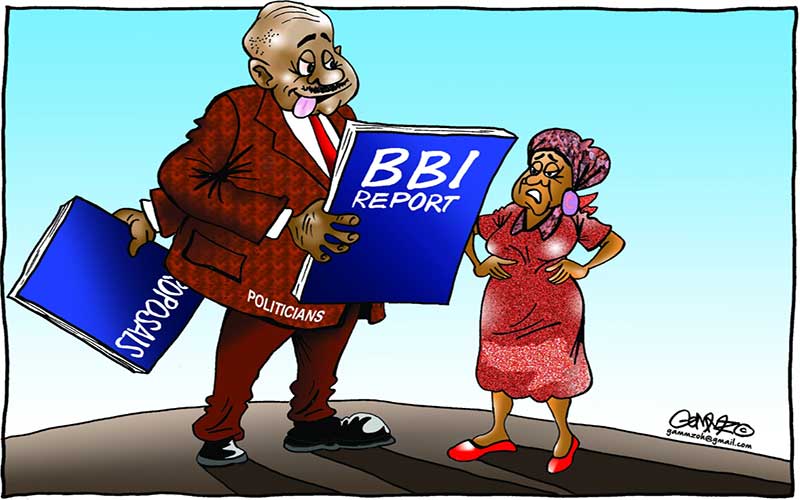 Twenty-one months ago, one of Kenya's most historic and ground-breaking moments captured the nation. President Uhuru Kenyatta and his political nemesis Raila Odinga agreed on a truce, a watershed moment that redrew the country's political architecture.
Their rivalry dates back to the colonial era when both of their fathers served the nation as opposing political forces working hard to usher in a new era of Kenyan independence.
Since the handshake in March 2018, it seems that Uhuru has been able to extract tribal affiliations and rivalries from politics.
By welcoming Raila's input in policy creation, Uhuru is fostering the unity that will hopefully break the dark cycle of violence that plagues us each election year.
Hitherto, there do exist some suspicions about Uhuru's motives in weaving Raila into the fold of power owing to the fact that their deal wasn't made public.
Even if you back the gesture of unity, being wary of the motives is not a fault.
The problem occurs when one is so hesitant to support a leader's initiatives that he fails to see the positive outcomes that a little bit of a change and a lot of cooperation can bring.
And just as we tread with caution when deciding which politicians to throw our trust and support behind, Uhuru often proceeds cautiously before making any monumental decisions, such as changes to the Kenyan Constitution.
When the Building Bridges Initiative (BBI) report came out, we saw a meticulously researched document expressing widespread feedback of fellow Kenyans across the nation.
They have been interviewed and polled regarding opinions on the handshake, the direction they see our nation taking, and what changes need to be made in government in order to make our top political management as representative and as effective as possible.
Even before the BBI came out, people had been criticising it for taking a long time. The public reaction of being suspicious as they wait for the published report was legitimate.
However, I believe it was worth it because it was not rushed. President Uhuru has demonstrated time and again that he is simply a servant leader, and that he serves as a vessel to carry the will of the unified Kenyan people.
That is why it makes sense to be optimistic and supportive as we unwrap the BBI results with caution and hope.
The Punguza Mizigo Bill, on the other hand, emerged in recent months as a challenger to the BBI by a fairly small group. It failed because, unlike the BBI, it was not consultative of the people. It offered a long list of potential changes to make to the constitution and the parliamentary system without asking a simple question beforehand: what do Kenyans want? What are the issues most important to our citizens? Now that is something of which we should be suspicious.
The BBI attempted to be inclusive and unifying by reaching diverse demographics. One major step towards inclusivity is devolution, which gives the counties better representation when dealing with their own constituents. That way, the leaders of a county that is underrepresented at the national level can still decide how to manage their needs at the local level.
This eliminates the quagmire of a winner-takes-all form of governance in which whoever receives the most votes exerts the most control over everyone, including the opposition. As a unifier rather than a divider, that is not Uhuru's way.
Recently, the president made strides with devolution by signing the County Allocation of Revenue Act 2019 into law. The purpose of the new law is to distribute national revenue (Sh378.1 billion) in an equitable way to county governments, in addition to allocating money from the Consolidated Fund to County Revenue Funds.
Money is the basis for all government programming and policy. Uhuru is truly putting his money where his mouth is by assenting to this bill and allowing counties to take control of their own destiny while reporting to a national, unified authority.
So, as we form and express our opinions on the findings of the BBI committee, let us all remember that its basis is yet another iteration of Uhuru's paramount policy: inclusivity and representation. No matter where you stand, these would be difficult principles to reject.
Mr Cherambos comments on topical issues.