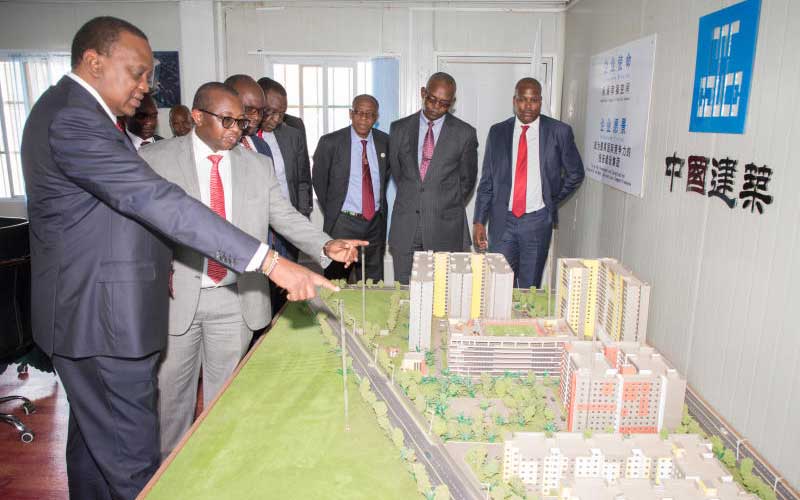 Last Monday was World Habitat Day, the day when the whole of humanity honours the right to a safe, comfortable place to raise a family.
It should have been a day for Jubilee to showcase its achievements since Housing is one of the pillars of its Big 4 Agenda. Instead it passed off without any fanfare bar the efforts of civil society to remind the government of its constitutional duty under Article 43.
Jubilee committed itself in the 2017 campaigns to construct one million houses by 2022. More recently that figure has been revised down to 500,000. At the current rate of expansion the eventual figure may not be more than a few thousand.
In fact, this regime has demolished far more houses since 2017 than it has constructed. To pave the way for major infrastructural projects, thousands have been rendered homeless in Deep Sea, Kibra, Changamwe, Jomvu, Kisumu and elsewhere. Majority received no compensation.
Those projects may well be needed for the country's future development but the shame is that it is those who will benefit least from mega projects who suffer most from their implementation. The energy and excitement around the housing agenda has evaporated and cynics suggest that DP Ruto has given up on house building and instead concentrates on building churches.
All joking aside, it is time to evaluate the housing programme and learn from the mistakes because reality is that there is a deficit of two million housing units. That is crisis level. That is what Hakijamii has attempted to do in its second report on the State of Housing in Kenya 2019. The detailed report attempts to analyse why the implementation of the housing agenda has slowed down; how housing can be funded and the impact of the current round of evictions on the most vulnerable of the country's citizens.
Hakijamii acknowledges that the cities of Nairobi, Mombasa and Kisumu have invested in options and constructing plans. The catch is that these plans are mere 'software' aiming to impress prospective partners in Public Private Partnerships (PPP).
Some like Mombasa have gone so far as to sign MoUs with partners, yet most of these skewed agreements would end up providing houses for the rich with a mere 10% set aside as rental accommodation for the needy. In any case, nothing is happening on the ground as Mombasa pledged to give Sh9 billion over five years towards regeneration of the old estates, but did not set aside a single shilling in the annual budget for the project.
While not doubting the government's sincerity in addressing the housing crisis, questions must be asked about its understanding of what type of houses they want to construct, who will benefit, own or rent and where do the 65 per cent who live in informal or people's settlements fit into this plan? The report challenges the basic assumptions under which the government roles out its plans and finds them faulty. For example, the Central Bank showed this week that only 26,000 in Kenya have a mortgage, mainly because the interest rates are too high and incomes too low.
The belief that one size fits all and that it is the government's duty to provide housing rather than to facilitate social programmes is also challenged in the report. It is interesting that 54 per cent of private homes have been built with savings and completed on an incremental basis. SACCOs do support to some extent, but the reality is that most people will never own the house they might live in. But what is wrong with renting if rates are reasonable?
Housing plans that don't acknowledge lessons that can be learnt from low income earners will be quite foolish. Maybe the government needs - as Steve Ouma suggests - to drop the notion of slums and recognise these areas as peoples settlements occupied by citizens with rights of occupancy. Condemning these communities as slum dwellers is the first step to eviction.
Until such time as the land tenure system in urban areas is systematically and honestly addressed we will continue to have a housing crisis. There are no quick fix solutions and no top down programmes developed in hotel conferences will bring relief or justice to millions. Better to go back to the drawing board and listen to low income earners. Perhaps, they will educate the government on the way forward.
- [email protected] @GabrielDolan1