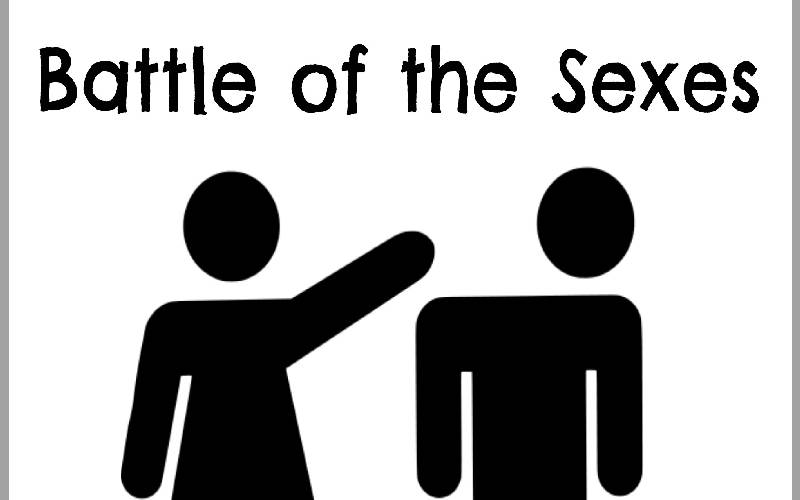 I'm not sure about the whole 'women-only' party thing. First of all, it's such a slippery slope. The endgame can only be an absolute segregation of the sexes, which is impractical. Second, it gives the impression that only men are trash, and that women cannot be predators, which is simply not the case. Also, by excluding men because they are potential assaulters, aren't we putting women in that uncomfortable 'your-security-starts-with-you' space? That's the space where men are viewed as raging beasts who cannot control themselves, and women are handed the responsibility to prevent assault from happening. I spoke to a friend about it and he was adamant that 'Strictly Silk' is a euphemism for 'Lesbian Party'. He was all serious and straight-faced talking about 'It's a high-end event for women who can afford to do those kinds of things', so I guess we're assuming that lesbians can only be high-end, middle-class types? I'm not sure about that either. Besides, why would the organisers publicise a party that was supposed to be a cover up? That aside, putting a bunch of women in one place doesn't necessarily make it a safe space. With that being said, I don't know why men get salty when women congregate without them. It doesn't matter what it is. If it's a 'chama' meeting, oh, they just go there to gossip.
Get suspicious
If it's a bridal shower, oh, they are swapping G-strings and learning how to do the coconut (look it up). If it's a girls' trip, '
wanaenda tu kulewa
'. And now that it's a women-only rave, oh, that's so 'lesbianic', whatever that means. Because the only reason that men are not invited to the party is because all the women are queer. Not so, men. Not so. Y'all just need to admit that you get a bit antsy whenever women do their own thing. It's been said that 'when you're accustomed to privilege, equality feels like oppression' and this would be a case in point. When a man says, 'I'm going out with the boys', no one lifts an eyebrow. The woman he's speaking to might get suspicious for any number of reasons, but him spending time with men will not be one of them. No one questions why men are hanging out with men. Also, if anyone does, the stock response will be, 'we were discussing business', and that will be that. Our natural thought process as women is not to assume that our men are out somewhere in a men-only zone getting their freak on. We know that it's perfectly natural for men to hang out with other men, no matter what their sexual orientation is. So, men feel comfortable announcing to their wives, girlfriends, and others that they intend to be in the exclusive company of other men, and no one clenches a butt cheek. But when women want get lit on their own, then obviously they are lesbians. I mean, why else would they want to have a night out with their own kind? Surely, that must be against the order of nature.
This drawing
It's twisted thinking, but around these parts it just another day in the battle of the sexes. It's hard to say anything nowadays without irking a feminist, or triggering a male supremacist. You can't even take a baby to Parliament without the men who were born of women losing what's left of their good sense. We are actually in a space where we need to mainstream babies. A space where we need to convince the rest of the world that conceiving, birthing, and raising children is a national priority. This drawing of hard and fast lines between the rest of humanity and '
vitu za wamama
' is not helpful. We need to exist in a space where we engage as the co-created, inhabiting the world differently, but equally. So. Would I go to a women-only rave? For sure. Do I think that safety can only be found around other women? Absolutely, not. But I'm curious to see what other initiatives come after this one, and how the conversations around femininity, gender-identity, sexual orientation, and the safety of vulnerable groups evolves. At the end of the day, all of us need to feel safe. And I'm not saying that in an 'all-lives-matter' type of way. Almost 50 per cent of Kenyan women between the ages of 15 and 49 have experienced some level of gender violence. In that demographic, men are almost always the perpetrators. It's going to be a very long, and difficult road to travel but to build any kind of lasting protection for women, we need to work together.
Ms Masiga is Peace and Security Editor, The Conversation Africa