Let's stop ethnic mobilisation over arrest of graft suspects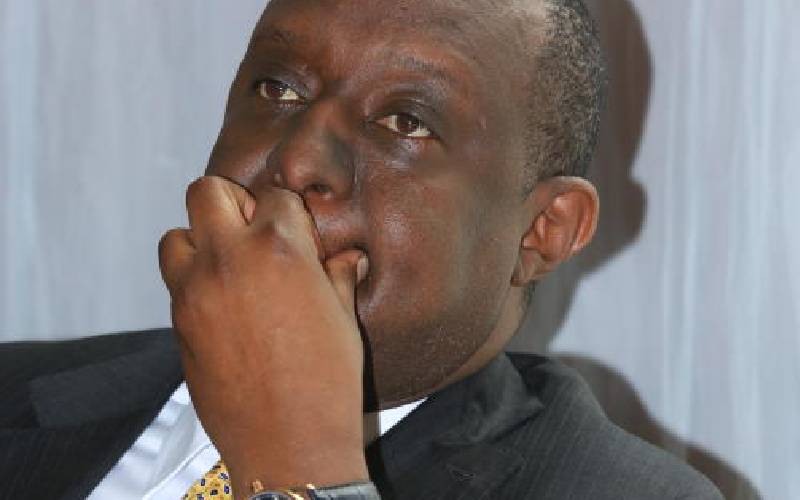 You don't hear much of places like Puerto Rico, except when bad things happen there. These may be natural disasters, putsches, or other chaotic stuff.
Then you will hear of them. This week, Puerto Ricans forced their governor, Ricardo Rosello, out of power and thrust their country into international limelight. Puerto Rico is a collection of small islands in the Caribbean Sea, some 1,600 kilometres off the Eastern mainland of the United States. Since 1917, it has been a part of the US. Previously, France, Britain and Spain claimed it.
Its history has been a mind boggler ever since the man we read of in history as Christopher Columbus arrived there in 1493.
First, Columbus was himself an Italian who won colonies for Spain. This man led an onslaught on extermination of the native populations in these places.
Hence, in Puerto Rico, the Taino people were virtually wiped off the earth. The original natives account for less than one per cent of the population.
Today, this American territory is hugely Spanish in character.
An unincorporated territory some 1,600km away in the deep sea is far. Even Washington could occasionally be tempted to think of it almost as if it were some different country.
Accordingly, this place does not behave like the rest of America. It is the later day headquarters of White Mischief, of the kind that ruled Kenya's Wanjohi Valley in the 1920s, all the way to the '40s.
Here, a hedonistic aristocracy lives lavishly in decadence and promiscuity. It makes mockery of everyone else. When a cyclone named Hurricane Maria overran the place in 2017, the aristocrats thought it was funny.
Over 3,000 people died. Hundreds of thousands others lost their homes. The bereaved could not even bury their dead decently. Flooding, dead livestock, destroyed infrastructure, bodies all over the place – such was the order of things.
Today, leaked telegraphs indicate that governor Rosello has been poking fun at the victims of the disaster. Together with senior members of his administration, they have churned out close to 900 pages of lewd jokes about the tragedy and sundry mischief.
Put together with the fact that Rosello has presided over one of the most corrupt regimes in the Caribbean, the Telegramgate Scandal – as it is called – led to mass protests.
Over the past two weeks, ordinary Puerto Ricans have camped outside Rosello's residence, shouting for his resignation.
Eventually, the big man has accepted to go. He will officially step down on Friday next week. That is how to deal with misrule.
The people, in whom the sovereignty of their countries resides, have a duty to remove bad leaders – even just by screaming them out of power.
While all this has been going on in San Juan, Nairobi has been having strange dramas that are quite the antithesis of the Puerto Rican experience.
First, Nairobi has been trying hard to forget about allegations that someone was supposed to be assassinated. Second, they were beginning to quarrel about the possibility of a referendum, dubbed Punguza Mizigo, which is to say, "Reduce the Burdens."
But Nairobi was also witnessing governors and senators protest in the streets, demanding more money from the National Treasury.
The quarrels around alleged assassinations, money and referendums have since been swiftly swallowed by fresh quarrels around arrests of fat cats. The National Treasury's fat cats have been rounded up over water dams that never were. They have found themselves in the dock, to answer to charges of corruption. Predictably, the arraignment has sparked off what is hugely ethnic-based gust in the political class.
Even tribal lawyers who should know better are crying wolf. "Our man is being crucified," they say.
They allege that the arrests are "political" and linked to the Uhuru Kenyatta 2022 succession. Ironically, some of these learned people are also at once legislators and lawyers.
You would imagine that they would know the role of due process in law. Indeed, a day after screaming at the President for "victimising their man," you saw them in court; appearing for "their man."
Oh, so they also know about the court system? Then why don't they just allow the law to take its course? It is curious how easily an individual transforms from a common shouter at a hurriedly convened ethnic caucus, to a learned lawyer in court and back again to an atavistic ethnic xenophobe at the marketplace. If the fight against corruption is to be won, citizens must boldly tell off these noisy xenophobic supremacists.
Elsewhere in Puerto Rico, the citizens don't care much about your group identity. They care more about the fact that you are a thief. It is the same everywhere else where thieves have been outlawed.
Kenya must arrest this aboriginal ethnic mobilisation whenever someone is brought to justice. Equally important, does our law also need to be clear on whether a lawyer should be allowed to prosecute a matter in court, while also menacingly bearing his sharp teeth, his eyes cocked and his salivary mouth growling about the same matter in noisy traditional assemblies?
President Kenyatta and the investigative agencies, must go the whole hog. They must not team up with the local Puerto Rican aristocrats. This class mocks the people. They are to them what flies are to wanton boys.
They kill them for sport and laugh about it. The President cannot allow this.
- The writer is a strategic public communication advisor. www.barrackmuluka.co.ke