Why taxpayers should not be dragged into KQ's turbulence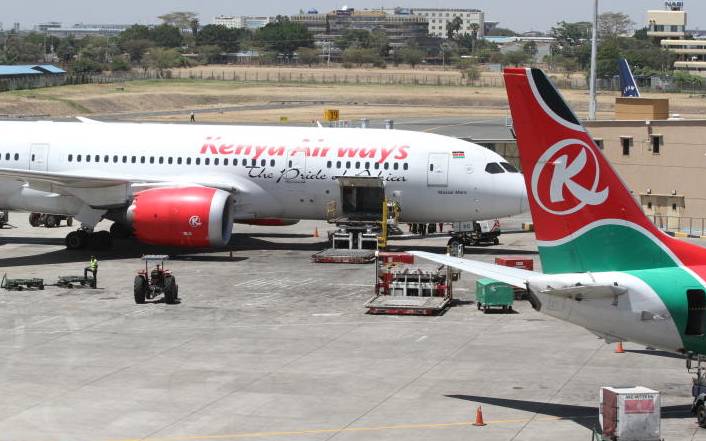 On this one, no one should accuse MPs of harbouring an ulterior motive. They are inspired by a deep sense of patriotism—and nostalgia. The lawmakers are determined to repair Kenya Airways' clipped wings. They want to restore Kenyans' pride by revamping the 'Pride of Africa' to make it fly high again.
They plan to do this by passing a law that will see the struggling airliner nationalised. Before that its bank loans—a whopping Sh20 billion—will have to be settled by the taxpayer.
This sounds like a good idea. KQ, which has been grappling with turbulence for long due to years of mismanagement, is now a pale shadow of its former self. The airline is navigating a hostile territory and if not bailed out, might soon lose power and hurtle down into the deep, blue sea of oblivion.
Few would want that to happen. That's why its important to give the national carrier much-needed financial impetus so that it can remain afloat.
But that should not be through nationalisation as the MPs want. KQ should be revived, but not at taxpayers' expense.
Already, the Government has pumped a lot of money into the carrier but that has done little to divert it from its loss making trajectory. It would be imprudent to continue throwing good money after bad.
Nationalisation means the Government will take over the reins at KQ, hoping to steer it to profitability.
That sounds like another bright idea. But it is not. The Government's track record in doing business is dismal. The promising Nyayo Bus Service, the brainchild of former President Daniel arap Moi, was run aground by mismanagement. Uchumi has been engaged in a long battle for its survival. In the recent past, the Government has pumped millions of shillings in an attempt to turn it around, but the supermarket chain is still on its death bed, thanks to mismanagement.
The Government has even tried its hand in farming and failed terribly. The Galana Model Farm is a living testimony of poor handling of what could have been a good business for the State. Besides government's attempts to revive scores of other companies using billions of taxpayers' money the firms have, by and large, flopped. Before the arrival of the SGR, millions of shillings had been put into Kenya Railways but that never stopped it from limping.
The story of Mumias Sugar, and many other sugar companies, remains bitter despite the firms gobbling up billions of taxpayers' money. Kenya Meat Commision has also munched a sizeable chunk of taxpayers' money but there is nothing much to show for this. Many other such examples abound across the country.
Sadly, it is unlikely the billions of shillings pumped into these wobbling companies will ever be recovered. For the taxpayer, it is money gone down the drain. What, then, is the rationale for giving KQ more of taxpayers' money when the returns are not guaranteed?
From all these examples, it would be foolhardy to expect different results by injecting more money into KQ.
But even if nationalisation is the only option left to buoy KQ, the pervasive corruption in Government should make us cringe at the idea of putting the airline in the hands of the State.
Although President Uhuru Kenyatta's government has been fighting graft aggressively, there is no assurance the airline will be immune from the debilitating vice.
In fact, most of the companies the Government is struggling to revive were brought down by corruption.
Unless the rot in public offices is totally eradicated, KQ would inevitably become a playground for corruption cartels, which have been having a ball in virtually all government departments.
It is in the interest of the taxpayers for the airline to be left to its own devices. KQ should explore ways of repaying its debts without the taxpayer being dragged into its woes. The airline should be let to fly low if it can't conquer the heights.
If it falls off the radar, it should do so alone, without going down with even a penny more belonging to the taxpayer.