Divisions a threat to the legacy Kenyatta desires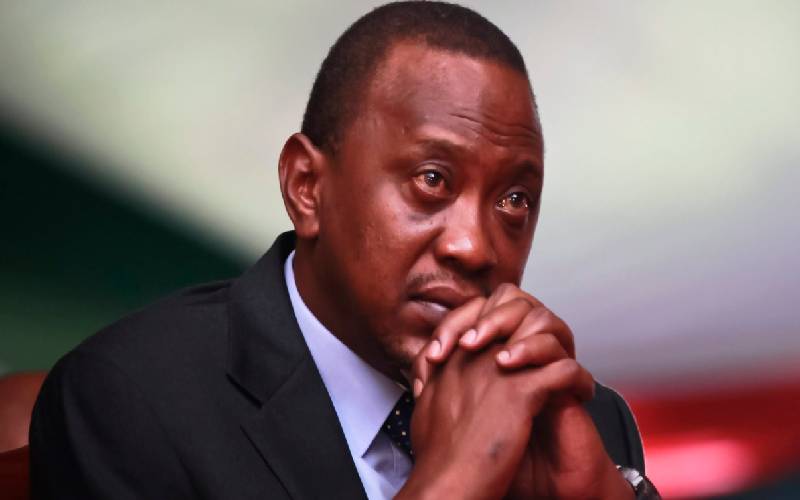 "And if a house is divided against itself, that house cannot stand." Mark 3:25
It is common sense that people at odds with each other can never get any tangible work done. More so when it comes to an enterprise as large as an entire country, where its many constituent parts are expected to work harmoniously to a desired end. Judging from recent outbursts and vituperation within the ranks of the political class, Kenya is a house divided.
It is becoming increasingly possible that President Uhuru Kenyatta (pictured) may yet again have to downgrade his intended legacy to Kenyans. Relegated to the back-burner are the four pillars he had started out with; affordable healthcare, food security, affordable housing and manufacturing. And now, his fight against corruption threatens to be nothing more than a flash-bang gimmick, perhaps with more flash than bang.
At the core of these divisions is a vicious spat between Deputy President William Ruto and former Prime Minister Raila Odinga. The genesis of their contentions is a symbolic handshake between erstwhile foes Raila and President Uhuru.
Whilst it may have buried the hatchet between avowed enemies, it is perceived by some as the exclusion of DP Ruto's interests. Though the handshake has brought relative calm after the fractious elections of 2017, it is yet to translate into economic benefits for most Kenyans living in straitened circumstances.
His supporters
Raila Odinga has repeatedly tried to foist the country's corruption problems on the DP. He has cast aspersions on his character without tangible evidence of malfeasance. Leveraging on the fact that a good number of those implicated in matters of graft are from the DP's backyard, he has insinuated that the trail leads back to the DP.
But the DP has countered that Raila is nothing more than a master of division whose sole intention is a play for power through means other than the constitutionally mandated renewal system every five years.
His supporters have pointed out that every party associated with Raila has at some point imploded; Ford Kenya in the 90s, to KANU, NARC, CORD and lately NASA, none have remained the same after a stint with Raila. It is argued that by accommodating Raila, albeit unofficially, the ruling party Jubilee's death knell has been sounded and it is just a function of time before, too, goes South.
These quarrels would be amusing were it not for the fact that they have sucked in the rest of the country and hampered government's effective delivery services. They have also reintroduced a deplorable culture of services only to those perceived to be on the right side of government. For instance, the withdrawal of police officers attached to MPs associated with the DP is seen as a flexing of muscles.
Last elections
It is perceived as indicative of Raila's growing influence in a government where he holds no elective position. But it has the deleterious effect of creating disaffection to a broad constituency that gave Jubilee its support in the last elections. It also sits rather badly with many Kenyans who have an antipathy for any form of political repression. After all, the government owes every citizen a duty of care regardless of political persuasion.
Considering these circumstances, Raila's call for a referendum for constitutional amendment before the year ends is not a good idea. For starters, the atmosphere of political truculence has ensured that any plebiscite would be strictly along the lines of partisan or personal interests and not national concerns. It would be realpolitik on the part of those who consistently eviscerate the current constitution through the wilful disregard of court orders; those who dole out government services as favours and not rights to be enjoyed by every citizen.
Further, it may just be another source of angst to a country whose citizens are starving in some marginalised areas and whose agricultural back-bone stands threatened by the effects of drought. And this is where the focus of the Government ought to be. In drought-mitigating measures to ensure that the country has enough reserves to counter impending famine.
There is, after all, a new people-power dynamic that is sweeping the continent and that cannot be ignored. Taking after History's French Revolution where a monarchy was deposed on account of bread, a new wind is sweeping. A revolution in Sudan, started by the steep cost of essentials, has forced the government out. Kenyans are tired of being divided for inimical political interests. They will soon stand up as one house and put an end to the current politics of carpetbaggers.
Mr Khafafa is Vice Chairman, Kenya-Turkey Business Council