For the sake of security, Dadaab refugee camp should be dismantled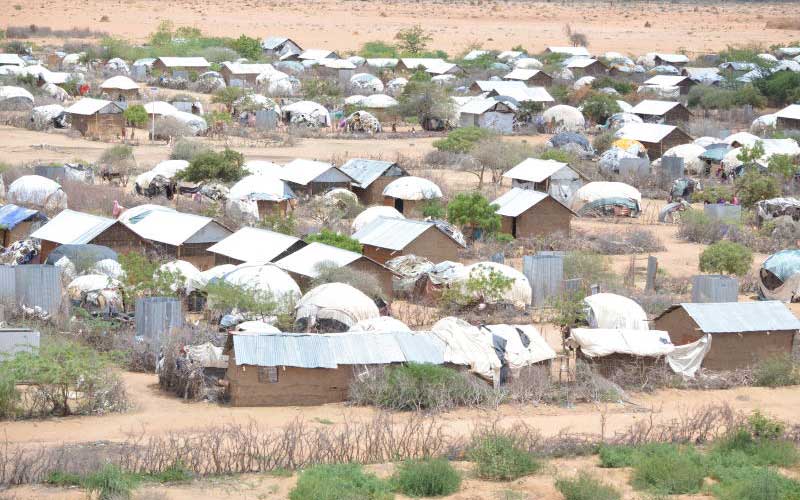 In the 1950's, Jomo Kenyatta wrote the famed fable 'Gentlemen of the Jungle' about the realities of colonization and the resistance to it. The story is well known, but in the end the African man wins by ridding himself of the foreign lords, and as he is doing so says: "Peace is costly, but it's worth the expense."
His son, President Uhuru Kenyatta must be pondering these wise words as he considers some of his moves against the infiltration of Al Shabaab into Kenyan territory, the latest result being the massacre at Dusit a few weeks ago.
Twenty days after the terrorist attack, intelligence sources say that 12 suspects have been arrested at the sprawling Dadaab refugee camp in Garissa County, signaling the complex balance between internal security and offering humanitarian aid at the third largest refugee camp in the world. Investigators have noted that one of the Dusit complex attackers passed through the camp 'where he was not only facilitated to get into communication with other attackers, but also given transportation logistics to Nairobi'.
Sources have told the media three suspected Al-Shabaab terrorists armed with AK-47 rifles and ammunition were arrested last week in Hagadera refugee camp in Dadaab. Dadaab has once again become ground zero for investigations in the wake of the murder of 21 people in the attack on the Nairobi complex.
In March 2017, President Kenyatta ordered the closure of Dadaab camp after the Garissa University College attack in April 2015 and the Westgate shopping mall raid on September 21, 2013. However, this action meant that he was heavily criticised by human rights organisations. Nevertheless, now we see again that Dadaab has become a base of operations for terrorists.
The efforts
For many years, Kenya has pushed for agreements to repatriate those living in Dadaab, yet international pressure, led by humanitarian organisations, has stunted these programs. While some have returned to places in southern Somalia voluntarily, others have not. However, thanks to Kenyan efforts, Somalia has improved significantly in terms of development, security and economy. Somali Prime Minister Hassan Ali Khaire recently said that his country's improving climate is because of Kenya and thanked our president personally in a recent meeting.
Prime Minister Ali Khaire commended President Kenyatta, saying he is a true champion of Somalia's transformation. "Your Excellency, you are our champion in the transformation of Somalia and we request you to continue leading in of reconstructing our nation," said PM Khaire. The Prime Minister assured President Kenyatta that Somalia stands in solidarity with Kenya in the fight against terrorism and violent extremism. One place where the Somalians can start in showing their appreciation is by bringing its citizens home from Dadaab.
Our society
Of course, Kenya with its history must and should have deep empathy for refugees and those who flee violence, but on the other hand we can not become a base for all those seeking a better life, especially when these groups are being penetrated by those whose only contribution to our society is death and bloodshed. Our primary aims then should be both humanitarian and security. We should ensure that these refugees can return to their places of origin in safety and security and President Kenyatta is ensuring that with our aid and assistance towards Somalia's ongoing development.
Alongside, we need to rid ourselves of dangerous elements and breeding grounds of terrorism and extremism that Dadaab surely has become. So it is time that we the Kenyan people stand with our president as he pushes to close Dadaab, both for the good of the refugees and for the security of our nation. Of course, certain humanitarian organisations will complain because that is how they earn their bread, but even the international community has agreed in principle to lessening the strain of this refugee camp.
In November 2013, the governments of Kenya and Somalia together with UNHCR signed a Tripartite Agreement on Voluntary Repatriation. Since December 2014, almost 100,000 refugees have returned from Kenya to Somalia under the voluntary repatriation program. Somali refugees who decide to return home under the voluntary repatriation program receive UNHCR support in Kenya and in Somalia.
There are still over 150,000 residents of Dadaab left and the sooner a solution is found the better for all concerned. Disbanding Dadaab is a major step on the way to lessening the threat to our major population centers; three successive terrorist attacks have taught us that. Defensive wars and security operations are rarely pleasant but they are necessary for security and peace, and as Jomo once wrote: "Peace is costly, but it's worth the expense."
Ms Munuhe studies International Relations at the University of Nairobi