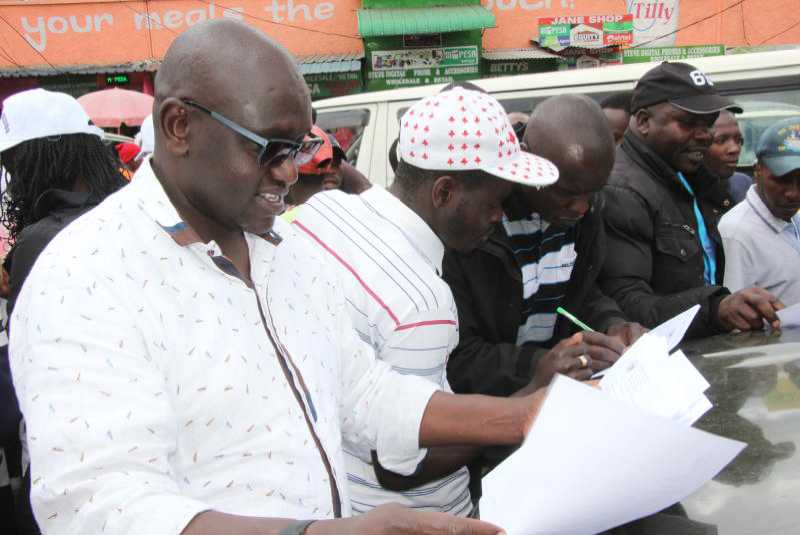 Referendums are as old as the hills. They have been used since ancient Rome by governments to allow voters vote directly on a plethora of complex issues.
However, a motley of political experts are becoming increasingly uncomfortable with the idea of referendums. These experts opine that most referendums, on close scrutiny, reveal devious machinations aimed at achieving dubious and selfish political ends.
Examples abound of instances where referendums have resulted in voters naively curtailing their own rights and even toppling democracy leading to volatile political crises.
Many are unaware that Adolf Hitler managed to consolidate his immense power that was later to haunt the entire world through a referendum; the immense power that allowed him to instigate a devastating World War II and perpetrate the death of 6 million Jews and millions more around the world.
Read More
In a United Nations supervised referendum, the East Timorese in 1999 voted to either have independence or stay under the heavy yoke of Indonesia. The pro-independence team won by a landslide. 78 per cent of voters voted for independence.
Brutally divisive
This should have put this question permanently to rest, but violence soon erupted upon announcement of the results as East Timorese opposed to independence and with the help of Indonesia's military embarked on a campaign of terror that left over 1,000 people dead.
Referendums in the United Kingdom, Colombia and Thailand have also exposed them as brutally divisive.
In the case of the UK, the unheralded win of the Brexit team voting to leave the EU is still a source of fierce debates with the Remain team bitterly contesting the Brexit win. The Remain team is now rooting for a new referendum.
The Colombian referendum results shocked the world as the 'majority' voted to reject a peace deal that had been negotiated between the government and the FARC guerilla leftists to cease hostilities and bring an end to a five decade civil conflict. Only 50 per cent of the population voted.
In another referendum in Thailand, 61.4 per cent voted in favour of giving the military greater control over the country, alienating the democratic process.This contentious win has allowed the military a free hand in the appointment of legislators and even handed them the right to join and influence parliamentary sessions.
Former Prime Minister Raila Odinga, in a political rally held recently announced that for the Building Bridges Initiative to be effective it must be propped by a referendum. This has deeply puzzled Kenyans who mainly view Raila's handshake with President Uhuru Kenyatta and bridge building initiative as a personal agreement between two leaders.
Ekuru Aukot's Thirdway Alliance Kenya is also calling for a referendum christened Punguza Mzigo. Mr Aukot has so far gathered about 600,000 signatures.
Before this, both leaders worked indefatigably to convince Kenyans that the current constitution they helped craft and pass in 2010 was what a brave new Kenya needed to address all ills that had been plaguing the country since independence.
Now both want sections of the Constitution changed yet again.
Splendid weapon
Margaret Thatcher in 1975, then the Leader of the Conservative Party, during a debate on the European Economic Community referendum, referred to referendums as a "splendid weapon for demagogues and dictators".
She was not wrong.
It was in a referendum held in Switzerland in 1951 that Swiss women were denied the right to vote by the males of that country. It was only in 1971 that the entreaty by Swiss women to be allowed to vote was heard and permitted.
A referendum in the USA would have been a splendid weapon in the hands of the white majority to ensure the equal rights demanded and courageously fought for by African Americans never saw the light of day.
This is in no way a blanket condemnation of referendums. They can be valuable, especially if divested of political opportunism. This is a warning that referendums are devices that, like hot Oaxaca or Sichuan pepper, should be used very sparingly.
Experts are already warning that referendum campaigns in Kenya will only usher in yet another volatile and protracted electioneering period, opening up old wounds and deepening already existing political and tribal fault lines left by the bruising campaigning period of 2013-2018.
In addition to the visible and covert deceit of those pushing for the referendum there are other prevailing circumstances that point to the country not being ready for a referendum.
Kenya last year held two elections said to be the most expensive globally. They cost approximately $234 million (Sh24 billion) denying counties billions of much needed development cash. The country can ill afford additional millions of dollars for a referendum.
The Independent Electoral and Boundaries Commission (IEBC) is in a shambles and cannot account for Sh9 billion. Half of its commissioners are either retired or fired.
There has never been a worse moment to launch calls for a referendum.
It is evident that neither the 'yes' team nor the 'no' team will accept any results of a referendum chaperoned by IEBC as currently constituted. There will be screams of "stolen wins", and noisy political divorces all over again.
This being the case, someone must force sanity to prevail. Gullible voters must be dissuaded from ushering the ruthless horses of the apocalypse in the name of exercising direct democracy that will only reward politicians as has happened in the past.
Maybe in circumstances such as these, even if enough signatures are collected, Parliament's sovereignty should be allowed to prevail against the will of the people for their own good.
Only Parliament can bell this cat.
Ms Teteiya is a Senior Policy Adviser at the African Centre for Strategic Futures (ACSF): Kenya Project.