2022 politics right at the centre of Haji's graft purge
COMMENTARY
By Maina Kiai | Sep 2nd 2018 | 4 min read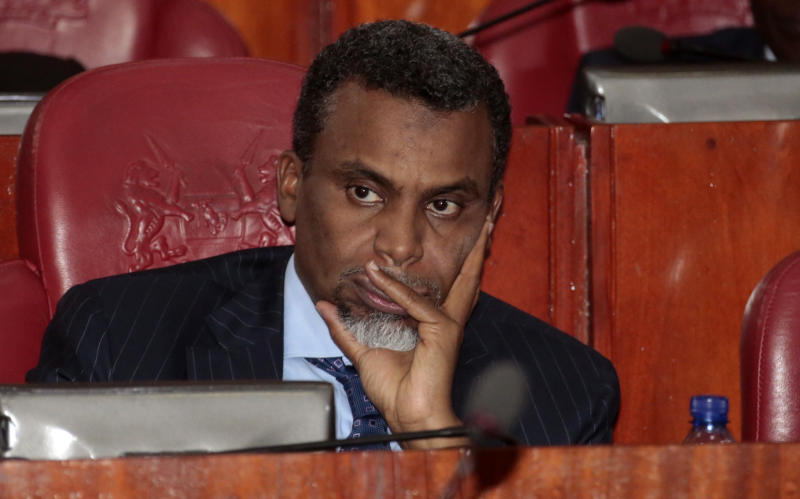 Chief Justice David Maraga better be ready for the onslaught that will surely come his way.
The opening salvo has just been fired against Deputy Chief Justice Philomena Mwilu with her arrest on unclear corruption offences. This could be aimed at intimidating Maraga to make him amenable to the intrigues that aim to make the Judiciary subservient to the Executive, and especially to the faction of Jubilee scrambling to protect their "interests" after 2022.
I hold no brief for DCJ Mwilu, but I do know that she, perhaps more than any other judge, was incisive, sharp and direct during the Supreme Court petition after the rigged August 2017 elections.
Her questions cut to the heart of the rigging that the IEBC had done and were instrumental in the decision against IEBC and Uhuru Kenyatta. The fact that the High Court has ordered the charges to be suspended is telling, even as we await the full constitutional hearing.
The decision of the Supreme Court annulling the results led to a barrage of attacks led by Uhuru himself, including the famous "we shall revisit" threat.
Given all that, and given the scarcity of information about the "corruption" charges against DCJ Mwilu, save for the fact that she received a loan from Imperial Bank, it is not difficult to read malice, vengeance and intrigue in this latest drama.
Originally, many of us could not see the strategy behind the renewed "war on corruption" that was being waged by DPP Noordin Haji and DCI George Kinoti. It seemed helter-skelter with raids here, arrests there, and no clear strategy.
But given how ravaged we have been by corruption, the onslaught was popular and populist. The fact that buildings were being torn down, parastatals heads were being arraigned in court and governors were held in custody was exciting and seemed to mark a different Uhuru than the laissez faire indecisive person we had gotten used to. But we now see where this is heading.
Some of our mainstream media have been key to this populism, but their "exclusive" expose on DCJ Mwilu and subsequent articles that imply her guilt point to a media that has become pro-regime lapdogs.
Graft and pilfering
Yet, we should have seen this coming. First, the appointment of Noordin Haji as Director of Public Prosecutions (DPP) after secret "interviews" should have been a warning. He is a spy master who has spent his professional life at that bastion of innuendo and rumors known as the National Intelligence Service (NIS). This is an agency without transparency or accountability, which inevitably leads to corruption and pilfering.
Can someone schooled at an agency that seems unable to distinguish between the presidency and the country, really shine a fair and unbiased light on corruption?
Second, it is strange that no Cabinet Secretary has yet been arrested or fired for either condoning corruption in their dockets or being so incompetent that our taxes were stolen. Transferring ministers is no panacea, and the sugar, electricity and maize scandals seem to have been swept away. Third, until Weston Hotel, which is built on grabbed public land is torn down, and the owners prosecuted, there is nothing like a war on corruption. And until we see consequences of the encroachment of beach land by Dolphin Hotel, together with prosecutions of the NEMA staff who authorised this, we are going nowhere.
Fourth, we need to see consequences for the Eurobond scandal where about Sh100 billion disappeared from the NY Federal Reserve Bank to accounts unknown since the Treasury decided to redact these details.
I would have expected Uhuru to ask Donald Trump to allow Controller and Auditor General Edward Ouko access to the records if he really wants the fight against corruption to be his legacy. But that may be asking for too much since Mr Kenyatta so disapproved of this cause of action that he publicly lambasted Ouko. Is there something he knows that he wants to keep secret? And then there is NYS1 which seems to have been forgotten entirely as some of those in charge at the time rebrand themselves readying for bigger roles. Sixth, there is the still painful question of how a plan to construct a Standard Gauge Railway (SGR) from Mombasa to Kisumu for Sh80 billion in 2012 rose to more than Sh360 billion in 2013 and then only to Nairobi rather than Kisumu.
I may be wrong, but perhaps 2022 is driving a lot of actions and decisions today, no matter the rhetoric about the Big Four.
We have a tribally-driven polity pushed by our politicians who find ideology and vision perhaps too difficult, so there are questions about who will "represent" Agikuyu interests — if there are any real ones — once Uhuru leaves power, and given that he ensured in 2013 that there would be no strong challenger to his throne as "muthamaki." In this context, is targeting DCJ Mwilu meant to create a vacancy to be filled by a trusted one who will then take over from CJ Maraga in 2011 as he retires?
- The writer is former KNCHR chair. [email protected]