Just what does the Raila swearing in hope to achieve?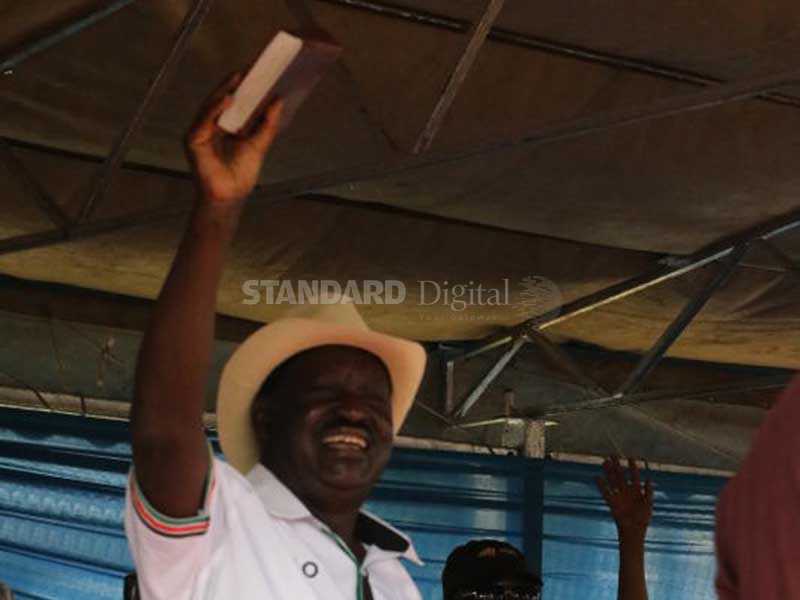 "Our great democracies still tend to think that a stupid man is more likely to be honest than a clever man, and our politicians take advantage of this prejudice by pretending to be even more stupid than nature made them."
The words of Englishman Bertrand Arthur William Russel (1872-1970) in his book New Hopes for a Changing World, published some five decades ago, ring true today as they did then.
This is especially true in the context of Kenya's electoral politics that seems to be a theatrical cycle every five years where political leaders, men and women generally known to possess above-average intelligence, lower themselves in antics baser than pigs' in misguided effort to identify with "the common mwananchi", a term the politicians uncleverly crafted to define the less financially endowed non-politicos in society.
More than we know
It would be fine though if the theatrics of the politicians did not mean so much in the lives of the people they dramatise to lead. But the reality is grave.
The games these pretenders to stupidity play, more often than not, mean life and death to populations, literally!
And that is why the present game by the National Super Alliance (Nasa) and the attendant silence, or is it cynicism, by the ruling Jubilee Party is a bit worrying for a country that rightly lays claim to democracy.
First to Nasa, because they are the architects of the ongoing game.
The Right Honourable Raila Amolo Odinga and his running mate in the August 8 2017 presidential election Kalonzo Musyoka, together with their co-principals in the alliance Musalia Mudavadi and Moses Wetang'ula have been on a countrywide roll telling everyone how they are organizing a swearing in ceremony.
The quartet, together with a group of cheerleaders, have been singing the song of swearing-in Mr Odinga and Mr Musyoka as the people's president and deputy respectively for close to two months now.
No one, save for the four, seems to know what the phrase people's president means. Kenyans are generally unsure whether that is a job title or an office and if so, what the job description and/or responsibilities are.
Because it is nowhere in the Constitution.
Drums of war
The tragedy of the whole situation is that the alliance represents, or is assumed to represent, a sizeable segment of the country's population.
This segment tends to put so much of their hope on the direction and leadership of the quartet.
My fear is what happens to a people when suddenly their hope is thrashed in one single blow, because that is very likely.
Mr Musyoka, the designate deputy people's president, has lately been beating the drums of war, albeit diplomatically.
The country's former Foreign Affairs minister has repeatedly told Kenyans that if President Uhuru Kenyatta does not initiate talks with Raila before the scheduled day of the swearing in, there will be civil war in the country.
This is the first and maybe only real hint to NASA's end game. Is civil war what the NASA brigade is planning for the country after January 30? God forbid.
There has been talk of forming a Cabinet "even in exile" but this still does not answer the question on what next?
A cabinet, whether in Kenya or in exile, that does not have a constitutional basis, a budget, a public mandate cannot not serve the country in any positive way.
R. Buckminster Fuller, a renowned 20th century American inventor and visionary, once said that you never change things by fighting the existing reality.
To change something, he opined, build a new model that makes the existing model obsolete.
It is only sensible that the Nasa team, in its quest to introduce reforms and make Kenya better, would present to the country a wholesome plan with details of what that better is.
Mr Odinga and Musyoka have totally failed to give a clear direction of what happens after the swearing-in and it obviously cannot be similar to what is provided for in the Assumption of Office of President Act because the preceding actions are not.
If this act of omission on the part of NASA leadership is deliberate, then it can only mean that the main players do not want to carry their followers with them and they are doing what they are doing only for their personal interests.
Because, as Emma Goldman said, if I can't dance to it, it is not my revolution.
And now to the Jubilee, the Government in office, I ask: Why the silence? Is it that you have chosen to ignore the noise from your competitors or you are hoping that they will wear out and shut up?
Whichever the case, what is your game plan? The country needs to know because that is part of what a government elected into office owes its clients.
Mr Mureu is a teacher who comments on socio-political issues [email protected]