Battle for numbers: How Jubilee outplayed NASA in its own game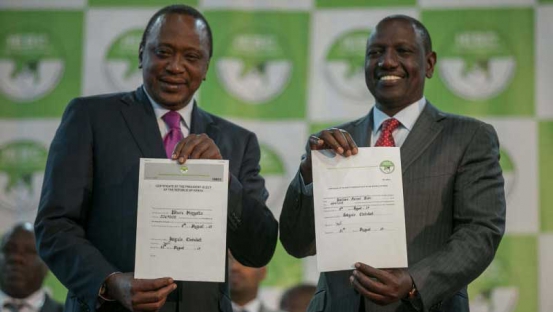 When NASA coined up the Luhya phraseology, 'Vindu Vichenjaga' (things have changed), they meant the political tide had changed in their favour. For a while, the massive turnouts at NASA rallies seemed to suggest so.
But come August 8, 'Abandu Bachenjire'. The voters changed tune and shifted their voting loyalties. Jubilee strategists turned inside out the NASA narrative that Jubilee didn't have any votes in Western Kenya, Kisii, Nyamira, Migori, Ukambani, Maasailand and Coast. That NASA could garner one million votes from Rift Valley.
The Jubilee Party's audacious penetration and voter harvest from these perceived NASA strongholds has been Uhuru Kenyatta's game changer.
Battleground counties
Uhuru won the election purely by penetrating NASA strongholds and enhancing performance in what was hitherto considered electoral battlegrounds, while also deepening his vote harvest through higher voter turn-out within Jubilee's traditional strongholds.
NASA, on the other hand, failed to make any significant inroads into Jubilee strongholds in the vote-rich South Rift, Meru and Tharaka Nithi as had been widely expected. It also failed to fortress is strongholds and keep Jubilee out. This was its waterloo.
But most significantly, NASA fell to Jubilee's superior organisational ability and advanced psephology (the science of electioneering using informatics and data analytics) that worked with surgical precision to renew Uhuru's tenancy in State House with an expanded and overwhelming mandate from Kenyans.
Jubilee's superior planning has been quite evident in the manner it carefully targeted must-win areas. It collated and addressed the winning issues, developed localised messaging and subsequently drilled from down at the lower electoral seats to score at the grassroots, eventually reverberating upwards to impact upon presidential numbers. Through this, it clinched crucial gubernatorial seats from hitherto opposition areas such as Nairobi, Garissa, Kwale, Wajir, Machakos, Lamu, Marsabit and Bomet that had appeared destined to NASA.
In areas where it couldn't win the gubernatorial seats such as Western Kenya, it won critical parliamentary seats that subsequently fed into presidential numbers. Jubilee undertook a fingertip, toe-tip and door-to-door campaign, installing electricity in grass-thatched homes and drinking tea in corrugated iron sheet kiosks to drive home their message.
Wanjiku connection
NASA on the other hand relied on impersonal huge campaign rallies spewing negative rhetoric and invective attacking of popular and transformative Jubilee initiatives such as the SGR and rural electrification in ordinary homes.
This did not connect with Wanjiku. NASA has been left relying on screen–captured images from anonymous sources to claim victory.
In the crucial and core opposition strongholds of Nyanza and Western Kenya that should have formed the foundation for a strong NASA showing, Jubilee made significant inroads, dealing a debilitating blow for NASA as every additional Jubilee vote was one less for NASA.
In Nyamira County, Uhuru increased his tally from 54,000 votes (29 per cent) in 2013 to in excess of 155,000 votes (52 per cent) in 2017 against NASA's 46 per cent in what was a Raila stronghold in 2013. In this county alone, Uhuru gained in excess of 100,000 votes.
In neighbouring Kisii County, Uhuru increased his vote tally from 95,000 (27 per cent) in 2013 to in excess of 170,000 (43 per cent) in 2017, gaining approximately 75,000 new voters. Raila's vote tally reduced from 236,000 (64 per cent) in 2013 to approximately 220,000 (52 per cent) in 2017. Next door in Migori County, Uhuru increased his vote tally from 26,000 in 2013 to in excess of 44,000 in 2017, with Jubilee winning all the parliamentary seats in Kuria (Kuria East and Kuria West). This was a significant shift from within Raila's home province.
Major gains
Western Kenya provided the most dramatic but astounding gain for Uhuru, considering that two NASA principals, Moses Wetang'ula and Musalia Mudavadi, hail from this region. The NASA coalition had pegged their hopes on getting in excess of 90 per cent of votes. This was not to be.
In 2013, Uhuru garnered 42,000 votes (12 per cent) in Bungoma County. He garnered 127,000 votes (34 per cent), gaining approximately 85,000 new votes. The Jubilee Party also won about 45 per cent of the nine seats in the county having won Kimilili, Mt Elgon, Sirisia and Webuye West.
In neighbouring Kakamega County, a similar fate befell NASA. In 2013, Jubilee managed approximately 12,000 votes (three per cent).
But in 2017, Jubilee garnered in excess of 63,000 votes (nine per cent) while at the same time winning 33 per cent of the parliamentary seats (Ikolomani, Malava, Navakholo and Mumias East) in an area that did not have any Jubilee MPs in the 2013-2017 Parliament.
In Busia and Vihiga, the tally increased to about 34,000 in 2017. These figures represent a total representation of 12 Jubilee MPs in Western Kenya and a massive improvement from about 66,000 votes for Uhuru in the four counties in 2013 compared to in excess of 242,000 in 2017. The Coastal region, another perceived NASA stronghold from which they had projected to gain a major competitive edge over Jubilee, also failed to deliver as expected. Jubilee gained two governors in the coast — Lamu's Fahim Twaha and Kwale's Salim Mvurya.
In 2013, Jubilee had only succeeded in garnering approximately 158,000 votes in the six Coast counties, but this has improved to in excess of 285,000 in 2017, with a net gain of approximately 130,000 votes.
In Ukambani, another perceived NASA stronghold, Jubilee registered an improved performance, garnering more than 171,000 votes from 89,000 in 2013. This is apart from winning the Machakos County gubernatorial seat, through its affiliate party, Alfred Mutua's Maendeleo Chap Chap (MCC).
But a sterling performance in NASA strongholds by Uhuru was just half the Jubilee success story. The party also had a good showing in the battleground counties.
Dethroning NASA in Kenya's capital, Nairobi, was a significant win for the Jubilee Party. By virtue of its metropolitan nature, it represents the thinking of Kenya.
Strategic campaign
In Nairobi, Uhuru garnered approximately 780,000 votes, an improvement from 660,000 votes in 2013, gaining about 120,000 votes. More so,winning both the gubernatorial and senatorial seats in Nairobi is a manifestation of national acceptability of both the Jubilee Party and Uhuru as its presidential candidate.
The floodgates also burst open in the North-Eastern region where the Jubilee Party won majority of the gubernatorial seats, sweeping Mandera, Wajir and Garissa. The region gave Uhuru 213,000 votes, an improvement from 175,000 in 2013.
The Jubilee campaign also succeeded in turning the Maasai vote in their favour by winning both the Kajiado and Narok gubernatorial seats while winning approximately 329,000 (55 per cent) of the presidential vote. This was an improvement from 2013 when they garnered 248,000 votes.
Touch and feel
The Jubilee Party ran a smart, targeted and strategic campaign pegged on their transformative five years in office. It recognised that NASA didn't have anything concrete and bankable to offer Kenyans, except an abstract promise to deliver them to a Utopian place called Canaan.
Kenyans simply didn't buy it. They wanted something more substantive that they could touch and feel, like the road network, electricity connections, the Standard Gauge Railway, a social protection plan, improved healthcare and more jobs.
That's why they voted for Uhuru Muigai Kenyatta.They have given UK a thumbs up sign with more than eight million votes and at least 25 per cent of the votes cast in 35 counties.
- The writer is a senior lecturer at the History Department, University of Nairobi.
Aguero on target as Man City down promoted Brighton
A clinical Sergio Aguero strike and an own goal by Lewis Dunk condemned Brighton to a losing return to England's top flight as they lost 2-0 to Manchester City in the Premier League at the Falmer Stadium on Saturday.