Boost as MP distributes over 3000 seedlings to Kasipul farmers
COMAND YOUR MORNING
By James Omoro | Jul 6th 2020 | 2 min read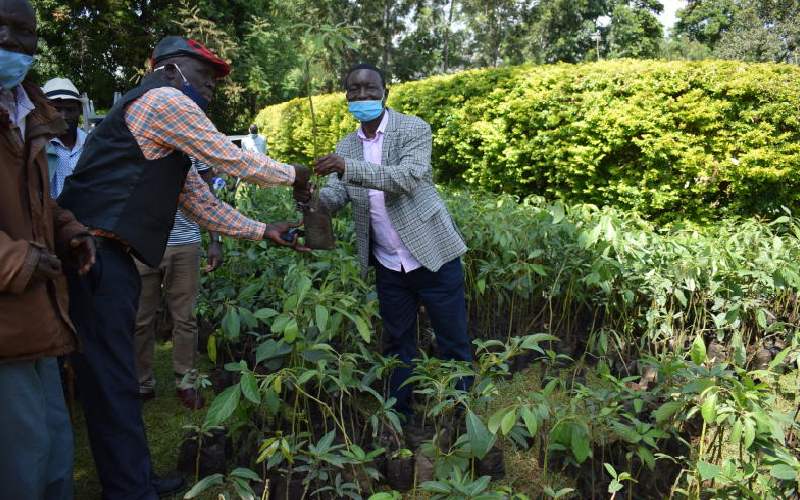 At least 600 farmers from Kasipul constituency have received free avocado and mango seedlings for planting to enhance food security and boost environment conservation efforts in the area.
The seedlings were distributed over the weekend by area MP Ong'ondo Were in a bid to boost food security in an area that has always relied on imports of fruits from neighbouring Gusii region.
The MP distributed 3000 seedlings, comprising 2000 avocado and 1000 mangoes to the farmers.
Each farmer got five seedlings for both fruits.
"We have selected five homes around every primary school because we want the fruits planted in all parts of the constituency," Were said.
Agricultural experts project that the fruits take about three years to mature and enable farmers to harvest fruits.
The MP said farmers will not only have fruits in their homes but also trees which will provide shades.
"We expect each seedling to give farmers a return of Sh30,000 every year after harvests. This will enable the farmers to pay school fees for their children," he added.
Vegetation cover
Were who is a member of Environment Committee in the National Assembly said the programme will also augment the government's policy of 10 per cent vegetation cover required of geographical areas. This is expected to boost conservation of environment.
"Tree planting is key in environment conservation. This programme aims at killing two birds with one stone, production of fruits and vegetation cover," said Were.
He said the programme will continue in the subsequent years to ensure farmers have enough fruits and trees for environment conservation.
The MP said it is important to conserve the environment, arguing that it is through tree planting that can enable the area to receive adequate amount of rainfall for crop production.
"I want our people to put a lot of focus on tree planting. We want this area to receive more rainfall but this can only be achieved if we promote proper vegetation cover," the MP said.
The programme's beneficiaries promised to take care of the seedlings to ensure they reap the expected benefit.
"I believe this programme will transform our lives if we take it seriously," said Jane Atieno, a local farmer.
Were also distributed sanitisers to matatu and bodaboda operators during the function.