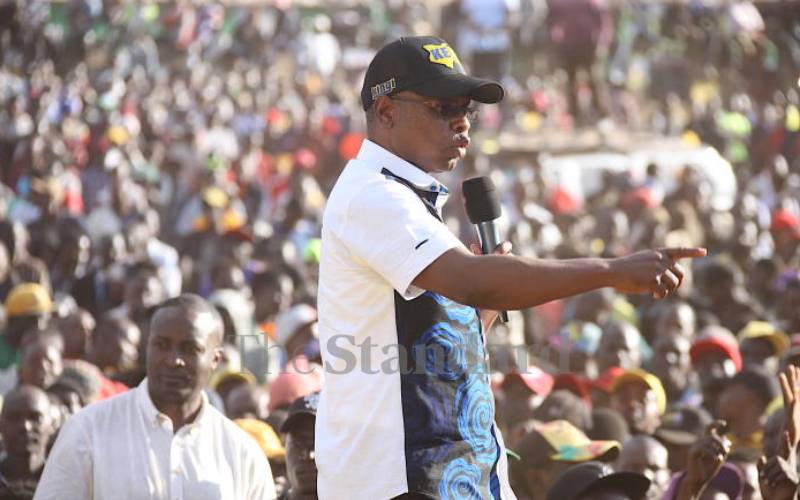 Kilifi Governor Amason Kingi is burning the midnight as he seeks to neutralise ODM leader Raila Odinga's influence in the Coast region.
In his latest plan, the Pamoja African Alliance (PAA) leader who is also one of Deputy President William Ruto's main campaigners in the region, has engaged 1,000 opinion leaders in each of the 35 wards in Kilifi to deliver at least six votes for the United Democratic Alliance (UDA).
In the end, the governor hopes the strategy dubbed "Zika ODM, Zika Raila" (dump ODM, dump Raila), will deliver at least 210,000 votes for Ruto in Kilifi. The county has 508,068 registered voters in its seven constituencies.
He said the votes he will win using this strategy will be in addition to those from his diehard supporters who have voted for him over the years and enabled ODM to win seats in the region.
In the last two elections, ODM won most seats in Kilifi, including the governorship. On Tuesday, Kingi met the 1,000 opinion leaders in Adu ward and a similar number in Gongoni ward to lay strategies of turning the tables on Raila.
"There is no one in Kilifi who loved ODM like I did. No one sold Raila Odinga more than I did. But today, I want to tell you that times have changed. There are reasons. Today, I did not come here to sell ODM but to bury it," he said.
He added: "Elections should be about the interests of the people and Coast will be better off in the hands of Ruto."
Kingi claimed that Kilifi residents delivered more votes to ODM than some parts of Nyanza in 2017.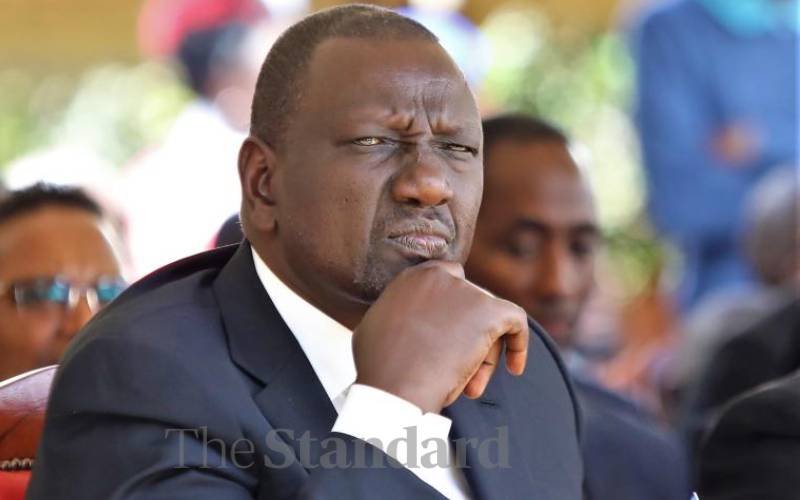 The governor was accompanied by PAA spokesman and former Malindi MP Lucas Maitha, Nominated Senator Christine Zawadi and Magarini MP Michael Kingi.
"Raila never thought of pushing for the development of the Coast region and appointment of people from this region to top government appointments," Kingi claimed.
He claimed PAA's leadership tried to engage Raila so they could sign an agreement that will ensure the development of the Coast region if he wins but the ODM leader declined. "We were forced to hammer the same deal with Ruto," he said.
Maitha said he was present when Kingi sought to have a pact signed with ODM.
He said other regions joined Raila's coalition with their own parties and signed agreements including the Jubilee Party and Wiper.
"The Coast region should reject Raila because he has no good plans for our people and the region," said Maitha.
Zawadi, who is seeking the Kilifi Woman Rep seat, said: "As leaders from Coast, we had no say when port operations were being moved from Mombasa to Nairobi because we did not have our own political party."
But as Kingi campaigns for Ruto in Kilifi, sibling rivalry within Kenya Kwanza has threatened to spoil the party for his Pamoja African Alliance.
The governor has been fighting off claims that PAA had been swallowed by UDA.
Some observers have termed Kingi's move to challenge ODM dominance in the region as a major political gamble.