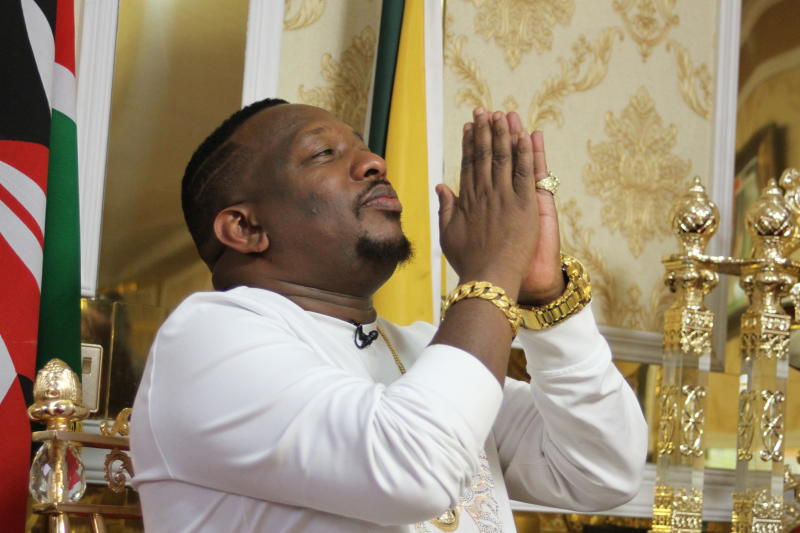 Former Nairobi Governor Mike Mbuvi Sonko, a late entrant in the Mombasa governorship race on a Wiper ticket is not having it easy after making an emotional visit to his mother's grave at a Muslim cemetery.
A Mombasa man has accused Sonko of allegedly visiting the wrong grave in his attempt to pay for his late mother's burial site a visit.
Sonko, who was in the company of Wiper leader Kalonzo Musyoka had on his arrival at the Port city driven to the Kikowani Muslim Cemetery to pray for his mother, the late Saumu Mukami.
Videos that went viral online showed a Muslim cleric leading the graveside prayers before Sonko sprinkled water on the grave. He then started shading tears before being consoled.
In a sudden turn of events, one Aboukar Aboud, however, claimed that the same grave belonged to his mother. He then demanded that the former governor stop his theatrics, which he says he is using to gain political mileage.
Mr Aboud, who is said to originate from Lamu County, in another video, drew various comments from Mombasa residents and berated Sonko for invading his late kin's grave.
''We are disturbed that during these times of heightened political tension Sonko can choose to make such a move. This grave contains the remains of our late mother who was interred here seven years ago,'' Aboud is heard saying.
''As a family, we have been hurt by the actions of Sonko when he went to stand next to our late mother's grave. He should never use the dead to gain a political edge and clear sympathy for votes,'' he said while urging Sonko to offer an apology.
Aboud further challenged politicians not to use such moves acts to attract votes, alleging such could attract communities' rage.
Kenya Muslims National Advisory Council (KEMNAC) National Chairman, Sheikh Juma Ngao was moderate in his reaction to Sonko's move.
"This is sheer bad luck. Our burial sites are too congested and most of the graves are not clearly marked. When one fails to have routine visits to check on the graves, it becomes very hard to locate the site of the kin's grave. It's just a normal confusion which can happen to any person,'' Ngao said.
Sheikh Ngao termed the matter a pity, saying that after seven years, graves at the Muslim cemetery are not clearly marked hence the difficulty in identification.
However, there was confusion later after word went round that Aboud's mother was still alive back in Lamu county. Aboud could not be immediately reached for comment.