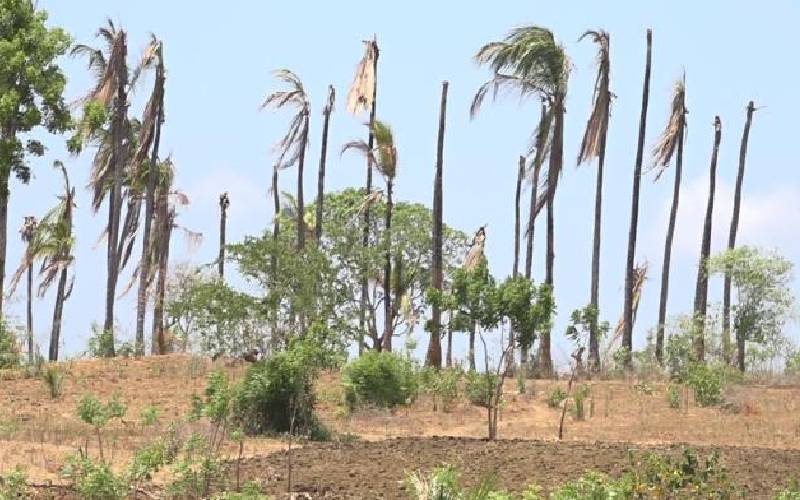 Wine tappers in Baga Moyo village in Rabai, Kilifi County, have been forced to look for alternative sources of livelihood as coconut trees dry up due to the ongoing drought in the country.
They tap the palm wine, popularly known as mnazi, from the coconut trees. The wine is also used during most traditional ceremonies such as weddings.
Things have been tough for the wine tappers, and residents in general, most of whom have now turned to fishing and beekeeping to sustain themselves and their families.
Mr Salim Ware, a Kaya elder, said most coconut trees have withered.
"Coconut trees are a livelihood to most residents of the Coast region. However, the harsh climatic conditions have dealt us a major blow. Most coconut trees have dried up. We fear this may mean the end of the mnazi business. Our children may also miss out on the cultural importance of palm wine," said Ware.
Other than producing mnazi, the coconut tree has many other uses. The leaves which are also called makuti, are used to thatch houses. There is also coconut juice called madafu. Then we have the popular coconut oil is used for cooking and manufacturing lotions.
Residents have now turned to mangrove conservation for beekeeping and cage fishing as an alternative source of livelihood.
Through the support of the county department of environment and the Kenya Forest Service, some of the residents have formed a Community Based Organization, the Mwachideko Self-Help Group, to help their new ventures.
The organisation's 200 members are currently planting new mangrove seedlings which will add to over two acres of mature mangrove trees.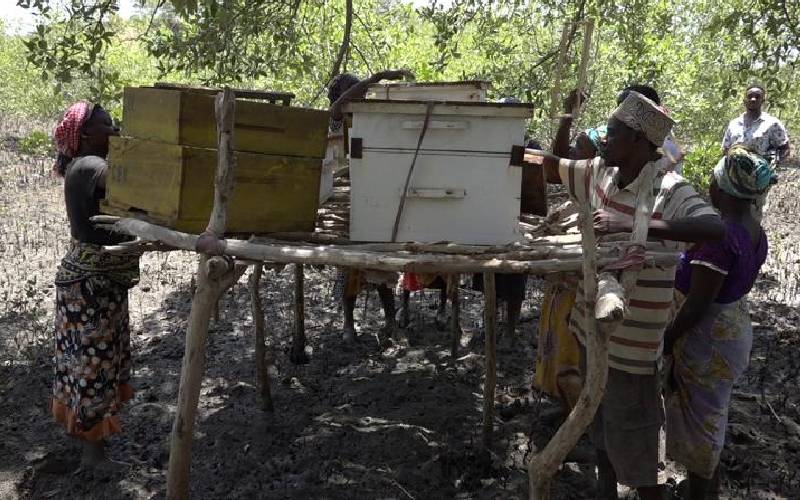 Mrs Patience Kishambo, a member of the group, said they now have 25 beehives inside the mangrove forest. "We are harvesting over 500 litres of honey every season. A honey harvesting season takes between three and eight months, depending on weather conditions and the type of beehive.
"The mangrove can survive harsh climatic conditions as opposed to coconut trees," said Kishambo.
Mr Wilfred Ndune, the Mwachideko Self-Help Group chairman, said the changing climatic conditions have adversely affected them.
"Fish stocks have also gone down due to the dry weather conditions that have seen the plants the fish feed on dry up. But we have decided to find ways around the dry weather. That is why we have opted for beekeeping as we also engage in fishing using cages at the creek," he said.
The Kilifi County Director of Environment Zainab Mohamed said most parts of the county have been hit by drought, which has in turn affected food production.
"A big percentage of the county has been affected by drought and many trees have dried up, including the coconut tree. In conjunction with the department of agriculture, residents will be given drought-resistant coconut trees and alternative means to earn a living," she said.
The Kilifi County Forest Conservator Elvis Katana said residents should seek crops that are drought resistant and high yielding.
He also advised farmers to insure their crops and trees, especially since there is no clear policy on the compensation of trees in law.
"In terms of compensation, there is no clear policy and my advice to farmers is that they should try and take insurance covers for their crops. This will cushion then whenever such climatic changes come up," said Katana.