Father from hell: Man slaughters his daughters after quarrel with wife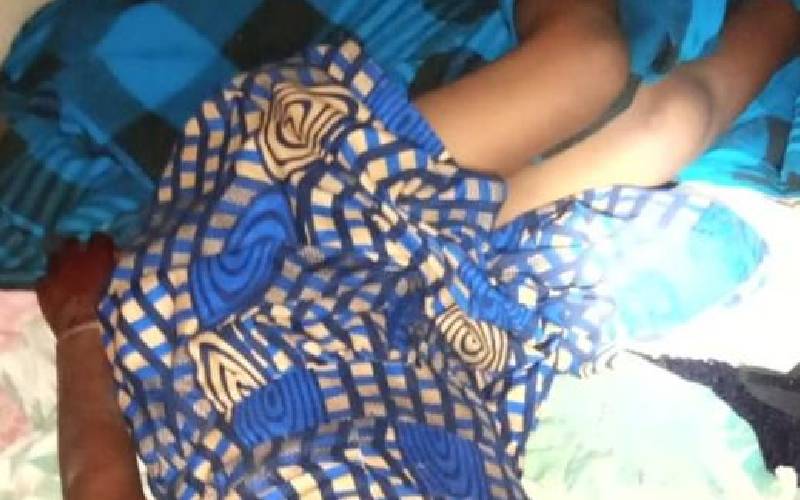 Police in Kinango, Kwale County, are looking for a man accused of butchering his daughters aged five and seven.
The man is said to have quarrelled with his wife, Bridget Ndunge Muema, but decided to vent out his anger on the children after the woman ran away.
The suspect killed the children by slitting their throats during the Sunday evening incident at their Taru home.
One girl was found in a pool of blood in bed and the other one in a sofa set. The throats had been slit. The girls were smartly dressed, in matching dresses.
Police reports indicated that the woman ran away, fearing for her life, after a heated argument with the suspect. It was not immediately clear what the couple had quarrelled over.
Gruesome pictures taken by homicide detectives at the crime scene show the girls suffered deep cuts in the neck.
"The Kamba male, aged 54 years, differed with his wife Bridget Ndunge Muema over domestic affairs and he decided to kill his daughters in cold blood," states a report filed at Mackinnon Police Station.
The suspect's sister, Mrs Esther Mueni, a Badesa village elder, reported the killings to the police station around 10pm. She said her brother differed with his wife before the incident.
On Tuesday, Kinango sub-county police commander Fredrick Ombaka said they have launched a manhunt for the suspect.
"On realizing that his wife had escaped, Mutie took a knife and killed his only two daughters, Parelian Nduki Maingi aged five years, and Maratina Maingi aged seven years," Ombaka said.
Meanwhile, a 28-year-old is on Wednesday expected to be charged with the murder of his father on December 17 last year in Mombasa.
Abdul Majid Nagib is suspected of killing and later mutilating the body of the aging Nagis Abdfalah Fateh before hiding it under the bed in their home in Bondeni.
Fateh, 69, is a retired military officer. He also served in the United Arab Emirates (UAE).
The neighbours said they were disturbed by a foul smell coming through the toilet in the house. Upon checking, they discovered a body stuffed in a sack.
Nagib was arrested on December 20 in Juja, Kiambu County, and was ferried back to Mombasa.
Family members and neighbours had asked Nagib about the whereabouts of his father, whom he lived with, and he told them that the old man had gone to his farm at Mavueni in Kilifi County.
However, neighbours at Mavueni confirmed Fateh was not there.
On Tuesday, Chief Magistrate Ritta Orora allowed the prosecution to close the miscellaneous file that allowed the detention of Nagib for 12 days.
State prosecutor Theresia Mwangeka said a psychiatrist report had indicated that Nagib was fit to stand trial over the murder of his father.
In a sworn affidavit by investigation officer Police Constable Stephen Sachita, Nagib was arrested in Juja where he was reportedly hiding in his girlfriend's house.