Security operation after six killed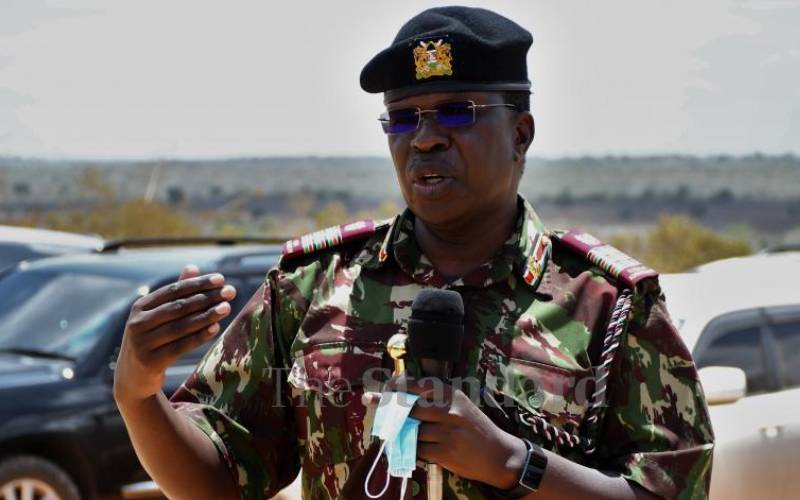 Security apparatus have launched a manhunt for militants who killed six people at Widho Shopping Centre in Lamu County on Monday morning.
Yesterday police said among those killed was a village elder Mr Joseph Mwangi. He was stabbed several times in the stomach before he was beheaded in his house.
He was killed inside his house before it was set ablaze, stated a report filed at Kibaoni police station, some eight kilometres North-West of the scene of crime.
The body of Mr Francis Kamau who was reported missing on Monday was also found along the road within Widho with gunshot wounds to the head.
Police believe Kamua was tortured and forced by his captors to lead them to the other five victims.
"Francis Kamua had mysteriously disappeared on 2/1/2022. His body was found along the road within Widho Shopping Centre and had head gunshot wounds" stated the report.
Lamu County Commissioner Samson Macharia said the raiders attacked the sleepy village about 4am on Monday morning. He said the attackers did not steal anything from their victims.
Macharia said they were yet to establish the number of the assailants and motive. He however said it was highly likely to be linked to the Somali based Al-Shabaab militants.
Since 2014, Kenyan security forces have been battling an Al-Shabaab offshoot, Jeshi la Ayman believed to operate from the expansive Boni forest.
The group is blamed for a myriad of Improvised Explosive Devise (IEDs) attacks, especially, against security personal involved in Operation Linda Boni forest.
In May last year, eight Kenya Defense Forces (KDF) soldiers were killed and several others injured after their vehicle hit an IED at Baure in Lamu West.
The soldiers were travelling from the Baure Camp in a Landcruiser to the Kenya-Somali border where construction of a wall is going on.
Yesterday's attack had some similarities with the 2014 and 2015 attacks in Mpeketoni and Hindi. In both attacks, the assailants tied their victims' hands to the back before they slit their throat.
According to the police report, five of the six killed yesterday at Murimi Mangwe den had their hands tied from behind before they were beheaded. The attackers also burnt the victims houses.
"One of the four male bodies burnt beyond recognition were suspected to be those of the Mangwe den owner John Murimi and his three casuals, Peter Musyoka, Maina Wanjege and peter Maina.
"All the deceased persons had their hands tied from behind. Also, several houses were torched within the locality and property of unknown value burnt," says police report.
Like in 2014 and 2015, the attackers also targeted only men in a remote village raising questions whether it was a terror attack or fight over resources like land in the area.
"We are combing the nearby forest to apprehend the culprit and have them prosecuted. We suspect that this is a terror attack carried a gang that disappeared in the forest," said Macharia.
Police recovered one spent cartridge of 7.62x 51 MM special calibre, according to the report filed by another Nyumba Kumi chairman at Kibaoni police station.
"Bodies have been moved to Mpeketoni sub-county hospital morgue pending identification and autopsy. the motive of the attack is yet to be established," said the report.
In December, the government lifted a ban on night travel for private transporters on the Lamu-Witu-Garsen road following improved security situation in the area.
Coast Regional Commissioner John Elungata said the decision was made due to improved security in the region.
"The national government is keen to ensure that normalcy returns to Lamu, with steps already underway to build two new security roads that will enhance our security agents' response time to any insecurity incidents reported," he said.
Mr Elungata, however, warned that the night travel ban on public service vehicles is still in force.
Yesterday a section of Lamu leaders and tourism stakeholders led by Mr Hassan Albeity reacted angrily over the attack and asked the residents to help police to identify the attackers.
"We are saddened by this attack. It is the responsibility of us as Lamu people to help the security team to get these attackers," said Albeity.