Seaweed: The new cash crop for all seasons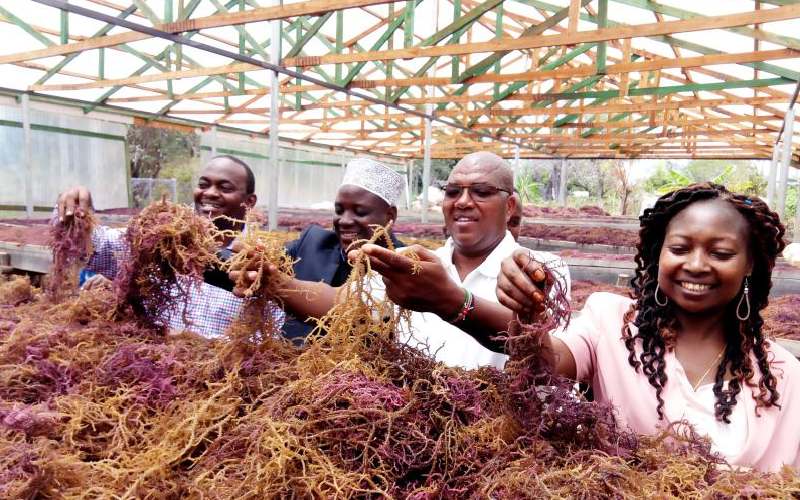 There is a new haven for seaweed or kent farming along the Kenyan Coast.
Scores of farmers, men and women, are busy in the shallow waters off the shores of Mwazaro Bay near Shimoni in Kwale County. They can be easily mistaken for fishers, as they wade to tend to the crop or to plant new ones.
They are members of Bati seaweed farmers.
Under a huge mango tree, against the mid-morning sun, some appear to be pruning leafy grass tied on ropes.
The farmers took up growing the crop, locally known as mwani, after seeing their neighbours in Kibuyuni and 10 other villages reap quick benefits from the weed. Mwazaro hosts the farmers in South Coast.
Brings nutrients
Mwazaro Beach is at the mouth of River Ramisi, which brings nutrients to feed the seaweed, according to the farmers. They were enticed into growing the weed by an exporter.
Abdulahi Bidii Lewa, the group chairperson, said what started as a visit by investors dealing in seaweed from neighbouring Zanzibar in 2019 is now a full-scale farming.
"The visitors who had come from inspecting seaweed farms in Kibuyuni and Mkwiro were looking for additional sites for farmers to be taught how to grow seaweed. When they spotted Mwazaro Bay, they were eager to let us try this crop," said Mr Lewa.
He said a day after their first tour, the visitors later returned to the bay with materials required for tending seaweed.
"We had seen what our neighbours from Kibuyuni had achieved after taking up seaweed farming. Their livelihoods took a turn for the better. Their homes have been transformed from Makutu (palm frong) and grass thatch to iron sheet roofing and brick and mortar," he said.
In September 2019, they came together to form Bati Seaweed Farmers Group with 96 members, 70 of them women. "We quickly learnt the technique of seaweed farming from our mentors, who were also buying our harvest. Today our group members, some widows, eke out a decent living from sale of seaweed," he said.
He said their first planting was in November of 2019, after being supplied with 40 sacks of seedlings from Funzi, another fishing village on seaweed growing. They also engage in small-scale farming and grow cassava, maize and peas for subsistence purposes.
Lewa dropped out of Msambweni Secondary School in Form Two in 2012 for lack of fees, but is glad he chose seaweed farming.
"This is a job like any other. With good harvest and depending on how well you tend your farm, the pay check is good," he said.
Lewa said their first harvest in 2020 saw them earn Sh145,000 after selling 5.7 tonnes of seaweed. They followed it up with more harvest last July, where they harvested 27 tonnes that earned the group Sh645,000.
Lack modern shed
Lewa says the farming is labour intensive and depends largely on availability of rain when the crop is still under water. He says since theirs is a large area, they have to trek over 2km to the seashore from harvesting either wading knee-deep waters or using boats.
The group lacks a modern shed to dry their harvest before being taken to market. They are grateful to Kassim Darus, who has offered them land adjacent to the landing site.
"We have no funds to put up a modern shed and are forced to spread our harvest on open ground. If it rains we remove the harvest so that it does not rot,'' he said.
Mwanahamisi Khatib, 65, and mother of five, narrated how she gave up on cassava growing. "Growing up in the village, the only job I knew was farming. I grew cassava in my quarter-acre farm, but two successive periods saw total crop failure due to a disease that affected the plants. When I finally took up seaweed farming and got my first Sh26,000, I was happy," she said.
She used part of the money to pay her children's school fees and the balance to buy building materials for a modern two-roomed house. "I'm motivated that once I put more effort in the farm, my harvest will be better and returns good," she said.
First sale
Her colleague, Mwanasiti Mkulu, aged 36, said she made 40,000 from her first sale and apart from paying school fees, she has started to build a permanent house. "I have a target to at least move into my new house by the end of 2022. I am working hard to ensure my harvests increase," Mwanasiti, who we found preparing seaweed seeds, said.
More than two decades ago, the Kenya Marine and Fisheries Research Institute (KMFRI) ventured into research on the potential for commercialisation of seaweed farming. KMFRI conducted its research at the sea off Kibuyuni and two other sites at Mkwiro and Gazi.
KMFRI researcher Alex Kimathi stated that it took years to undertake the pilot, which looked for the best sites that had favorable conditions for seaweed farming and were close to the villages. "Majority of those who have taken up seaweed farming are women," he explained.
Besides the economic impact, seaweed farming has ecological benefits.
Growing seaweed develops a dense canopy, which reduces the waves' strength that have usually caused coastline erosion.
Seaweeds are autotrophic plants. They capture carbon dioxide from the air and convert it to carbohydrates using sunlight. They act as a buffer against ocean acidification.
Seaweed has also traditionally been used for domestic purposes such as food and feed.
Billion-dollar industry
However, industrial uses such as making gels, fertilisers, and pharmaceuticals have emerged, making seaweed a billion-dollar industry. Unlike in East Africa, where production is still low, countries in Asia produce millions of tonnes a year.
There is growing discontent among seaweed farmers from Kibuyuni site, which is well developed and the first one to have been formed following the advent of plans to put up a fishing port, set to be constructed in Shimoni, a few kilometers from Kibuyuni.
Last December, drilling for the project started. Though this was done to test the site, the seaweed farms were affected, and one of the neighboring villages, Mkwiro, which also grows seaweeds, lost its entire crop and abandoned seaweed farming for a while.
"Mwazaro bay is far from any industrial activity. We are poised to go big and be the largest seaweed producer soon. We hope we can have investors locally take up seaweed processing to add value and create jobs for our people," Lewa said.
The crop, sold in international markets, takes 45 days to mature and is easy to tend as it grows on the seabed.
In Kibuyuni, farmers have started doing value addition through soap and shampoo-making, but have called for government funding for production and access to markets.