Raila vows to end Coast region's land issues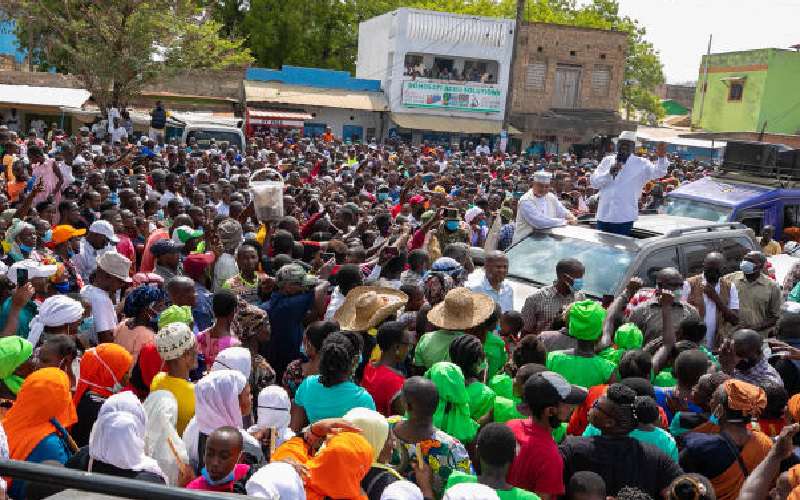 ODM leader Raila Odinga has promised to end historical land injustices and stop cartels behind the current evictions at the Coast. Speaking yesterday when he toured different parts of Lamu, Raila said his third and final economic revolution would be anchored on social justice, an end to corruption, and solutions to historical land injustices bedevilling the region.
He said he would not back down on his plan to introduce a social protection fund to cushion the most vulnerable members of the society from economic hardships.
He said the monthly Sh6,000 cash transfer would start next year. "I know where money is and the corruption loopholes to be sealed," said Raila. He spelt out his economic plan for the county that is currently reeling from effects of insecurity, Covid-19, and landlessness. "The third liberation has begun from Lamu. We must fight to end the factors or issues that have held the country back from realising its economic revolution," said Raila.
He added: "In Coast, the cartel behind the eviction of people from their land must be stopped. These cartels have been emboldened because they think they are untouchable."
Raila promised to ensure Kenyans are safe and their property protected from those out to disinherit them or grab what they have genuinely acquired.
The ODM leader toured Lamu island, Witu and Mpeketoni, where he also called on the residents to live in harmony, adding that unity was an important catalyst for a stable and prosperous country.
Special economic zone
Raila said he would push for the setting up of a special economic zone locally.
During the Azimio la Umoja meeting, Lamu leaders, including Governor Fahim Twaha and Lamu West MP Stanley Muthama said the county was still classified as a security operation area.
This, the local leaders, said had affected the movement of goods and people at night, despite the fact that the government had lifted the curfew.
Twaha said through the Azimio la Umoja, Lamu residents would strive to maintain peace and end tribal politics that had sowed seeds of discord among different communities.
Raila introduced the Azimio la Umoja initiative on August 17 in Nakuru. He has since toured several parts of the country to push the unity agenda.
In Lamu, local leaders called on Kenya Ports Authority (KPA) and the Lamu Port-South Sudan-Ethiopia-Transport (Lapsset) corridor to employ more local youths.
They said this would end cases of insecurity. "We want the cartels coming to land to grab our land to be stopped. We also ask you to tell the President that part of the Kipini Ranch should be given to the locals," said Mr Muthama.
Local leaders also demanded an end to regular arrests of fishermen by the local security agencies at the Indian Ocean, a revival of the region's factories, and the setting up of a university in Lamu.