Rejected over 'witchcraft', elders find refuge in shrine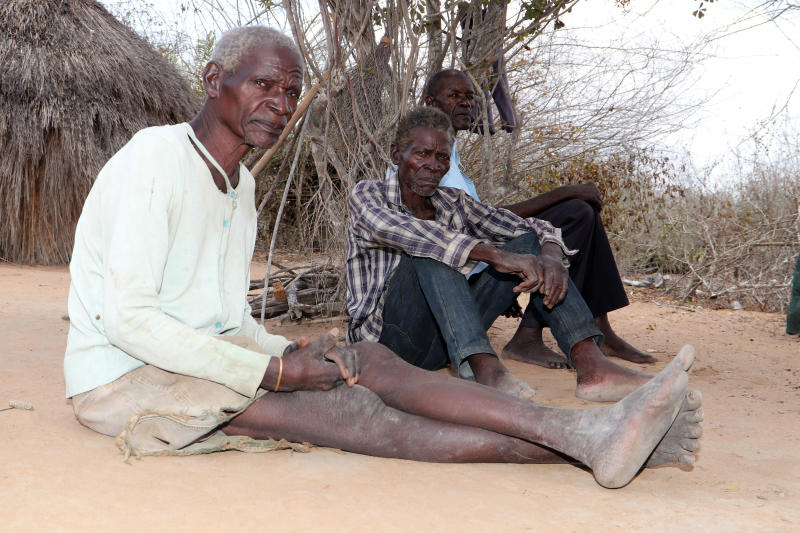 Seven years ago, Nyiro Katana was resuscitated at the gate of Kilifi Hospital Mortuary as police officers lifted his motionless body from a landrover to take it to the morgue's cold storage room.
One of the officers, who picked him from the house at Ngarenyi-Tezo, noticed a slight quiver of the hallux of his left leg.
"The panga-wielding attackers found me asleep, slashed me all over the body and left me for the dead. My wife was sleeping in another room. I showed signs of life at the mortuary gate and I gained consciousness in the theatre room," Nyiro explains.
After spending weeks at the hospital, Nyiro took refuge at the Kaya Godoma rescue centre for the elderly as he faced threats of being executed on suspicion of being involved in witchcraft.
Since that deadly night, mzee Nyiro, 70, says he has not set foot in his home. He has not seen his wife or his four children. He found refuge in a shrine in Magarini Constituency.
Nyiro is among eight elderly people who are being housed at the centre used for rescue, traditional cleansing and counselling.
They have all denied being involved in such a practice. It is located about 80 kilometres north of Kilifi town at the remote and sleepy Mrima wa Ndege village in Ganze Sub County.
It is not fenced and the safety of the asylum seekers cannot be assured although watchmen are often deployed by the committee to guard the place. Police officers occasionally patrol the area.
After a brief chat, Nyiro would open up about a long-running conflict with relatives over a 12-acre piece of land blaming the fallout for his woes.
"Some members of my family piled pressure on me demanding that I sell part of the land and buy them boda bodas. I never knew peace after I resisted. I was later accused of practising witchcraft and attacked by unknown people," he said.
Nyiro claimed there was a rush to sell land in Tezo area, Kilifi North Sub County, after the price of an acre rose from Sh20,000 in the late 1990s to Sh500,000 currently but said he would not budge.
"I do not know when I will reconcile with my family but I am not going to dispose of that land. This is the dilemma I have," he said.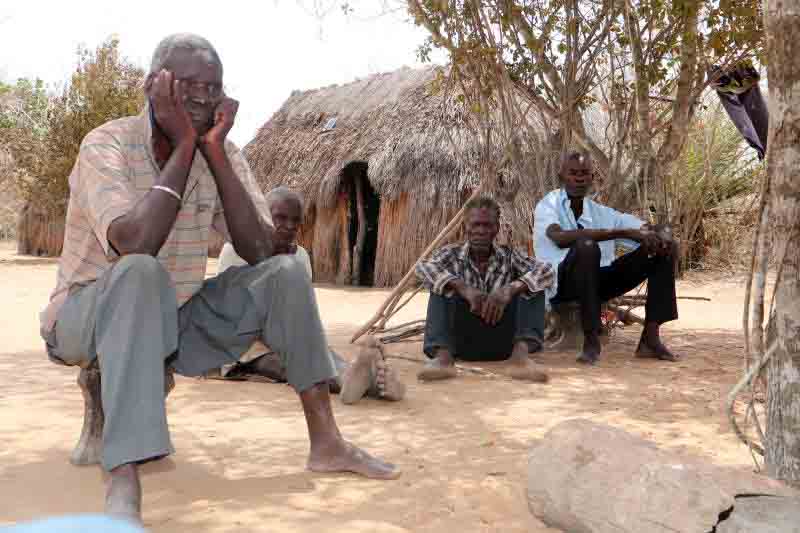 When we arrived at the centre, a man from Chumani near Tezo had just been discharged the previous day after being cleared of witchcraft allegations and reconciled with his family.
Meanwhile, Charo Mwakamsha fled his home at Palakumi in Ganze in 2017 after he was accused of bewitching his grandson who was a Form Four student at a national school.
"I have been away for four years now. It was the most painful moment of my life. My grandson died in hospital upcountry after a short illness.
"On the way home with the body mourners started singing some dirges saying the killer was known and would be buried with my grandson. And finally, boda boda riders revealed to me that I was the prime suspect. I fled to Bamba police station and eventually to this centre," a frail Mwakamsha, 82, explained, shedding tears.
He has since been unable to reconcile with his family and is mulling the idea of taking legal action against them in order to return to his home.
According to Mwakamsha, living at the centre is like being in prison with limited food and water. Days and nights have always been long owing to pangs of hunger and boredom.
Ngumbao Birya left his home and farm at Silala village in Ganze after he survived the second attack by a gang of youth. He recalls some young men labelled him a witch after he differed with them when they sexually harassed a close relative in his presence.
"I had a good farm and got a bumper harvest. As I sold the crop, some people branded me a bad man because I was very strict with my produce. Then some young men came to my home and sexually harassed her (relative).
"Later they attacked me with machetes at night and burned my house. They returned months later and I had to flee on a boda boda to Ganze police station and seek refuge here. Their aim was to remove me from my farm," Birya,78, said.
The centre is tucked in the middle of a thicket with nine Giriama traditional houses that are thatched with grass from top to bottom and bear the shape of an elephant.
The shrine, established 10 years ago, has an entrance with two 'gates' and an exit which is just a straight path from the middle of the thicket where the traditional houses sit.
Just like the other Mijikenda kayas, Godoma centre upholds the cultural practices to the fine detail. Everyone strictly observes the rules or risks of being punished. For starters, all visitors to the shrine must remove their shoes at the first gate of the entrance.
When the Standard Group crew arrived there was no one at the entrance to receive the team. An attempt to step in with shoes ended up in a heavy fine after being put on our defence.
The custodians led by chairman Mr Emmanuel Katana said he would be using the money to buy sheep and other items to cleanse the shrine and appease its spirits.
"This is not just a rescue centre. It is a holy place. There is a fine for anyone entering the centre with shoes. If you do not see anyone around you have to wait outside the entrance to be ushered in," said Katana.
Visitors have to be walked around and avoid entering two of the huts as one is for traditional doctors who treat various ailments, assess whether those brought in to confirm whether they engage in witchcraft or not and then 'demobilise or neutralise' the sorcerers so they cannot bewitch anyone after leaving the place.
Emmanuel showed us a hut located almost at the centre of the kaya which he explained was being used by elders in his management committee to set rules and adjudicate some cases based on customary law.
The other hut is reserved for the traditional doctors who handle various cases of ailments, keep tools of the trade and meet to consult. There is a patch near that house where the 'doctors' can work in the open.
"We invite family members whose elders have sought asylum here and ask them to take a traditional oath that confirms between them and the suspect who is telling the truth. Some come but others refuse and we report this to the authorities," Emmanuel said.
More than two-thirds of those who seek refuge at the shrine are men. Emmanuel explains that men are mostly being killed or are uprooted from their homes by their kin who want to inherit their land.
The team has embarked on enrolling all traditional medicine men and women in the area asking them to indicate what they do so as to clear the claims of witchcraft in the region.
"Traditional healers must get enrolled and reveal what they do to clear the tag of witchcraft. We hope this will address the fear of widespread witchcraft in this region," he said.
Fortune-tellers
Emmanuel noted his group has notified pastors and fortune-tellers that should stop branding people witches and wizards to end the senseless killing of elderly people.
Kaya Godoma which celebrated its 10th anniversary in January this year has since rescued 111 people. A filmmaker who visited the area recently donated some goats which are being herded by the elderly. Emmanuel said keeping the centre running has been a struggle as they mainly rely on well-wishers to feed the elderly.
Several miles away in Malindi Sub County in Kilifi is the Mekatilili wa Menza Cultural, Resource and Rescue centre which currently houses five elders who fled their homes on suspicion of practising witchcraft.
Unlike Godoma, Mekatilili centre was not set up as a Kaya and mainly does research on Mijikenda culture and rescues those on the run over witchcraft claims.
Custodian Mr Karisa Mwarandu said there was a need for concerted efforts to create more awareness against the killing of elderly people over alleged witchcraft in Kilifi and Kwale counties saying it is a "national disaster."
"We also need support as rescue centres to keep these men and women safe. We require food and funds to feed them and fence off the centres among other support," he said.
Mr Mwarandu noted that a man from Matano Mane village in Ganze Sub County who had sought refuge at the nearby Godoma shrine had to be transferred to Mekatilili centre after he was pursued by people riding motorbikes who attempted to kill him.
"This man was saved by the police but the attackers shattered the windscreen of the vehicle. This incident confirms that the asylum seekers are not safe at our rescue centres after all. It is only better than their villages," Mwarandu said.
Mwarandu a Malindi lawyer said research carried out by his centre in 2011 indicated that up to 400 elderly people are killed annually at the Coast over witchcraft claims and over 1,000 others facing death threats.
He noted that the victims are spread out in Kilifi and Kwale counties.