Clergymen call on Uhuru and Ruto to bury the hatchet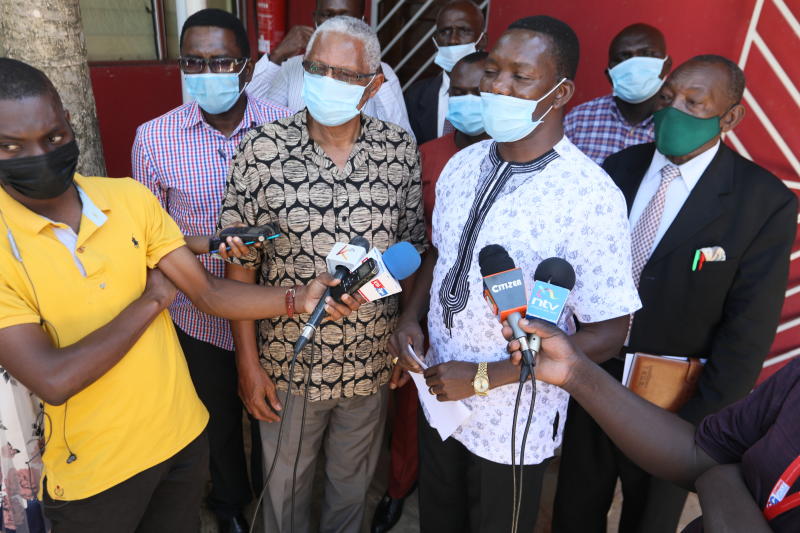 Clerics have called for a ceasefire between the supporters of President Uhuru Kenyatta and his Deputy William Ruto.
Kenya National Congress of Pentecostal Churches and Ministries (KNCPCM) said the two leaders' true legacy would be to leave Kenya a peaceful and cohesive nation.
Speaking in Mombasa, the KNCPCM leadership said the current war of words between Uhuru and Ruto would heighten political temperatures ahead of the 2022 polls.
KNCPCM president, Bishop Dr Stanley Michuki said the clergy was concerned by the ongoing misunderstanding between President Kenyatta and Dr Ruto.
"We don't want problems during the transition period. President Kenyatta and his Deputy Ruto are a symbol of unity to Kenyans. They should lead by that example. I don't see why they cannot sit down and agree. It will be a bigger reward to the nation if they leave it peaceful when they exit from office. Leave us in peace as you go," said Michuki.
On Thursday, the General Service Unit (GSU) security details guarding the deputy president's residence at Karen and Eldoret was withdrawn in an unclear circumstance and replaced with the Administration Police raising concerns among Kenyans. The move particularly sparked protest among supporters of Ruto in Eldoret.
On August 24, 2021, Ruto said, "I am a man on a mission, with no space to retreat and luxury to surrender." He appeared to ward off pressure for him to resign following the bad blood between him and his boss.
Confusing electorate
Earlier Uhuru had criticised Ruto for opposing a government he was part of, saying he was confusing the electorate. "It would be an honourable thing that if you are not happy with it (government), step aside and take your agenda to the people," President Kenyatta had said in an interview on Wednesday last week.
However, Ruto said he will not resign and vowed to stay put in the Jubilee regime and that he would retreat or surrender despite mounting calls for him to do so if he did not agree with President Uhuru's agenda to unite the country.
Yesterday, Bishop Michuki said that the misunderstanding between the two leaders is likely to affect the peace, unity, and stability that they have worked for and prayed for a long time. The Bishop expressed concerns that the difference between the two leaders might start to trickle down to their supporters and plunge the nation into chaos.
He said the economy cannot progress if the leaders are split and fighting.
"Right now our country is facing a lot of challenges like Covid-19, a struggling economy, serious debt, and increasing cases of suicide and the last thing we need is a quarrel between our President and his Deputy," said Michuki.