President Uhuru's warning to land gangs at Coast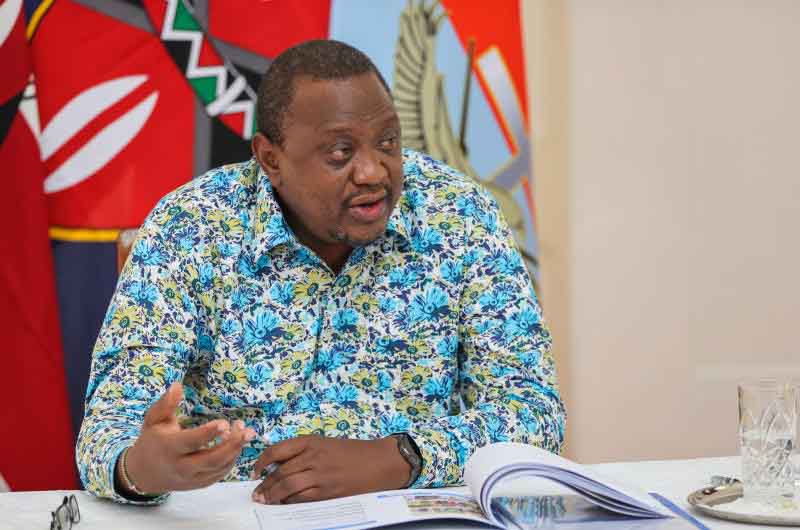 President Uhuru Kenyatta yesterday said issued a tough warning against criminal gangs behind land invasions at the Coast blamed for the recent spate of killings in Kilifi County.
Uhuru said those behind the killings or inciters should be charged with murder so that they can be sentenced to hang so that "they can go and meet those they killed."
In the recent past, several people have been killed in the Coast, especially in Kilifi, Kwale, and Tana River counties, by gangs security officials say are after their land.
A former Junju MCA Onesmus Gambo and 14 other suspects have been arrested and arraigned over the July 7 murder of a father, his son, and a land agent in the Chonyi area of Kilifi
Mr. Sidik Sumra, his son Rahil Zulfikar and a land agent James Kazungu were were scouting for a 90-acre land in the Junju area, which had been invaded by squatters.
Coast Coordinator Mr. John Elungata recently said politicians were behind the recent wave of land invasions and eviction in the Coast region. In Taita Taveta three MCAs were arrested for allegedly inciting villagers to invade a private land.
Yesterday, as the president was speaking tough, hundreds of residents of Mariakani area held a demonstration against politicians fueling the dispute over the ownership of 7100-acre of land.
At the same time, the villagers from three clans at Madzimbani-Matangoni Settlement Scheme have also rejected mediation efforts led by Kilifi Governor Amason Kingi.
An 80-year-old Nzingo Mbudzya said the dispute was the subject of a court case and politicians should steer clear of it to avoid escalating the situation. "Land is a very emotive issue in Kilifi. The politics should stay away and let the court decide about the dispute," said Ms. Mbudzya adding the dispute can easily degenerate into a full-blown-out war.
In 2018, the Court of Appeal in Malindi temporarily stopped the eviction of more than 35,000 people from a disputed 7,100-acre piece of land until the case is heard and determined.
Yesterday President Uhuru issued 2, 169 land title deeds in Kilifi and promised to tackle land disputes in the Coast before the next elections.
"If you kill because of land, you will also be hanged and die so that you go and meet the person you have killed. It is not Uhuru saying, it is the constitution," said Uhuru.
The president urged the residents of Kilifi not to be enticed into selling the land saying it was tantamount to selling their birthright for temporary pleasure. "When we finish this event, the residents of Rabai would be worth Shs 4.2 billion. Use it to improve your lives. Do not sell the land and remain to be squatters," he said.
He pointed out that land title deeds were powerful economic tools with the potential to transform the lives of households across the country when utilized well. "If you think you will kill because of land and remain free you are lying to yourself. If you kill you will also be hanged. That is what our laws say," said Uhuru.
The President was accompanied by Kilifi Governor Amason Kingi, MPs William Kamoti of Rabai, Teddy Mwambire of Ganze, Owen Baya of Kilifi North, Ken Chonga of Kilifi South, Kilifi women representative Gertrude Mbeyu, Likoni MP Mishi Mboko, Mombasa Senator Mohamed Faki, Garsen MP Ali Wario, his Galole counterpart Said Hiribae among other leaders.
Also present were Lands Cabinet secretary Farida Karoney and her internal security counterpart Fred Matiangi together with CASs Gideon Mung'aro of Devolution and Hussein Dado of internal security.
Uhuru said his government has managed to issue more than 500,000 title deeds since 2013 compared to 230,000 titles issued since independence. "In that short period, we have produced more than 500,000 titles in the Coast region and more than 4.5 million titles countrywide up from 1.5 million titles issued since independence. We even managed the biggest land matter of the Mazrui land and we met them and we agreed and people have been settled," he added.
"Anyone who thinks he or she will get land through killing people should know that the sins of murder are death and it is not my law but the Kenyan law. If you kill someone because of land you will also be killed so that you continue fighting for that land in heaven," he said.
Governor Kingi said that Kilifi County alone has benefitted with 100,000 title deeds since 2013 and compared to only 52,000 title deeds issued since independence.
"When it comes to land both governments have really worked and we started settlement schemes and you are now giving us titles.
Adjudicating 30 sections wherein some of the titles are out and in others, the documents are at the ministry of lands," he said.
"No week passes without an eviction order from the courts. I called the decree holders and residents and I told them that the land is theirs because they have documents and they agreed to cede land for squatters but they want money and that is why I come to you for help so that you can buy this," said Kingi.
Karoney on her part advised women to invest in the lands they have been given instead of selling it than suffering later in life.
"My fellow women when you get your title deeds I urge you not to sell it but use it to prosper your life," she said.