Politicians held over Coast land invasions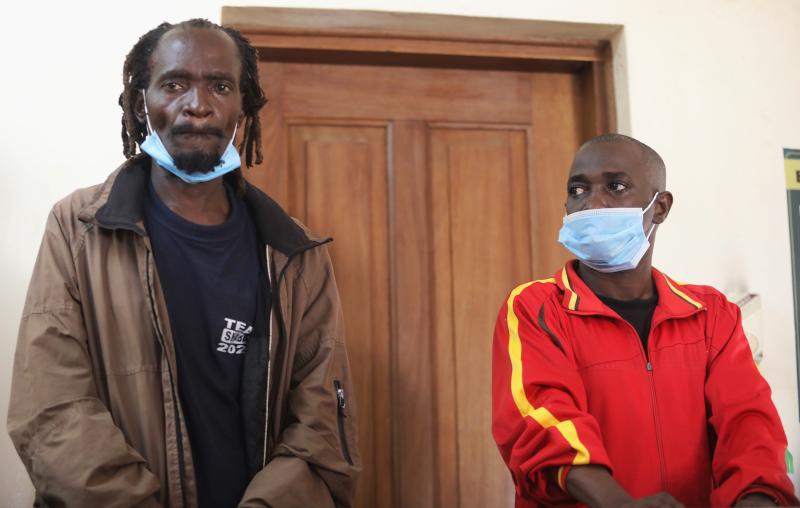 Police are zeroing in on Coast politicians behind land invasions blamed for last week's murder of three people in Kilifi County.
Yesterday, former Junju MCA Onesmus Gambo was arraigned over the July 7 murder of Sidik Sumra, his son Rahil Zulfikar and a land agent James Kazungu.
Shanzu Principal Magistrate Yusuf Shikanda ordered Gambo to be detained for 12 days. The magistrate said the matter was serious.
The former MCA is among 15 people who have been arrested in connection with the killings. According to investigation officers, Gambo held two meetings with the deceased, one in his house and another in a hotel in Mtwapa, in regard to the purchase of land.
Denis Isemek, an investigation officer, said Sumra had wanted to buy a 90-acre land in Junju, which had been invaded by squatters, including Raphael Karisa, who was also arraigned. "The deceased (Sumra) is a well-known person who owns a dairy farm in Junju," said Isemek in his affidavit, adding that it is the former MCA who introduced the man to the community. And in Taita Taveta, the Directorate of Criminal Investigations (DCI) has already forwarded a file of three MCAs, arrested for allegedly inciting residents to invade a private ranch, for prosecutions.
Taita Taveta Assembly deputy majority leader Abraham Juma, Budget committee chairperson Godwin Kilele and Christopher Mwambingu were arrested on June 28 and were released on Sh30,000 police bond each.
Taita Taveta County Assembly legal officer Fredrick Mwadili said the files have been forwarded to the Director of Public Prosecutions (DPP) for review. "The DCI did not agree with the charges that the DPP preferred against the MCAs so they have returned the file to prosecution with recommendations," said Mwadili.
Locals from Junju were also arraigned on Monday in connection to the July 7 killings.
They include Salome Chome, Emily Mughoi, Antonina Mwembe, Tumaini Mbigu, Albert Mumbo, Lenox Govedi, Chengo Kitsao, Emerson Ngala, Caro Mwikali, Abigael Mwikali, Shila Jefwa and Philip Ziro Lewa, a village elder. The court allowed police to detain the accused persons for five more days as they continue with investigations.
Prosecution officer Festus Musyoka said the clothes of the suspects were found with traces of blood and have been forwarded to the Government Chemist for forensic examination.
Their phones and those of the deceased were also forwarded for forensic analysis.
Musyoka said the police were yet to record statements from crucial witnesses.
But the 12 disputed the narrative, saying they were arrested at their homes. "The clothes I was wearing that night when I was arrested are the ones I am still wearing," said Chome. Mr Lewa said he alerted the police at Kijipwa after he was informed of the killings. "I wasn't around when the incident happened. I went to the scene but everyone had already run away. I called the police but they arrested me."
Kilifi Governor Amason Kingi, Senators Stewart Madzayo (Kilifi) and Mohamed Faki (Mombasa) had called for the arrest of politicians behind land invasion in the region.
Madzayo said Kilifi has attracted investors who have acquired land and it was the responsibility of the state to protect them.
"We are calling on the DCI boss George Kinoti to ensure that the culprits are brought to book. Land disputes should be resolved in courts. It is inhumane to kill," Madzayo warned.
Faki said title deeds cannot be transferred to the killers once they eliminate the registered landowners. "I know Kilifi has land problems but killing is not an option. Kilifi needs investors but they cannot come to a place where there are land conflicts," he said.
Kingi said Sumra was an astute investor. "If there is a politician that was involved in inciting people to kill the three men then they should be arrested. If residents think they can kill people and run to politicians for protection, they should forget it."
On July 11, 2021, Inspector General Hilary Mutyambai warned that they would adopt a more rigorous approach to get the motive and the killers. [Joackim Bwana, Nehemia Okwemba, Renson Mnyamwezi and Kelvin Karani]
Coast Regional Police boss Paul Ndambuki said all the culprits will be brought to book regardless of their status in society. "All those who planned and participated in that murder will be arrested."
[Joackim Bwana, Nehemia Okwemba, Renson Mnyamwezi and Kelvin Karani]