Aisha Jumwa withdraws all lawyers she'd hired for her bodyguard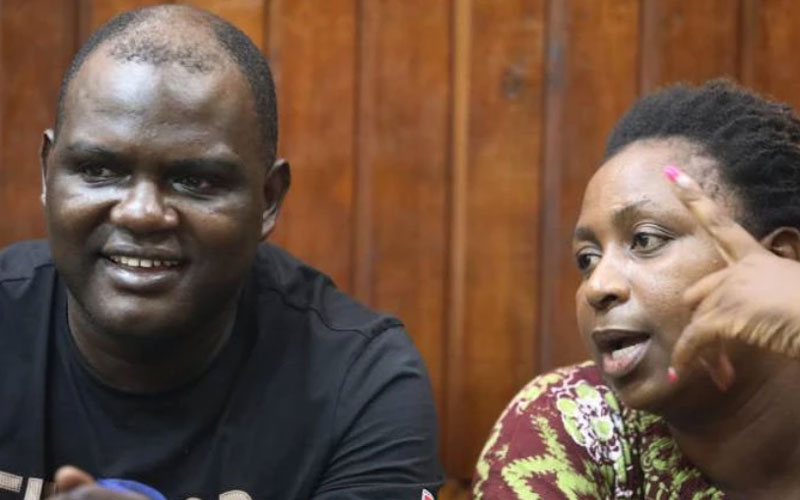 Malindi MP Aisha Jumwa has withdrawn all lawyers she had hired to represent her bodyguard Geoffrey Otieno Okuto in a murder case after allegedly falling out with him.
A ballistics reported presented in court indicated Jumwa did not fire a bullet that killed Ngumbao Jola in October 2019 in Ganda Ward, Malindi Sub-County, Kilifi County.
Jumwa also sought the cancellation of a bond agreement in which her daughter was listed as Okuto's surety.
On Thursday, July 8 Jumwa, in the company of her lawyers, walked out of the Mombasa Law Courts after the proceedings, leaving her co-accused behind as he tried to figure out the way forward.
Justice Anne Ongijo gave Okuto until Monday, July 12 to find new lawyer(s) and a new surety.
In October 2020 a report presented to the court by probation officer Nick Makau indicated Jumwa had been in a stable relationship with Okuto for six years after divorcing her husband 20 years ago.
In a pre-bail report submitted to Lady Justice Njoki Mwangi, the lawmaker was living with Okuto at her palatial homes in Lavington and Malindi.
Okuto, a security guard, doubled up as Jumwa's lover.
The report quoted Okuto's wife, Judith Awinja, saying he was first employed as the MP's bodyguard before the contract mutated into a romantic relationship.
Jumwa hired Okuto six years ago as her private bodyguard after the State withdrew her security detail.
"Enquiries established that the accused (Jumwa) divorced her first husband over 20 years ago. That for the last six years she has been in a stable relationship with Mr Geoffery Okuto, who is the co-accused in this matter," Makau's report read.
Okuto on Thursday told The Standard that Jumwa was leaving him out to dry.
Jumwa has since terminated Okuto's services as a bodyguard and personal driver.
On Thursday, lead lawyer Danstan Omari together with senior lawyer Jared Magolo, Cliff Ombeta and Shaddrack Wamboi told Lady Justice Anne Onginjo that they were no longer representing Okuto.
Jumwa and Okuto were charged with the murder of Ngumbao Jola in 2019 during the Ganda Ward by-election.