Fr Alleluja: Priest with no interest for earthly materials retires after 53 years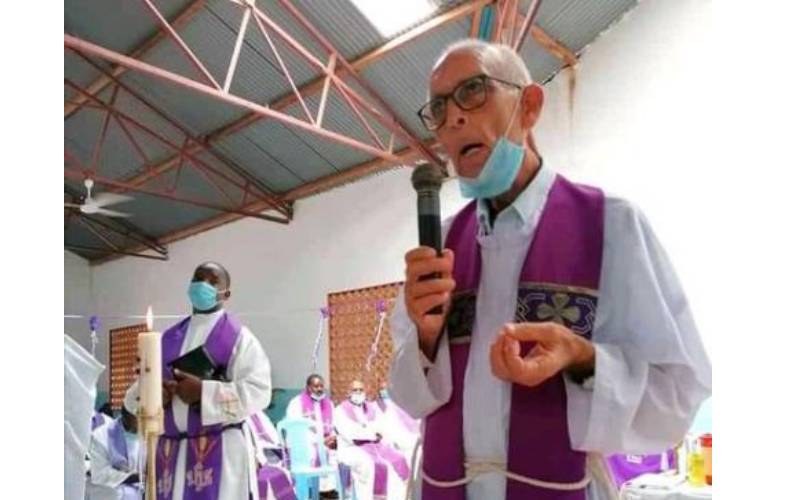 Fr Adolf Poll alias Alleluja has offered selfless service in Kenya for the last 53 years.
He is described by those who worked with him as a down-to-earth priest who had no known interest for earthly materials.
During his last Holy Mass on May 25, 2021, at the St Josef Freinademtz Catholic Church in Witu trading centre in Lamu, Fr Adolf received very simple gifts from his parishioners.
And two simple travelling bags, which he was photographed carrying as he left the church compound for a trip to Nairobi and two sculptures – one of a Maasai warrior holding a spear and the other of the Holy Virgin Mary – were a testament of a man who enjoyed simplicity in life but had a heart of gold.
However, his achievements are remarkable. About 300 students have benefited from his sponsorship to go to school and even join university. At the Parish centre, Fr Adolf set up a rescue centre that currently has 50 girls.
"He touched so many people wherever he went. He was never afraid and would venture out to help those in distress. In fact, in Witu area, which has borne the brunt of insecurity owing to sporadic attacks by remnants of Al Shabaab, Fr Adolf was among the first responders to scenes of crime," said Fr Alex Kimbi, who until last week was the deputy presiding priest at the Witu-Kipini parish.
Fr Alex said during times when Fr Adolf would be travelling home for holiday, he travelled simple.
"You would think that he was only talking a walk to the next trading centre," he said.
"Majority of people he helped and touched were not even Catholics. Witu and Kipini are areas predominantly inhabited by our Muslim brothers and sisters. Fr Adolf was easy with all," Fr Alex said.
He said Fr Adolf remained committed to his missionary work and was particularly sensitive to the needs of other people around the parish and beyond.
He used to drive around the sleepy Witu and Kipini vollages in his old Toyota Hilux to either rescue persons in need or on pastoral duties. When he retired, he left the vehicle behind for use by the parish.
At the church compound which is always a hive of activities considering that displaced and landless communities have taken refuge at the premises, the Italian priest lived in a simple one-roomed home.
When he reported for duty at the Witu station, he bore the nickname Fr Alleluja Omogaka, which he earned while serving at the Catholic Diocese in Kisii.
In an interview with The Standard, Fr Adolf said he was 'relaxing' in Nairobi and was set to visit a dentist before flying out to Italy.
"Yes I have reached retirement age and have to leave for home. However you can talk to the Malindi Diocese press officer for more details over my priesthood," he said.
Fr Adolf will be remembered for his unrelenting efforts to ensure communities in Witu, Kipini and even Mpeketoni had access to fresh drinking water.
In his 20 years of service in Lamu County, Fr Adolph sunk 95 wells for domestic use.
One person who has known the priest throughout his stay in Kenya is British nun Margaret Bradbury from Manchester city.
Sr Bradbury, a career educationist who has now retired from both teaching and sisterhood and lives in Nairobi, said she met Fr Adolf more than 50 years ago at the Kisii Diocese.
"It was in September of 1968 when I went to teach at Nyabururu Girls High School when I met Fr Adolf," said Bradbury, who taught mathematics, physics and chemistry.
Bradbury said Fr Adolf lived a simple life but adored his ministry work.
"His main aim in life was love of Christ to everybody and he was always willing to help improve people's lives," she said.
Catholic Justice and Peace Commission, Malindi, wished him well in a statement released before his departure.
Said the commission: "Fr Adolf, 80, packed all his personal belongings acquired during his more than five decades of priestly ministry in Kenya, fitting in just two small bags, and started his journey back home in Italy for retirement."
He started his priesthood in Kenya at Nyamagwa Parish in present-day Kisii County from where he encouraged and inspired dozens of Kisii youth to become Catholic priests.
Fr Adolf, who speaks fluent Kiswahili, was ordained as priest in his home Diocese of Bolzano-Brixen, Northern Italy, in 1966. He then left in December 1968 to serve as a missionary priest in Kenya.
He was first posted to the Catholic Diocese of Kisii where he served for 31 years – from 1969 to 2000 – and became a favourite among the locals.
In 2001, he was posted to Witu in the then Lamu District under the Catholic Diocese of Malindi, where he served for 20 years until his retirement.

Early next week, Fr Adolf will celebrate his 81st birthday, coming a few days after his retirement.
Malindi Catholic Siocese head, Bishop Wilybard Lagho, spoke highly on the Italian priest whom he described as a truly dedicated servant of God.
''Soon after being ordained priest in Europe, Fr Adolf wanted to come to Africa to convert those who had not seen the light of Christ. He was disappointed when asked to continue working in Europe.
"After about two years of spiritual work in Europe, he received a letter for priesthood service in Africa," said Bishop Lagho.
The bishop added that when it was time to set sail from Europe to Kenya, Fr Adolf boarded a ship that did not pass through the Suez Canal due to an ongoing military engagement that pitted Israel against Egypt, Jordan and Palestine.
"The ship used the long route passing through West African coast, Cape of Good Hope then later Mombasa," Lagho said.
He said Fr Adolf was selfless and focused on sacramental life of Christians throughout his ministry.