Likoni ferry commuters ordered to use new bridge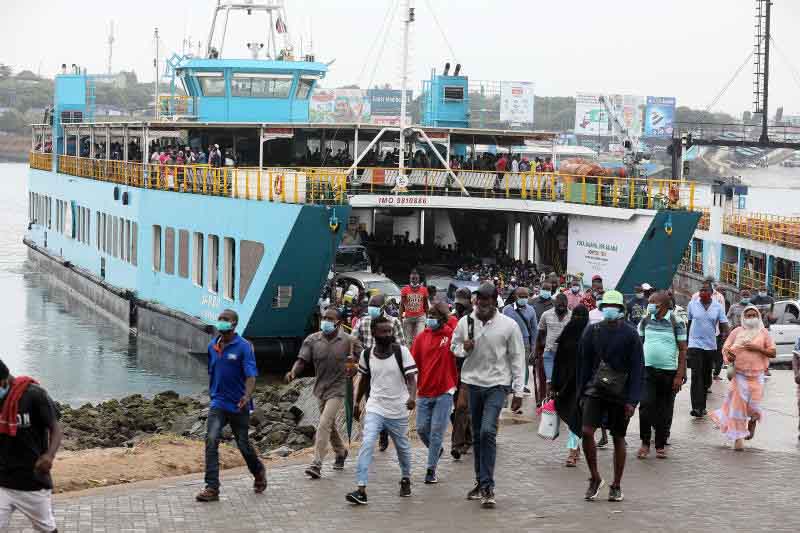 Chaos is anticipated at the Likoni Channel today after the Kenya Ferry Service (KFS) announced that all pedestrians will have to use the floating foot bridge at Liwatoni.
The announcement was made yesterday at the Likoni Ferry Channel by officials directing motorists and pedestrians.
KFS announced the changes on public address system on both south mainland and island ramps yesterday morning.
"From tomorrow, you must use the floating bridge and only vehicles will be allowed to use the ferries while crossing," the announcer said.
KFS Public Relations officer Francis Mugomati told The Standard they were acting on a directive from the County Covid-19 Emergency Response Committee and they were ready to implement the move.
He said the pedestrians will be expected to use the floating bridge, which operates between 6am and 8am and from 4.30pm to 7pm.
Since January 1 when the Liwatoni footbridge was commissioned, pedestrians have shied away from using it and instead crowd the ferries at Likoni Channel against Covid-19 protocols.
Reduce crowding
The government constructed the bridge at a cost of Sh1.9 million last year to reduce crowding at Likoni Channel amid coronavirus spread.
The Likoni Ferry Channel is used by about 350,000 passengers and 6,000 vehicles daily, leading to heavy congestion, particularly during peak hours in the morning and evening.
The county emergency response team has issued the order for passengers to use the footbridge following spike in cases caused by the third wave of Covid-19 pandemic.
Since the outbreak of coronavirus, security officials, including the Kenya police, General Service Unit, Kenya Coast Guard Services and private security guards, have been deployed to control crowds at the Likoni channel, which is one of the most risky areas at the Coast due to the high volume of passengers.
However, the footbridge located about one kilometre to the west of the Likoni Channel has had a low population of commuters as residents still prefer to cross the channel by ferries as opposed to walking.
During a media briefing on Covid-19 last week, Mombasa County Commissioner Gilbert Kitiyo and Governor Hassan Joho announced that arrangements were being made to ensure commuters use the floating bridge.