Joho, Kingi final fall out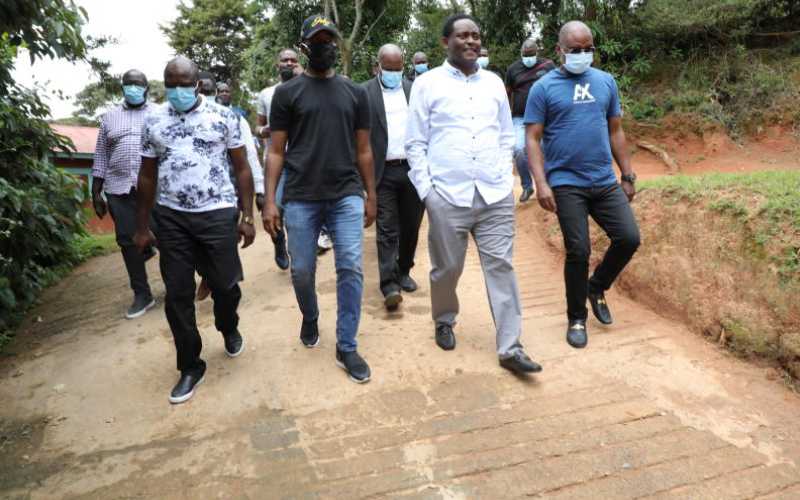 In what is shaping up to be an impending fall-out, five Coast governors yesterday failed to honour their promise to hold joint rallies to unite the region behind a common agenda ahead of the 2022 polls.
Yesterday, Kilifi Governor Amason Kingi told the Sunday Standard that he will unveil a Coast party by next month following intense pressure from locals and their leaders.
Mr Kingi held a consultative meeting with Members of County Assembly (MCAs) from the region yesterday.
Meanwhile, Mombasa Governor Hassan Joho was in Lamu where he dismissed tribal groupings and reiterated that he will contest for the presidency on an Orange Democratic Movement (ODM) party ticket.
Five governors – Kingi, Joho, Dhadho Godana (Tana River), Fahim Twaha (Lamu) and Granton Samboja (Taita Taveta) – had agreed to hold joint meetings starting yesterday.
However, Joho and Kingi yesterday held separate meetings, signalling an final fall-out of the two leaders who have for the last 15 years worked together in the ODM party.
Speaking after the meeting with the MCAs, Kingi said he will hold another meeting next week to speed up the push for a Coast-based party, noting that he will reach out to other like-minded leaders.
"People everywhere in the region are saying that they want the party yesterday, we have resolved that I bring the June deadline for the party forward to March," said Kingi.
As Kingi held his meeting, Joho was holding two key rallies in Lamu County to popularise his presidential bid and the Building Bridges Initiative (BBI).
Joho asked Lamu residents to back his bid, warning his political detractors and those who doubt his seriousness that they were in for a rude shock.
Raise questions
The Mombasa governor held a meeting with 20 legislators, raising questions about the the fate of the agreement reached by the five governors at Samboja's home.
The leaders who accompanied him in the rally organised by former Lamu Governor Issa Timamy and Woman Representative Ruweida Mohamed of Kanu were Kilifi Senator Stewart Madzayo, Issa Boy (Kwale), Mombasa's Mohamed Fakii, Kilifi Woman Rep Gertrude Mbeyu, nominated Senator Christine Zawadi and Mombasa Woman Rep Asha Hussein.
Others were MPs Mishi Mboko (Likoni), Teddy Mwambire (Ganze), Ken Chonga (Kilifi South), William Kamoti (Rabai), Abdulswamad Sharif Nassir (Mvita), Dan Mwashako (Wundanyi), Stanley Muthama (Lamu West), Zulekha Hassan (Kwale), Kassim Tandaza (Matuga), Ali Hassan, among others.
Other sources said Joho's decision to attend a rally organised by Twaha jolted other governors.
Addressing a rally at Mukunguni Grounds, Joho declared that his presidential bid was unstoppable and that they have agreed with the MPs to conduct rallies across the Coast region.
In the strategy, Joho said after holding rallies in all the six counties, he will move to other counties across the country to popularise his presidential bid.
The leaders who spoke, however, steered clear of the debate championed by Kingi to form a Coast-based political party. Joho insisted that he will unite the Coast behind his bid.
"Those who think that my presidential ambition is a joke should know that the journey has just begun," he said.
He told residents to avoid being divided along ethnic lines, saying Coast was a cosmopolitan region and leaders should strive to bring all communities living in the area together.
MPs allied to Deputy President William Ruto have also been pushing for a Coast-based party and had identified Kadu Asili as their vehicle to use in joining the United Democratic Alliance.
Yesterday, Kingi said he will reach out to Kilifi North MP Owen Baya, his Malindi counterpart Aisha Jumwa alongside other MPs in ODM, Jubilee, Wiper and Kadu Asili to ensure that they join the bandwagon.
"We will ask all the leaders to drop their ambitions for the sake of the region. We will then decide who to work with and if they will support us for the top seat or we support them and on what terms," said Kingi.
Final terms
Both Kingi and Joho, who are serving the second and final terms, have declared interest in the presidency and the once close friends now seem to be drifting apart.
Whereas Joho has insisted that the region was better placed in ODM where he is the deputy party leader, Kingi has been pushing for the creation of a regional party.
On Thursday, Umoja Summit Party Chairman Matano Chengo said Kingi had convened a meeting for all the four Coast-based parties to discuss the planned coalition.
"The plan for unification of Coast is on. Kingi will on Tuesday meet officials from USP, Shirikisho Party of Kenya, Republican Congress Party and Kadu Asili to discuss the proposed coalition," said Mr Chengo.