Government focuses on safety of Likoni floating bridge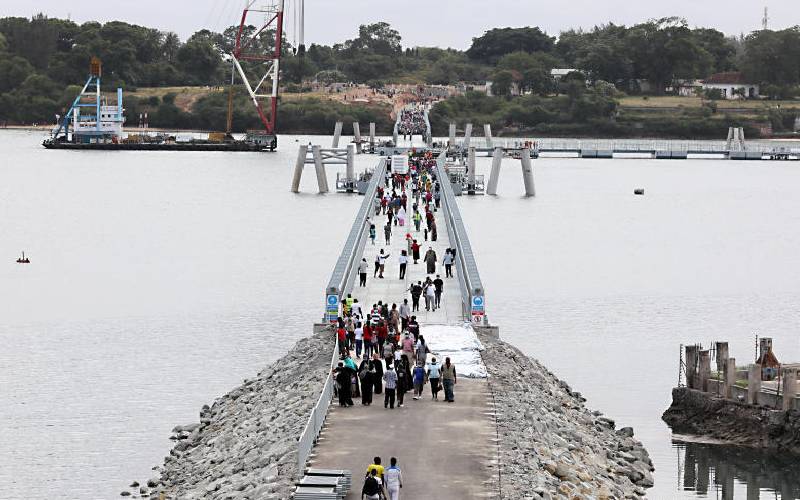 Government agencies have put in place measures to ensure the safety of pedestrians and smooth shipping at the new Likoni floating footbridge in Mombasa County.
Principal Secretary for Shipping and Maritime Affairs Nancy Karigithu urged shipping lines to acknowledge that there was now a bridge at Likoni and embrace the project to ensure safety.
She made the appeal at the weekend when she toured the Sh1.9 billion bridge that was officially opened on January 1, this year.
The PS was accompanied by Coast Regional Commissioner John Elungata and Kenya Ports Authority (KPA) acting managing director Rashid Salim.
"We want the shipping lines to understand that we have a footbridge at Likoni and cooperate with us," she urged.
Salim explained that KPA took over running of the bridge when it was opened and they would ensure the bridge operates during peak hours -- in the morning and evening -- to reduce congestion at the nearby Likoni ferry channel.
"We have already deployed a marine pilot and marine engineer to ensure its safe running," he said.
The bridge was constructed as a result of the Covid-19 pandemic following heavy congestion at the Likoni channel used by 350,000 passengers and more than 6,000 vehicles daily.
The nearly one-kilometre steel bridge has a 150-metre floating pontoon that is opened by powered machines to allow ships to pass through.
Elungata explained the contractor, China Road and Bridge Corporation, will assist the KPA team operate the bridge for six months during which the local team will be trained on how to run the machines that open the pathway for ships.
He said the project has created the shortest route linking Mombasa island and mainland south.