Tanzanian envoy seeks to end rows at border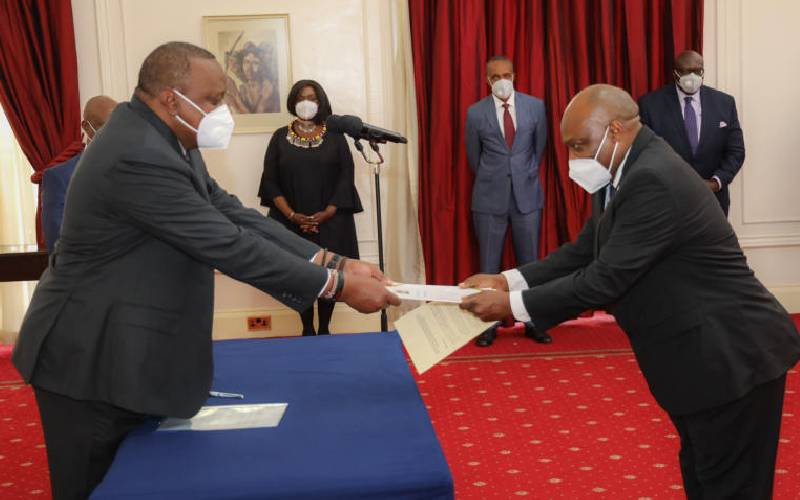 Tanzania plans to engage Kenya in a renewed attempt to end differences over sharing of tourism resources along the common border.
Tanzanian High Commissioner to Kenya John Simbachawene said he would engage all stakeholders to foster economic partnership in the spirit good neighbourliness.
Simbachawene, who is four months into his tour of duty, is also Tanzania's Permanent Representative to UNEP and UN-Habitat.
He said the citizens of the two countries have a lot in common and Kenya and Tanzania should strive to maintain cordial relations.
In recent months, Kenya and Tanzania have had differences on how to handle Covid-19 pandemic and sharing of tourism resources at the border.
In July this year, Dar banned Kenya Airways from flying in its territory after Nairobi failed to include Tanzania in a list of countries whose citizens were allowed to enter Kenya after commercial flights resumed.
Countries act
Later, Kenya added Tanzania to its Covid-19 safe countries list. Tanzania also lifted the ban on KQ.
Speaking at the Taita Hills Lodge in Taita Taveta County, the Tanzanian envoy said a lot more unites the people of the two counties.
He spoke on the sidelines of this year's celebrations to mark Remembrance Day for World War 1 victims.
The celebrations at the weekend attracted representation from Kenya, United Kingdom, Qatar, Sudan, Malawi, Serbia, Belgium and Tanzania.
It started with the laying of wreaths at three Commonwealth War graves in Voi town, Maktau and Taveta border town, respectively.
Kenya Tourism Federation chairman Mohamed Hersi said while battlefield tourism was still at its infancy, "we are seeing it coming of age".
"Though solemn, this day is great as we gather here to remember those who lost their lives or got injured while defending their nations," Simbachawene said.
Taita Taveta Deputy Governor Majala Mlaghui said while it was important to celebrate foreigners who fought during World War 1, all locals who fought alongside foreign armies should also be remembered.