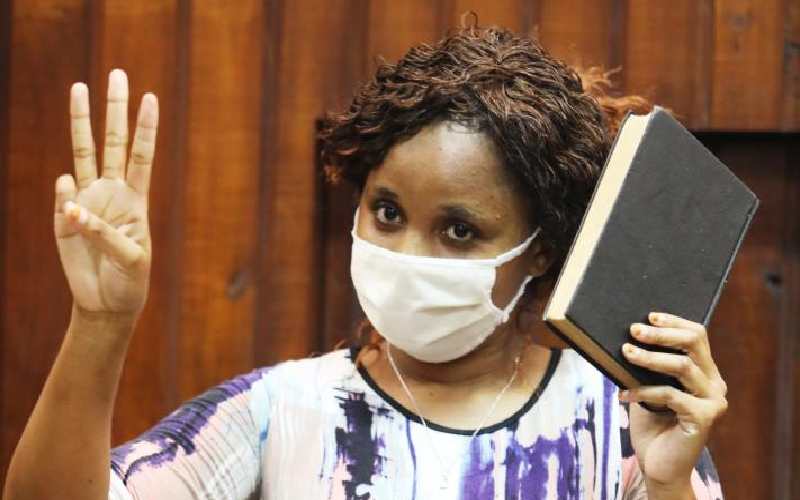 A deaf couple yesterday moved to a Mombasa court to block eviction by their landlord.
The couple also want the court to order their neighbours to stop bullying and demeaning them.
Renson Wasonga and his wife Diana Mwasya told the Rent Restriction Tribunal that they have been living in the house at Frere Town Kisimani, Mombasa, since 2018.
Through signs, they told the tribunal of their frustrations in the hands of their neighbours. "I want to continue living peacefully without being disturbed by any of my neighbours," said Mwasya through sign language interpreter Florence Kasichana.
But one of the neighbours, Morris Mutheu, said the couple differed with his wife.
Read More
"I was living peacefully with the couple until my wife came to stay with me in 2019. Ms Mwasya started accusing my wife of causing disturbance," he said.
Mr Mutheu alleged that the deaf couple has been dragging neighbours to police over frivolous accusations, then withdraw the matter once they are paid.
"I was informed the first tenant they took to Nyali police paid them Sh10,000 to withdraw the matter. They have a habit of reporting tenants to police to extort them. This has led other tenants to move out," he said.
The agent in charge of the rental houses, Philicia Mwabili told the tribunal's chairman Hillary Korir that the couple had forced eight tenants to vacate houses because of persistent wrangles.
Mwabili said since the couple rented the house in June 11, 2018 they have been picking up quarrels with neighbours. "I pray they be given time to move out peacefully," said the agent.
She said attempts to intervene and ensure the couple coexists with neighbours have been futile.
"I told them that in a Swahili house you need to live with respect and peace because in case of an emergency, your neighbours will be the first to help out and not your brother or sister who are far," said Mwabili. The agent claimed the couple has 19 months arrears of electricity bill which amounts to Sh2,725.
He said the couple picks up quarrels with other neighbours over shared amenities like common sink for washing utensils, clothes hanging line, cost of electricity and loud music.
Korir however said that disputes between the couple and neighbours were criminal in nature and the tribunal had no jurisdiction to hear them.
The tribunal ordered the couple and neighbours to live in peace until when the court will rule if they will continue staying in the house or vacate.