Jumwa, bodyguard released on bail after four days in custody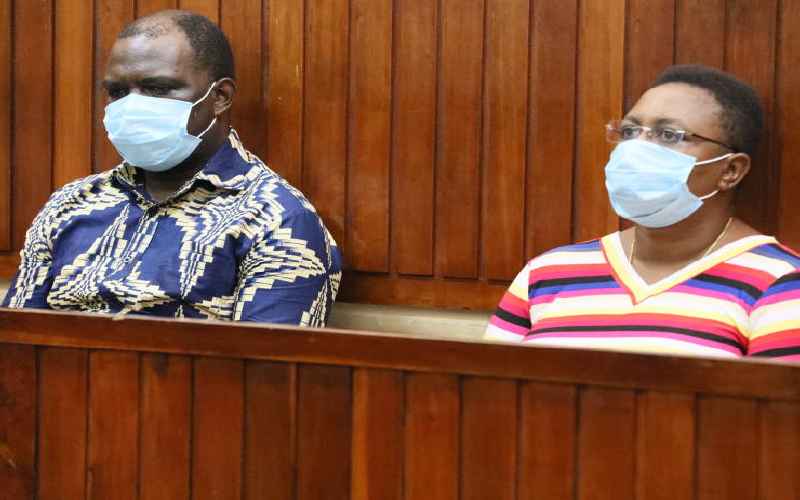 Mombasa High Court on Friday released Malindi MP Aisha Jumwa on a Sh4 million cash bail in the Gumbao Jola murder case after spending four days in police custody.
Co-accused Geoffrey Otieno has also been released on a bond of Sh1 million or a cash bail of Sh1.5 million.
The two are accused of killing 48-year-old Jola on October 15, 2019, when chaos broke out during Ganda ward by-election.
Trial judge Njoki Mwangi directed that the accused to surrender their passports, adding that they will not be allowed to travel unless they provide reasons for their travel.
The MP who was on Thursday charged with murder was also cautioned against interfering with prosecution witnesses.
Assistant Director of Public Prosecutions (DPP) Alloys Kemo had opposed their bail plea arguing Jumwa is a powerful individual and is likely to interfere with witnesses in the case.
Kemo argued that Otieno lacked a fixed abode and cannot guarantee to the Court that he will be available to attend court when required.
Jumwa's legal team led by Danstan Omari, Jared Magolo and Cliff Ombeta asked the court to release Jumwa and her bodyguard.
On Monday 19, the court ordered that she be detained for four days pending a psychiatric test to ascertain if she is fit to stand trial.
The family of Jola, the murder victim, welcomed the charges, saying they hope justice will be served.
Jola was Ganda MCA Reuben Katana's uncle and the violence leading to his death was sparked after Jumwa stormed Katana's home to confront ODM supporters preparing for the by-election.
Alloys Kemo, the senior assistant DPP told Justice Njoki Mwangi that the MP failed to attend a psychiatric test on Wednesday 14 October. He said a psychiatrist had been called, but Jumwa failed to turn up despite being notified.
The case will be mentioned on November 3, 2020.