Aisha Jumwa pleads not guilty to murder charges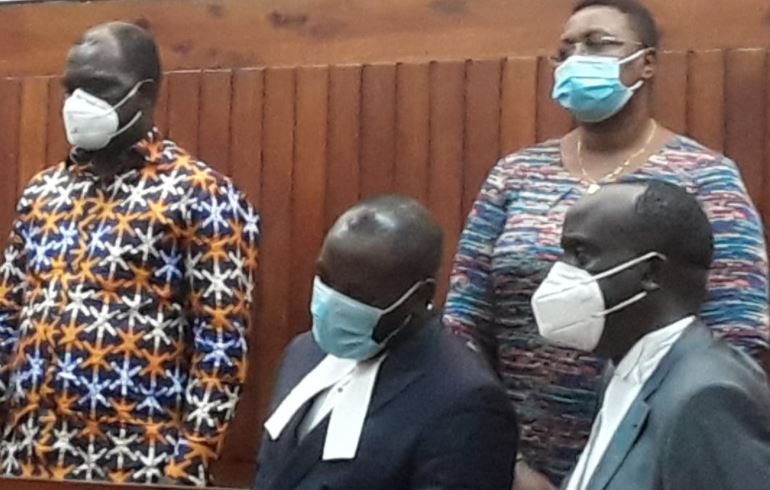 Malindi MP Aisha Jumwa, her aide Geoffrey Okuto have been charged with the murder of a man in the chaos that erupted during the Ganda Ward by-election last year.
Appearing before Mombasa High Court Judge Njoki Mwangi, Jumwa and her aide pleaded not guilty to the murder charges.
The prosecution has however pleaded with the court to give them two hours to file an affidavit opposing its bond terms.
Earlier, the judge briefly postponed the plea taking following the mix-up of the mental assessment report. The judge had set a hearing date in November after she questioned the validity of the MP's medical report.
But the case was allowed to proceed after the matter was cleared by both the prosecution and the defendants' lawyers.
This is after the Director of Public Prosecutions (DPP) Noordin Haji approved a murder charge against the MP.
Jumwa is accused of killing 48-year-old Ngumbao Jola on October 15, last year, when chaos broke out during the by-election. Several other people, including police officers, were injured in the chaos.
The MP was detained on Monday pending a psychiatric test to ascertain if she was fit to stand trial.
The judge ordered that Jumwa and her bodyguard Geoffrey Okuto be remanded at Port Police Station until Thursday so they go for the test at Coast General Hospital (CGH).
The shooting
In an earlier interview with The Standard, Jumwa, an avid supporter of DP William Ruto had claimed that the charges were politically orchestrated because of her political position.
Jumwa's critics claimed the MP invaded the home, accompanied by supporters and some policemen and attacked ODM delegates who were preparing for the contest.
Jumwa, however, claimed she only went to the home to protest an illegal electoral campaign by the ODM team but was attacked instead.
Police reported that shots were fired in the confrontation at the home which ended with Mr Jola dead from a bullet wound.
She was arrested at her Kakuyuni home in the early hours of October 16 last year when police raided the home to question her aide Otieno about the shooting.
Additional reporting by Joakim Bwana