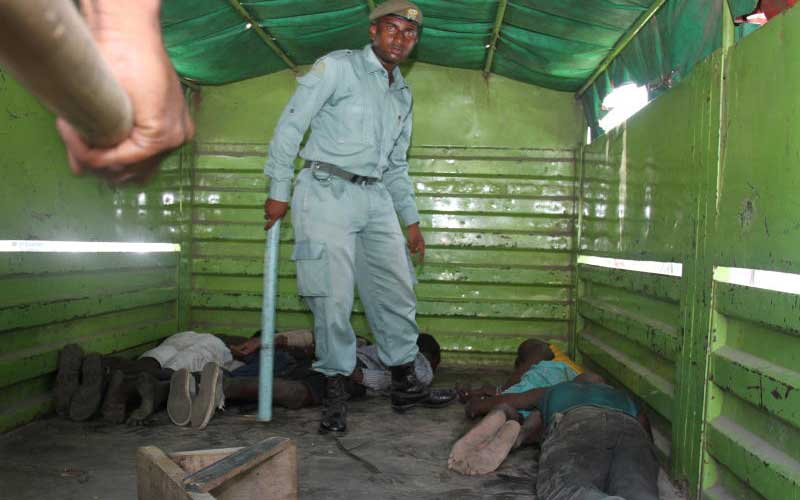 A Mombasa court has ruled that county government enforcement officers have no powers to arrest suspected law breakers.
Mombasa Senior Resident Magistrate Ritah Amwayi made the ruling, arguing the Inspector General of Police has not donated such powers to the officers, commonly refereed to as 'makanjo'.
Amwayi made the ruling on Tuesday before setting free an employee of Kenya Women Finance Trust (KWFT) who was arrested on November 6 2019 at Likoni for displaying an advertisement in public without paying for it.
"The arrest and prosecution of offenders by the County Government of Mombasa enforcement officers has no legal backing, as there exist no Act or Statute which confers them such powers," said Amwayi.
Read More
The magistrate gave this ruling after acquitting Charles Murimi under section 210 of Criminal Procedure Code. She gave the County Enforcement Department 14 days to appeal.
"In conclusion, it is my finding that the section under which the accused person was charged, does not disclose an offence," she ruled.
The magistrate added: "Secondly the purported people who arrested the accused and arraigned him before court do not have such powers."
She said Section 58 of the National Police Service provides the police powers to arrest without warrant under various circumstances.
The magistrate said arrest without a warrant can only be done by a policeman appointed by the Kenya Police Service.
"There exist no any legal framework within which the enforcement officers can arrest suspected criminals without a warrant," she said.